Fashion Show a Runaway Success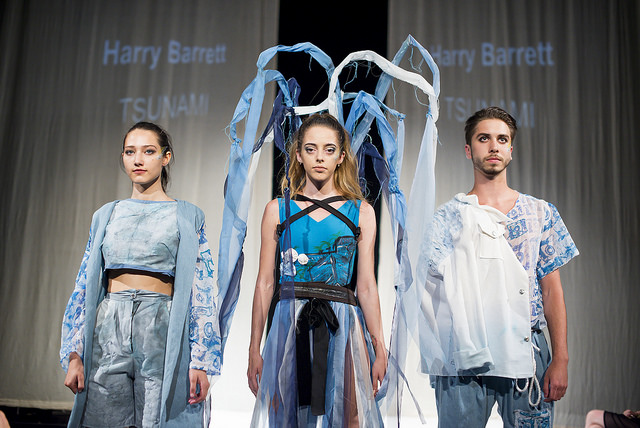 During the summer the College held its annual Runway Fashion Show, showcasing the amazing collections created throughout the year by our Level 3 Fashion students, who worked on live briefs with prestigious clients such as Menswear at Debenhams and Diesel.
Menswear at Debenhams
The brief was to design and create a menswear garment, working with one of the trends within the Debenhams range. The project was supported by the Head of Menswear at Debenhams, Julian Fuller, who shared his knowledge and experience of the fashion industry with the students in a practical and digital design session.
Julian said of the project: "Every year the understanding and execution of the project gets better. The students really embraced the process and it's always fulfilling to see them take the skills they have learnt into their final major project and beyond."
Diesel
The students visited the Diesel Headquarters in Argyll Street, London, where they were introduced to the next season's collection - a year ahead and top secret!
They then worked with Diesel to create the concept for the photo shoot that was used to promote Diesel's new collection. All of the photos taken during the photo shoot were featured in the Fashion Show.
Nigel Sam at Diesel UK said: "Commitment, passion, energy and pure skill. These students put on a fashion show to rival any Paris or Milan catwalk. Well done!!"
Speaking after the Runway Fashion Show, Harlow College Fashion student Harry Barrett said: "When my collection was called onto the catwalk I was really nervous, but as my models started walking down the runway I was so happy as I though my collection looked incredible - just the way I imagined!
"I was so proud of myself. My experience at Harlow College has been amazing - I honestly couldn't fault a single day spent there learning, creating and having loads of laughs. It's been the best two years I could have asked for and I wish it didn't have to end."
Shelley Clarke, Senior Tutor in Fashion, said: "Year after year the students aim higher with their final major projects and this year clearly showed the diversity, individuality and commitment our students demonstrate.
"They each chose their own theme and carried out independent research, which ranged from trips to Kew Gardens in London; the NASA Space Centre in America and West End theatre shows. The Runway Fashion Show this year was impactful and innovative and a clear sign of the emerging talent coming from our current and future students."