Marketing Planning Workshop with PR Smith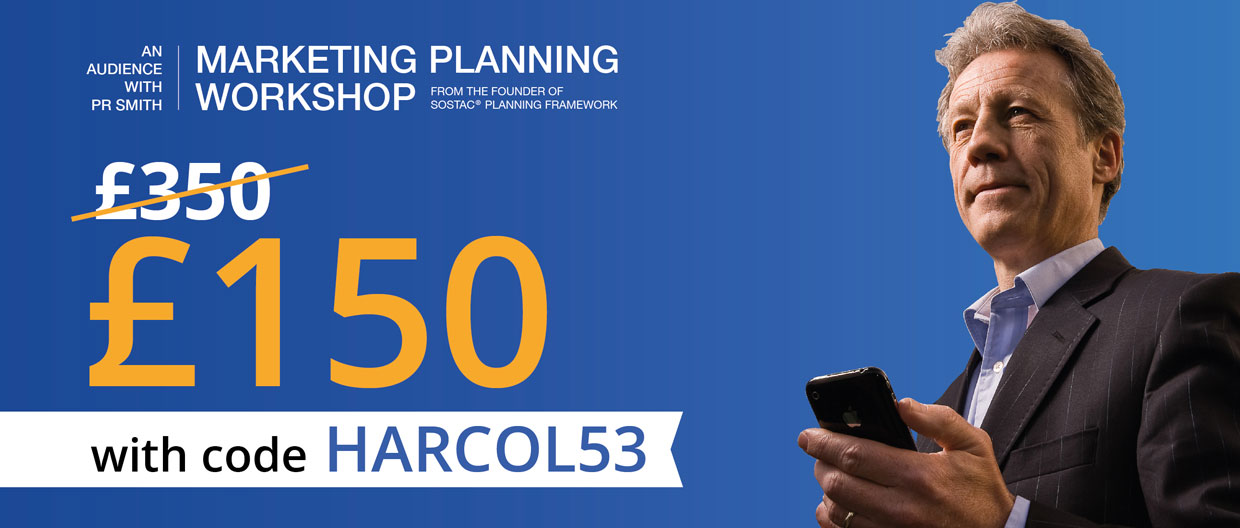 Venue: Harlow College, Harlow
Date: Thursday 5th March 2020, 9:00AM - 5:00PM
SOSTAC® was developed by PR Smith and is listed in the Top 3 Business Models worldwide by CIM and adopted by blue-chips like LinkedIn and KPMG. It is recognised for its capacity to reduce a complex planning process to fundamental principles and the ease with which it can be adapted to different business activities.
Why you should meet the SOSTAC® founder in person
PR Smith's dynamic and interactive workshops are celebrated all over the world. His unique knowledge of SOSTAC® enables him to demonstrate precisely how to use his planning framework to write the perfect marketing plan.

During this session you will:
Discover why SOSTAC® is such a popular and so widely used model
Deep dive into the root methodology and uses of SOSTAC®
Be able to ask the creator of SOSTAC® practical questions
Gain insights into how SOSTAC® helps businesses develop competitive advantage
Understand how SOSTAC® helps marketers prepare for hypercompetition.
Delegates also receive a free:
SOSTAC® Guide to Your Perfect Digital Marketing Plan
SOSTAC® Planning workbook + List of links to extra videos & posts
What you stand to gain from using SOSTAC®
Through PR Smith's SOSTAC® sessions, marketing professionals all over the world have discovered how to:
Reduce risk through deeper analysis that improves decision-making
Develop a differentiated position in even the most complex contexts
Systematically improve the efficiency and effect of communication campaigns
Develop a crystal-clear communications strategy
Embed the 'magic marketing formula' in all tactics
Reduce investment while maximising potential ROMI
Understand the 10 'Actions' that convert visitors to customers
Explore the 5 'Actions' that convert customers into lifetime customers
Use data & emerging technology to add value to the Lifetime CX
Who should attend?
Marketers who need to know how to write the perfect marketing plan, amidst a fast-changing digital world.
Marketers who want a solid logical plan that gets approval, and/or wins pitches and boosts results. Critical for those starting to write plans and a refresher for those already writing plans.
Also useful for anyone developing a digital marketing strategy.
About the founder of SOSTAC®
PR Smith is one of the world's most celebrated integrated digital marketing writers & dynamic speakers. A Ted Talker, marketer, author, (6 books in 8 languages) and founder of SOSTAC® planning framework. Paul's workshops are challenging and fun. He currently advises the SuperNode. Energy (100% European Energy will be green) and Sri Lankan Golf Tours. Paul's NFP Great Sportsmanship Programme inspires a new generation of global citizens through beautiful short stories about sportsmanship.
AGENDA
Welcome
08.30 - 09:00 Registration, coffee and networking
09.00 - 09.30 Welcome and introductions
Where are we now?
09.30 - 11.00 Situation Analysis (Part 1)
11.00 - 11.15 Coffee break and networking
11.15 - 12.45 Situation Analysis (Part 2)

Where do we want to get to?
12.45 - 13.00 Objectives
13.00 - 14.00 Lunch
How do we get there?
14.00 - 15.00 Strategy
15.00 - 15.30 Tactics: The details of the strategy
15.30 - 15.45 Coffee break and networking
15.45 - 16.15 Actions: The details of the tactics (system, processes, guideline and checklists)
16.15 - 16.45 Control: Measurement and metrics to see if 'we are getting there' or not
16.45 - 17.00 Summary and next steps
If you would like more information about this even please email: