Level: Intermediate
Start Date: Variable
Overview
Joiners make and install wooden fixtures and fittings. They can work in many areas, for instance on construction sites, fitting out shops and bars, and building sets for film and TV. If you enjoy working with wood and want to put your practical skills to good use, this could be an ideal career for you. You'll need an eye for detail, good maths skills for working out measurements and the ability to follow technical plans.
Am I ready to start?
You'll have to sit a diagnostic assessment for both Maths and English before your start on your course and depending on the outcome of the assessment it may be advisable for you to upskill before commencing with your apprenticeship. If this is the case the College will support you to find an appropriate course.
Before starting an apprenticeship you'll go through the interview process with an employer. Employers may be looking for slightly different qualities, but on the whole they are looking for motivated, enthusiastic and hardworking individuals who have good interpersonal skills and the ability to problem solve and work effectively as part of a team.
It may be you don't feel you're ready for an apprenticeship and might benefit from a Traineeship or full-time course first.
How does an Apprenticeship Work?
An apprenticeship programme is delivered via a mixture of on and off the job training, whereby you can apply your skills in real work contexts. The apprenticeship programme usually consists of the following elements:
Diploma
This is the training that you will undertake in college. Through this training you will develop some of you underpinning knowledge as well as have the chance to practice and refine you practical skills.
NVQ
This is the assessment of your competency in the work place. Our team of onsite assessors will observe you in the work place and support you to gain the evidence required to prove your ability to work effectively.
Functional skills
This area covers your English and Mathematics development to the highest possible level.
Transferable skills
These are the skills that help you to develop your Personal Learning and Thinking Skills (PLTS) and your rights as an employee within the workplace.
The duration of the course is dependent on prior attainment and can range from 18 months to 24 months. You will attend College for 1 day a week and you be in the workplace for the remaining 4 days.
At Harlow College we do not believe in aiming for the bare minimum. Wherever possible we will encourage you to go above and beyond the requirements of the framework and achieve your maximum potential.
What does the course involve?
Intermediate Level
Level 2 Extended Diploma or Diploma in Bench Joinery
Level 2 NVQ Diploma in Wood Occupations (Architectural Joinery)
Functional Skills Maths and English of a minimum of level 1
Personal Learning and Thinking Skills (PLTS)
Employment Rights and Responsibilities (ERR)
Advanced Level
Down to business, what can I do and what can I earn?
Demand for skilled tradespeople is very high and there are a huge number of construction projects across the UK and abroad due to start over the next few years.
This apprenticeship could lead to one of the following opportunities:
Employed as a Joiner – Salaries range from £14,000 to £31,000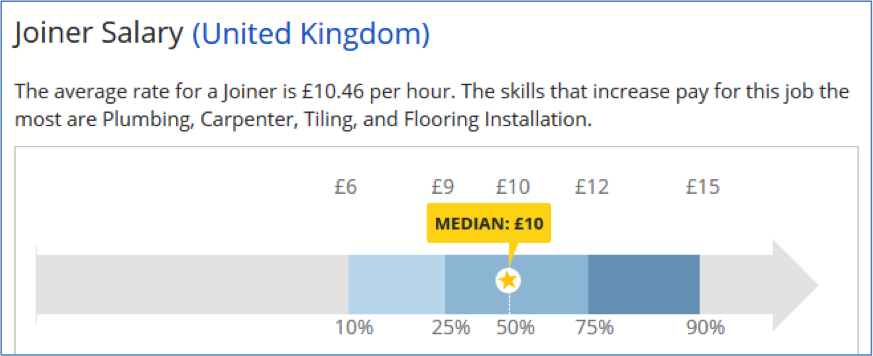 Got a job?
You must have a job to do an apprenticeship. If you already have a job you may be able to do an apprenticeship with your current employer.
If you don't have a job for your apprenticeship – apply for your place at College by clicking the 'Apply Now' button at the top and bottom of the page.
Once you have applied please check out our apprenticeship job vacancies.
An apprenticeship comprises two parts:
Typically 20% study element (at Harlow College or Stansted Airport College).
80% work based element with an employer. It is your responsibility to find an employer.
Great, so what do I do now?
Call 01279 868240 to speak to an Apprenticeships adviser
Contact us about applying for an Apprenticeship