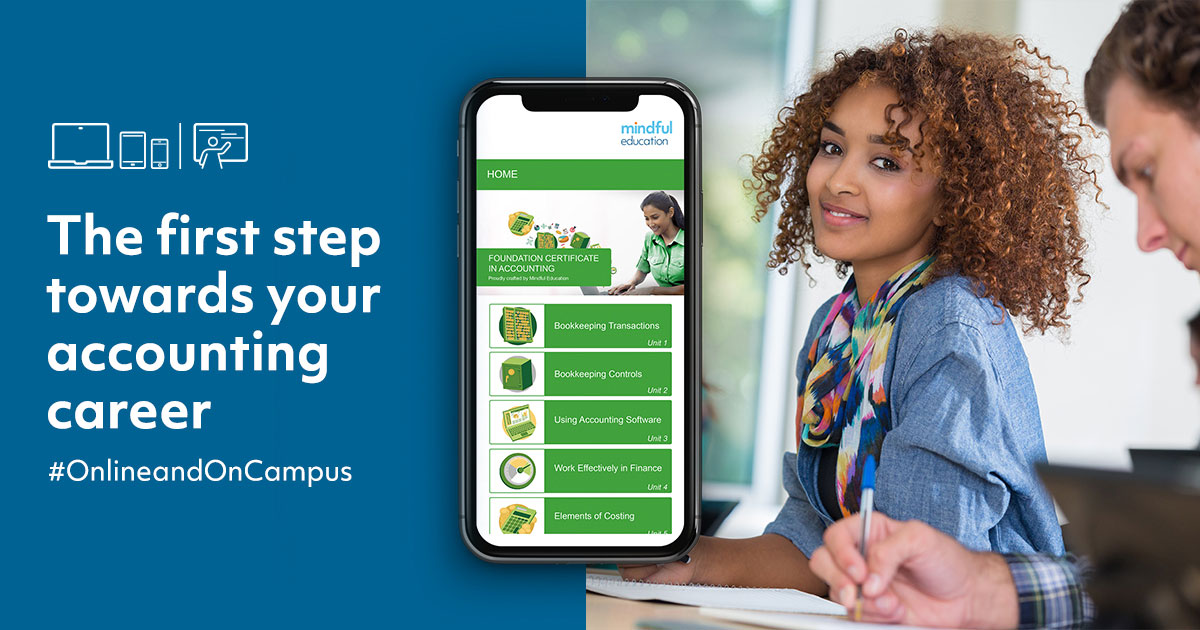 Level: 2
Study Mode: Online & On Campus
Start: September 2021
Time: Every other Thursday 6-9pm
Duration: 10 months
Full Fee: £1153.00
About the course
This AAT (Association of Accounting Technicians) Foundation course is an entry-level accounting qualification, ideal for anyone who is seeking an introduction to basic accounting principles and skills.
This flexible course is delivered in partnership with Mindful Education, and combines online learning with face-to-face lessons in the classroom.
Our blended learning approach enables students to benefit from both face-to-face teaching at Harlow College and online lessons available on demand. This approach offers a truly flexible study experience.
In addition to attending face-to-face classes fortnightly, students will be expected to undertake between 5 and 6 hours of additional study out of college.
Entry requirements
There are no formal entry requirements for this course. Previous knowledge of accounting or a Level 1 Bookkeeping qualification would be advantageous but not essential.
How much does it cost?
Course fee £1153.00
| | |
| --- | --- |
| One off AAT Student Admission fee | £48 |
| Annual AAT student membership yr1 | £99 (UK student) |
| Tuition fees | £635.00 |
| Assessment fees (important this covers one sitting of each assessment, if a student fails an assessment and a resit is required an additional fee will be incurred – between £46-£49 per assessment). | £371.00 |
| TOTAL | £1153.00 |

Free if unemployed, in receipt of benefits and looking for work or earning less than £16,009.50 a year.
19-23 – free if first full L2

Assessment fees – £70-80 per assessment

AAT admission and annual membership fee – £135
Examination fees – Level 2 Certificate Fees vary between approximately £60-£85 per exam
Why study?
This qualification will prepare you for junior and entry level accounting roles. It delivers a solid foundation in finance administration - covering areas such as double entry bookkeeping to basic costing principles and using accounting software.
On successful completion of this course, you will be awarded an AAT Level 2 Foundation Certificate in Accounting. This internationally recognised AAT (Association of Accounting Technicians) qualification enables those working in accounting or those who looking to pursue accountancy as a career to gain knowledge, practical experience and the all-important certification often sought by employers.
We have partnered with Mindful Education to deliver this course through our Online and On Campus model.
Online video lectures are available on demand, and can be viewed from your phone, tablet or computer, meaning you can choose how, when and where you want to study. Each lesson lasts around 45 minutes and is accompanied by animations and motion graphics to bring concepts to life. Exercises, interactive case studies and analytical tools help to enhance the learning experience further.
On campus, you benefit from regular college classes – without having to commit to attending multiple evenings each week. Experienced tutors will discuss and reinforce what you have learnt during your online study and are on hand to provide guidance on progress and assessment. Discussion and debate with classmates will help you apply theories to situations you face in the workplace.
Where will this course take me?
On successful completion of this course, you can progress to higher levels of the AAT Accounting Qualification (Level 3 and then on to Level 4).
The skills and knowledge you will gain throughout this qualification will qualify you for roles including Accounts Assistant, Finance Assistant, Credit Control Assistant or Purchase Ledger Clerk.
Core modules
The Level 2 course covers a range of key areas, including:
Bookkeeping Transactions
Bookkeeping Controls
Elements of Costing
Work Effectively in Finance
Computerised Accounts
You will also develop business communications and lifelong learning skills, applying what you learn on the course to the wider industry context.
How will I be assessed?
This course is assessed through computer-based exams and a synoptic assessment, which draws on and assesses knowledge and understanding from across the qualification.
I'm interested. What should I do now?
Call 01279 868100 and talk to an Admissions Adviser
Ask Us a question about this course