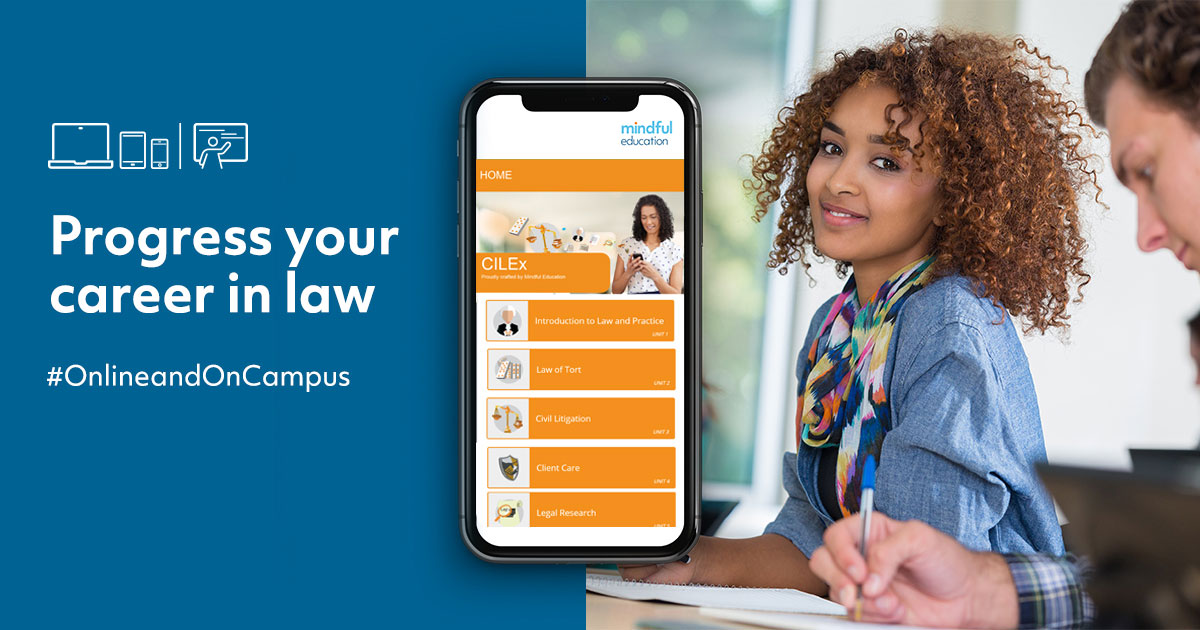 Level: 3
Study Mode: Blended Learning
Start: September 2020
Time: Part time Evening – once per week
Duration: 32 weeks
Full Fee: £1265 (Advanced learner loan available)
Approval status
SUBJECT TO VALIDATION
About the course
Course Overview
This CILEx (Chartered Institute of Legal Executives) course provides an excellent introduction to law and legal practice, developing knowledge and skills that will enable students to undertake complex research tasks and work with clients. This flexible course is delivered in partnership with Mindful Education , and combines online learning with face-to-face lessons in the classroom.
Entry requirements
Students must have 4 GCSE at grades C or above (including English) or, if over 21, entry as a mature student is considered on its own merits.
How much does it cost?
Tuition Fee;
£1265 (Advanced learner loan available)
Assessment Fees - £297.50
Funds may be available to you if you are over 16 and need help with travel, equipment, exams, childcare and the cost of studying in general.
Who is it suitable for?
The Certificate course is suitable for those starting their career in law or equally for those currently working for a law firm who wish to progress further and gain recognition for their skills.
Why study?
This course offers unparalleled access to a flexible career as a lawyer. It provides a cost-effective way of obtaining law qualifications without having to complete a qualifying law degree (although graduates of law or non-law subjects can still choose to become a Chartered Legal Executive lawyer via this route).
If you don't have a qualifying law degree you will need to take the Level 3 Diploma qualification, set and assessed at A level standard, and the Level 6 qualification, which is set and assessed at honours degree level.The Level 3 Certificate in Law and Practice is the first step towards this and was developed to recognise the growing number of students who are either interested in a short but rounded introduction to Law and Practice and are aimed at those wishing to move towards a career as a solicitor.
Study Method – Online and On Campus
We have partnered with Mindful Education to deliver this course through our Online and On Campus model.
Online video lectures are available on demand, and can be viewed from your phone, tablet or computer, meaning you can choose how, when and where you want to study. Each lesson lasts around 45 minutes and is accompanied by animations and motion graphics to bring concepts to life. Exercises, interactive case studies and analytical tools help to enhance the learning experience further.
On campus, you benefit from regular college classes – without having to commit to attending multiple evenings each week. Experienced tutors will discuss and reinforce what you have learnt during your online study and are on hand to provide guidance on progress and assessment. Discussion and debate with classmates will help you apply theories to situations you face in the workplace.
5-8 hours independent study accessing online lessons and exercises at times that best suit you.
3 hours in College every fortnight.
Where will this course take me?
This qualification allows progression to the Level 3 Diploma in Law and Practice. To achieve the Level 3 Diploma, students must complete 5 further units of study.
The Chartered Institute of Legal Executives offers unitised qualifications, allowing qualification as Associate Members of the Chartered Institute and progression to the Level 6 Professional Higher Diploma.
The qualification provides a flexible and cost-effective route to a legal career without the requirement of a law degree. After completing the Certificate course, students can progress to the Diploma course, upon completion of which they can become fee-earners in a legal practice.
Core modules
The qualification covers five units relating to Introduction to Law and Practice, Law of Tort, Legal Research Skills, Client Care and Civil Litigation.
Unit 1 – Introduction to Law and Practice: this unit provides a broad introduction to the study of law, laying the foundation stones for the rest of your legal training. It is a wide-ranging unit, covering the workings, history and quirks of our legal system.
Unit 5 – The Law of Tort: a Tort is a civil wrong. This unit examines the main tort which is negligence, covering the workings of the law in this area. It is linked to the Civil Litigation unit as part of this course and is also one of the compulsory units in your Level 3 Diploma.
Unit 9 – Civil Litigation: this unit covers the civil action process from beginning to end. It is known as a 'practice unit', as it deals with what happens in a court from a practical point of view.
Unit 16 – Client Care Skills: this unit covers the importance of client care and The Solicitors Regulation Authority Code of Conduct. It is one of two compulsory 'professional skills' units, the other being Legal Research Skills.
Unit 17 – Legal Research Skills: this unit allows you to practice legal research, a vital skill you will need throughout your career. Along with Client Care Skills, it is one of two compulsory 'professional skills' units.
How will I be assessed?
All the units within the Certificate in Law and Practice qualification are mandatory. Three units are assessed individually in end-of-unit assessments (one multiple choice and two written exams). The two professional skills units are assignment-based.
I'm interested. What should I do now?
Call 01279 868100 and talk to an Admissions Adviser
Ask Us a question about this course