Level: 2
Study Mode: Part-time
Start Date: 26 September 2023
Time: 5-9pm Tuesdays
Duration: 16 weeks – 4 hours p/w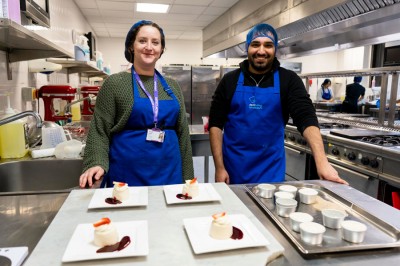 Start Dates
Tuesday 26 September 2023
About the course
Whether you aspire to become a professional pastry chef or simply have a passion for cooking and want to elevate your skills and techniques, this course is designed to satisfy your cravings for all things sweet and savoury. From crafting exquisite desserts and puddings to mastering the art of breadmaking, creating velvety mousses, perfecting crème brûlées, and achieving airy soufflés, you'll delve into the world of patisserie and confectionery with expert guidance.
At Harlow College, we provide you with the perfect environment to hone your culinary talents. Learn in our state-of-the-art, professional kitchens equipped with industry-standard tools and equipment. Apply today for our Level 2 course, and turn your love for cooking into a mouthwatering profession.
How much does it cost?
The fee for this course is: £1265 – Option to pay instalments available.
This course is free if you meet any one of the criteria below:
In receipt of benefits
Earns less than £20,319
First full level 2 qualification (aged 19-23 only)
Contact Us or call 01279 868100 to get the most up-to-date info on fees and the financial support that may be available.
Who is it suitable for?
Whether you're a budding pastry artist or an enthusiastic home cook, this course offers the perfect platform to hone your talents, learn new techniques and explore the world of patisserie and confectionery. This course has no formal entry requirements, only a budding passion for the hospitality and catering industry. While not mandatory, having a good level of English and Maths would be advantageous.
Awarding Body
City & Guilds
Where will this course take me?
Pastry chef in a restaurant
Run own small business
Baker
Core modules
Produce hot and cold desserts and puddings
Produce paste products
Produce biscuit, cakes and sponge products
Produce fermented products
Fermented products
Making of bread, enriched bun dough and brioche. Shaping, proving and finishing
Make sweet pastry, short paste, process puff pastry and choux pastry
Lining and finishing of pastries and tarts
Making of fillings such as crème patisserie, curds and crème diplomat
Finishes including glazes and fondant
Hot and cold desserts
Mousses, brulees, souffles, tortes and meringue products
Making of crème anglaise
Cakes and sponges
Fatless sponge, genoise, cakes made by different methods, making of simple sugar flowers and decorating and finishing of cakes
Basic tempering of chocolate
How will I be assessed?
Theory short answer tests, assignments and practical exams.
Will I have to provide anything?
Protective clothing
I'm interested. What should I do now?
Call 01279 868100 and talk to an Admissions Adviser
Ask Us a question about this course