A Big Cheque to Welcome the New Year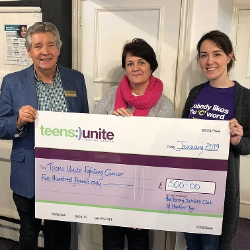 Teensunite were delighted to see Jeff from the Rotary Club of Harlow Tye in the New Year, not just because he comes in with a cheery smile and funny stories to entertain everyone, but this time he bought with him a big cheque!
The Rotary Club had the most lucrative weekend of bucket collecting that we have ever seen. On the weekend before Christmas, Jeff and his fellow Rotarians braved the cold and shook their buckets at the Tesco store on Edinburgh Way in Harlow. The shoppers there were incredibly generous and the collection raised just over £1000. Teensunite were delighted that Jeff and the team decided to share their collection with them, and they were very happy to receive a cheque for £500.