Students are our No.1 Priority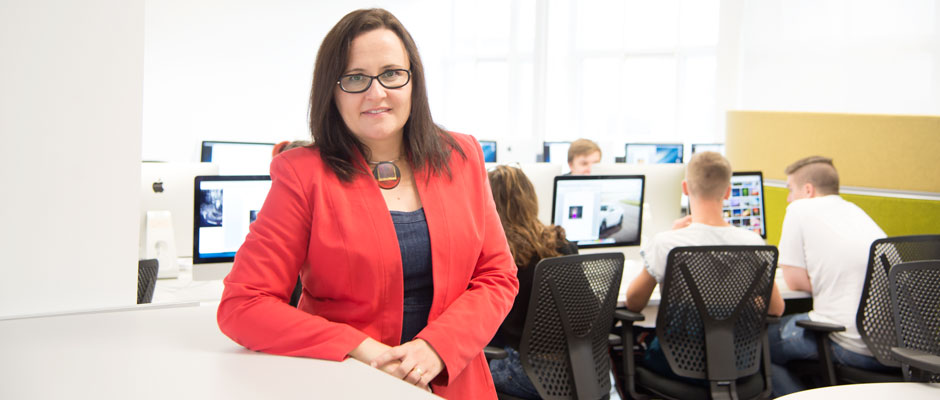 We want you to be happy, successful, well qualified and prepared for the future. Whoever you are, we want to make sure you reach your full potential.

Karen Spencer, Harlow College Principal
So why choose Harlow College?
We have outstanding student progress and achievement, performing in the top 1% of colleges in the country for student attainment and value added.1
Our students get higher grades on average compared to their peers studying elsewhere, so we have strong value added.
We're award-winning – the Association of Colleges has awarded us Beacon status for Innovation in Teaching and Learning, as well as for Leadership of Improvement.
Our students have been recognised for their skills through gaining prestigious awards such as Apprentice of the Year.
We provide strong pastoral care and support, encouraging and valuing everyone. We pride ourselves on an environment that's safe and secure.
We're a great stepping stone to employment or Higher Education and can give you with the employability, study and communication skills you need to succeed.
Our Alumni are recognised for outstanding achievements in their fields. They include: Alan Rusbridger (Pulitzer Prize Winning Journalist), Piers Morgan (journalist and television presenter), Nihal Arthanayake (musician and broadcaster), Jaime Winstone (actress) and Top Gear's Jeremy Clarkson.
1 Data from DfE Performance Tables plus ALPS (A Level Performance System).
We're always looking to innovate and improve and we've created a College that genuinely puts the student at its heart. We're proud of our reputation and popularity. Visitors to the College frequently comment on its purposeful but friendly and happy atmosphere. Many of our facilities are first class and make great places to learn, including our exciting University Centre, the purpose built GlassBox Theatre, The Salon and the Skylight Brasserie.
We're extremely proud of our students. They're a delight to work with. I hope you'll join us and I look forward to making you welcome at Harlow College to unlock your potential!
Karen Spencer
Meet Karen Spencer (Q&A)
Karen was previously Vice Principal at Kingston College in Surrey. Here's a short Q&A that gives an insight into Karen's background and her aspirations for the future.
Tell us about your background
I'm from Yorkshire, my parents were both teachers and I have two brothers. I loved to go to school – I even enjoyed exams!
What did you study at college/university?
At college I studied Maths, Further Maths, Physics and French. From college, I went to Warwick University to study Applied Mathematics. Alongside that I had always been involved with music and dance and even thought about going to stage school when I was 16!
What first attracted you to working in the education sector?
While I was involved with my local dance school I worked with the younger students and always really enjoyed it. I then got a place on a PGCE teacher-training course and never looked back. I just really loved working with both younger and older people. Its always different, always a new challenge and you get to meet lots of new people. You feel like you're making a real difference to individual lives.
What was it about Harlow College that appealed to you?
A lot of places say they put students at the heart of what they do, but you don't see many that actually do it! I thought it was important before I applied for the job to visit the College and find out more. I thought there was a great atmosphere here and a really positive aspirational culture. Both the staff and students commented on how purposeful and friendly it was. The students in particular all said how much the staff really cared about them! This College genuinely supports their students. There is a really excellent ethos here.
What do you see as the main challenges ahead for Harlow College?
I see challenges for Further Education generally. There has been a lot of change in the FE sector to do with curriculum and funding and one of the critical things for colleges is making sure they adapt to that change. I think Harlow College has a good platform because there is the University Centre, the work we do with local employers and apprentices, as well as having a really healthy environment for 16-18 year olds.
Are there any specific skills that you gained at your previous college that you will be bringing to Harlow College?
In my previous role I got a real breadth of experience and knowledge. I've been in the classroom and taught a range of subjects. I understand curriculum and love learning and teaching. I'm passionate about how you can enrich the student's whole experience and want to develop some really lively enrichment programmes. I am a big advocate of new technology and how it can help people learn and improve, including the greater use of e-learning.
What are your thoughts about working alongside local schools and the local community?
We're shaping what we can do for adults. One of the things we have been really focusing on is what local people need. The College can offer things like business start-up and budgeting skills. We also have a great Hospitality department. We want to build relationships with local primary schools and offer sessions to parents, for example healthy eating, feeding your family on a budget. The College already has some strong links with the community – it's about how we can adapt the curriculum to meet the different community needs.
How can you make Harlow College stand out from other colleges and sixth forms for the overall student experience?
We want to develop the whole student, not just the qualification, and really celebrate our alumni and the success of our graduates. We want to showcase this success with local schools to help raise aspirations. I would like to make some links, not just with secondary schools, but with primary schools as well. We are also looking at setting up an Enrichment Centre to get students more involved in extra-curricular activities.
Where would you like to see the College in a year from now?
Clearly we still want fantastic success and progression rates. We also have to make sure we have really clear plans in place for our future curriculum, whether it's higher education, 14-16 courses or work with the new UTC we are sponsoring. I'm not sure if the College has seen the recognition that I think it deserves, so it's about how we build our reputation within the community and the region. I have already found Harlow to be an incredibly friendly place that struggles with a reputation it doesn't deserve. The College sees itself at the heart of Harlow – promoting its prosperity.
What interests you outside of education?
I don't practice my piano as much as I should do! I have two little boys so I've suddenly become interested in Peppa Pig! I love traveling, particularly to Spain. I try and go every year! I like walking and have been lucky enough to go trekking to the Himilayas.
How would a friend describe you?
Probably talkative. My husband calls me bossy – well, he would do, wouldn't he!