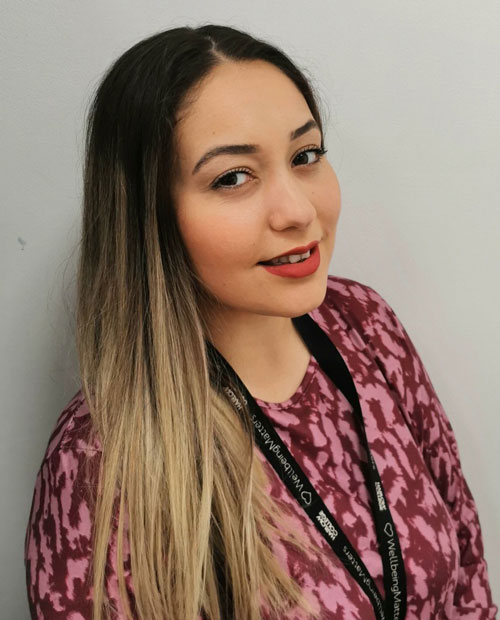 How Arzum unlocked her potential with a Teacher Training programme
It was in 2019 that Arzum was encouraged to apply for the Teacher Training programme as she had just begun the next stage of her teaching career.
"Even though I had experiences in Special Education and Mental Health I wanted to gather further skills in mastering behaviour management and supporting a spectrum of learners in my tutor group who I was responsible for.
"I wanted to develop the right skills in understanding all aspects of education including adapting teaching materials to suit learner abilities as well as creating inclusive and safe environments for my learners".
Now working as a Learning Co-ordinator for Supported Studies and the SEND (special educational needs and disability) team at Harlow College, Arzum described how the Teacher Training programme has benefited her in her current role.
"I have since progressed to deputy head of department for the SEND and Supported Studies area. I still teach learners with Special educational needs and am able to manage both academic, physical and mental health needs whilst supporting them to reach academic success."
For many adults returning to education, it's important that the course fits in around their work or lifestyle. For Arzum, having a full-time job was no problem.
"The courses ran in the evenings and the educator was flexible around when he could be contacted. I was able to carry out my assignments in my own time and fit it around my work schedule. Support was available whenever I required and the environment was very supportive to all those accessing the course."
"I enjoyed the sessions being taught through a variety of methods. We had some online teaching, in-class teaching, group work, discussions, video recordings and observations. The observations were conducted in a very supportive way - I was able to identify areas of improvement and use feedback to improve my practice."
Undertaking a teacher training programme can often be the final step in unlocking potential and opening up a career that hadn't necessarily been considered. Arzum explains: "I currently hold a Masters degree in Mental Health and Psychological therapies and am a registered Counsellor and Mental Health First Aider. However, I did not hold a teaching certificate when I began working at Harlow College.
"After gaining experience in the field of health and social care I wanted to support those who were planning to progress and enter this line of work. This is when I decided I wanted work in education and the Teacher Training programme allowed me to be the best teacher I could be.
"The course is great for those who are interested in changing their career into education; for those who are new to the role or would like to upskill their current practices. You leave the course fully equipped with strategies to use in every area."
About our Teacher Training Courses
We offer three Teacher Training courses, at Levels 3, 4 and 5, that will prepare you with everything you need to start work in a full teaching/training role as well as achieving a professional qualification.
Teacher Training Courses – Levels Explained
The Level 3 Award is perfect for trainers seeking a recognised qualification and for those interested in teaching in further education. This 15 week course aims to develop knowledge, skills and confidence in the delivery of training sessions to groups.
The Level 4 Certificate will enable you to learn and apply the practical and theoretical aspects of planning, teaching/training and assessing in Further and Adult Education or the private or public sector.
The Level 5 Diploma is suitable if you already work as a teacher, trainer or instructor in the private or public sector or Further and Adult Education, and can lead to the achievement of QTLS, (Qualified Teacher Learning & Skills).
About our TAQA Courses
TAQA (Training, Assessment Quality and Assurance) courses are available at Levels 3 and 4, and are ideal for individuals looking to enter roles in vocational assessment and internal quality assurance. They provide the opportunity for learners to develop and improve their practice as well as achieving a professional qualification.
Each Level offers both Awards and Certificates, depending on the chosen path and includes a mandatory knowledge unit which is delivered online, and then any chosen additional units are assessed practically in the workplace. Each is a qualification in its own right and units can be added to build on the Awards, if required, in the future.
TAQA – Level 3 Courses Explained
Award in Understanding the Principles and Practices of Assessment. The is a core knowledge only unit and is a starting point for those who wish to know about vocational assessment practice but who are not currently practicing.
Award in Assessing Competence in the Work Environment. Building on the above, this (2 unit) Award requires evidence of those practicing in a working environment (i.e. with apprentices).
Award in Assessing Vocationally related Achievement. This (2 unit) Award builds on the knowledge unit by requiring practitioners to evidence assessment in a classroom-based environment.
Certificate in Assessing Vocational Achievement
. This (3 unit) Certificate is a combination of the above. The core knowledge unit requires additional evidence of assessment both in the workplace and classroom.
TAQA – Level 4 Courses Explained
Award in Understanding the Principles and Practice of Internally Assuring the Quality of Assessment. The is a core knowledge only unit for those needing to understand IQA but not necessarily practicing.
Award in the Internal Quality Assurance of Assessment Process and Practice. This (2 unit) Award builds on the core knowledge unit with the requirement of evidence of a functioning quality system.
Certificate in Leading the Internal Quality Assurance of Assessment process and Practices
. This (3 unit) Certificate builds on the above, and requires evidence of leading the IQA process at a strategic level within an organisation.