We're an Apple Distinguished School
We are pleased to announce that we have been awarded Apple Distinguished School status for the third time
Click here to explore our strategies and our successes and watch video testimonies from both our students and staff.
What is an Apple Distinguished School?
Apple Distinguished Schools are centres of leadership and educational excellence that demonstrate Apple's vision for learning with technology - and we believe they are some of the most innovative schools in the world.
How did we achieve this status?
The Apple Distinguished School programme is by invitation only for schools that meet the current programme qualifications. Recognition is for two years, with an opportunity to renew each invitation period. The invitation process starts with school leaders from primary and secondary schools and further education colleges requesting an invitation to apply for recognition as an Apple Distinguished School.
Requests are reviewed by Apple to ensure that the educational establishment meets the necessary requirements. Harlow College is the first FE college in the country to be awarded Apple Distinguished School status.
Requirements:
Established one-to-one programme
Innovative use of the Apple platform
Staff proficiency with iPad or Mac
Documented results
Learn more (PDF)
Opportunities for school leaders
The Apple Distinguished School programme supports school leaders through leadership events, opportunities to engage with experts, and collaboration with peers who share an interest in innovative learning and teaching.
What does this mean to our students? How does this impact staff?
Apple Distinguished School leaders, teachers and the extended community have a clear vision for how their technology-rich environments support learning goals. School leaders have established elements for continuous innovation that include culture, team, capacity, community, finance and measurement. Supporting their school's vision is an ongoing process that requires thoughtful planning, practice and improvement along the way. They use iPad and Mac products to inspire student creativity, collaboration and critical thinking, and they cultivate environments in which students are excited and curious about learning.
How has it impacted learning, teaching and assessment?
Achieving ADS status has meant that our staff are committed to developing their use of technology/Apps and learning tools within the classroom. The strategy at Harlow College is that the use of technology is embedded seamlessly within the curriculum, and that teachers use technology in the classroom when it can improve LTA. The use of digital technology and tools within the classroom has broadened the toolkit that a teacher has and allows for more effective communication with student groups. The teacher can deliver innovative sessions within the classroom and use activities that impact on the students' progress and learning.
Thank you @Jisc for including me in this video discussion #Digifest23 https://t.co/RbMSjUCiQN

— Kelly Edwards (@KellyEd824) August 23, 2022
Apple CEO Tim Cook Visits Harlow College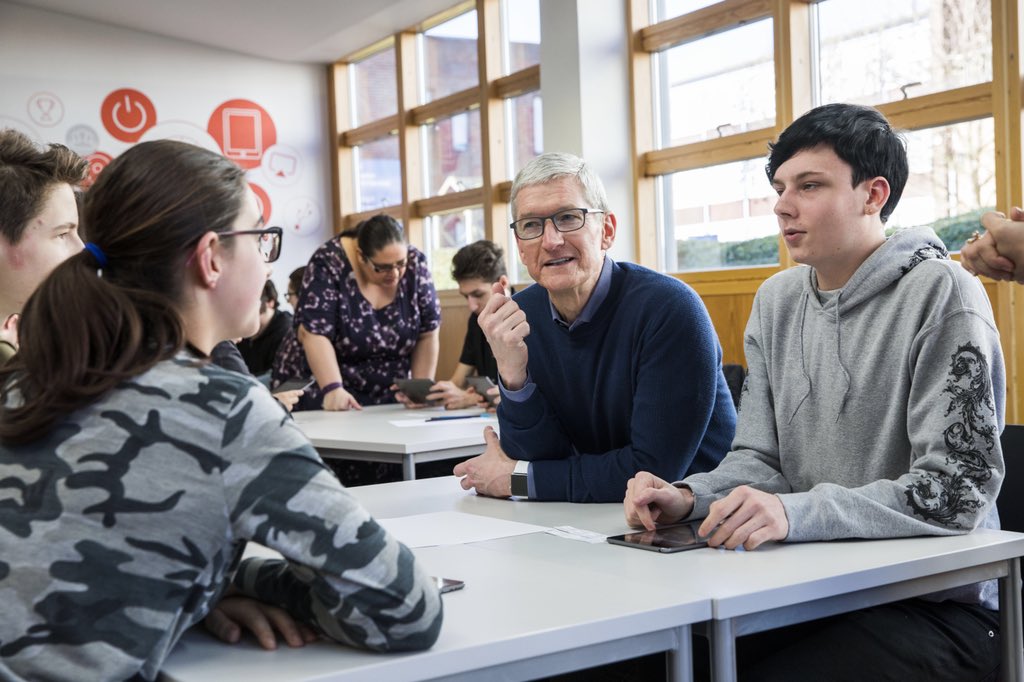 On Friday 19 January Harlow College was delighted to welcome Tim Cook, CEO of Apple, to meet staff and students to see how we are adding coding and app development to skills for our students in their future careers.
Tim Cook was there to celebrate the announcement that Harlow College is one of 70 colleges and universities across Europe to adopt Everyone Can Code, a program designed by Apple to help everyone learn to build mobile apps using Swift, a programming language already used to create over 250,000 apps to date including AirBnB, TripAdvisor and Yelp.
During the visit Tim joined a group of Level 2 IT students learning to code with Swift Playgrounds on iPad, listening to their experiences of using the app for their learning and asking them about their aspirations. He tweeted following his visit to say "thanks to students, teachers and staff @HarlowCollege outside London, one of the first in Europe to adopt Apple's App Development with Swift curriculum. Keep learning, keep coding!"
Nathan, 16 from Harlow, said: "I was really excited knowing that the CEO of Apple was coming to our class today. I wanted to show him how much the Swift Playground app has helped in my learning."
Athena, 17 from Stansted, was equally excited to meet the Apple CEO: "Tim seemed very interested in how we were getting on using Swift Playground in our learning. I was impressed with how down to earth he was."
Karen Spencer, Principal of Harlow College, said: "At Harlow College, we recognise that learning to code will help students prepare for a technological future. It develops their approach to problem solving, logic and reasoning, as well as reinforcing key mathematical skills.
"Everyone Can Code demonstrates how any student can code by providing a unique and innovative environment for learning."
In November 2017 Harlow College was awarded Apple Distinguished School status, the first FE College in the country to achieve this status, for its enterprising approach to transforming learning by instilling and developing digital confidence.
Full details of Apple's announcement is available here.
Leading European technical colleges adopt Apple's Everyone Can Code initiative