College Stars on the Red Carpet at Oscars Event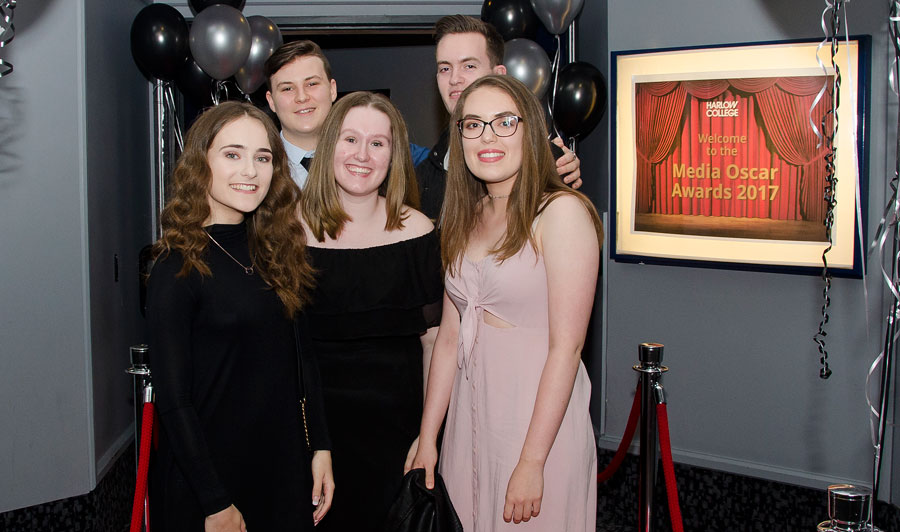 The Harlow College 'Oscars' took place on Tuesday 11th July at Cineworld Harlow, where students from Media and Animation were celebrated and awarded for their stunning creative projects.
Cameras flashed as the students arrived and, with their friends and family, walked in to main screen via the red carpet.
The event was attended by Karen Spencer, Principal of Harlow College and the hosts were Tom Gamble, George Hancock and Matthew Reeve-Arnold, all second year Media students.
Matthew, who won the award for Best Picture for Short Film (Static), said:
"It was an amazing experience helping to host the Oscars. It's my first time hosting an event like that but I thoroughly enjoyed it. Being an award winner just added to how well the night went! I honestly wasn't expecting to win, so when the announcement came it was an unbelievable moment. A big thank you to Harlow College for setting up the event!"
This is the fourth year that Harlow College has run the Oscars, with each event proving to be a great success.
Assistant Academy Manager, Delta Muntean said:
"The students collaborated with the local community and participated in a range of community projects. The East of England Ambulance Service Trust (EEAST) joined forces with the Media Department in campaigning to reduce 999 call time-wasting, to speed up the service and ultimately save lives."
"The Essex Local Offer also merged with the media students last year and continued to collaborate making a range of short animations for their website. The short clip shows the finished animation, explaining the Local Offer what they do."
"The Media teachers continue to utilise their industry contacts extremely well to develop very imaginative 'live' project briefs. Project briefs are inspiring and ensure learners have abundant opportunities to produce a wide range of outstanding creative and original work to be showcased on big screen at Cineworld Harlow, I am very proud of the hard work the teaching staff, students and Cineworld staff have put in to make the event a huge success."