College students make an impressive entrance at local hospital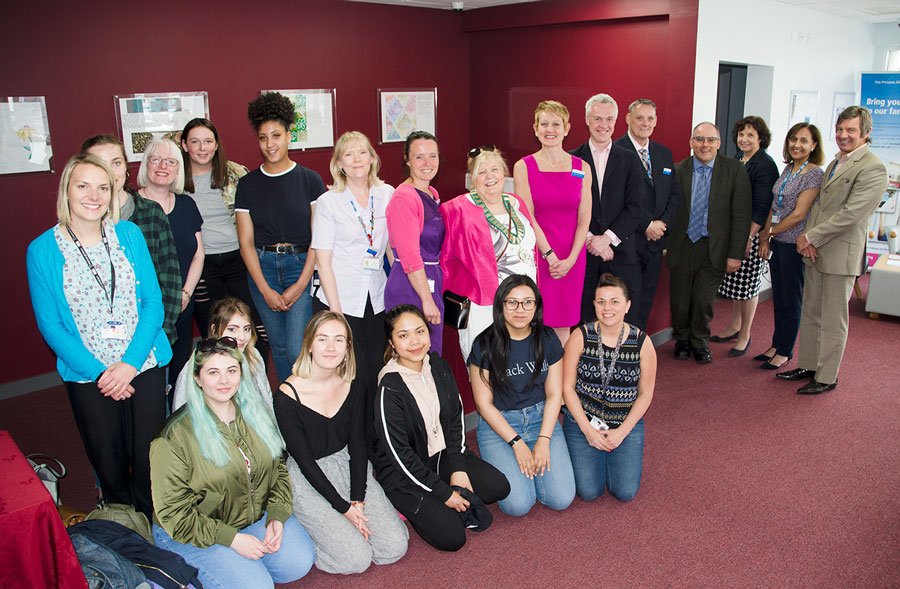 Harlow College Art & Design staff and students, alongside Sue Livings (Chair of Harlow District Council), Rob Halfon (MP for Harlow) and staff from PAH
Students on the Art & Design course at Harlow College have helped to brighten the new entrance at Princess Alexandra Hospital by creating some stunning works of art, including sculpture, ceramics and paintings.
The work was commissioned by the CEO of the Hospital, Lance McCarthy, who spoke about the collaboration between PAH and Harlow College. 'As soon as we got the go ahead to redesign the main entrance we knew we wanted a nice piece of artwork or a sculpture to really bring it to life, and what better way to achieve this than to ask the fantastic students at Harlow college to see what they could do for us.
'Hopefully, this collaboration will achieve a lot of aims. It will make the new entrance visually appealing; help put patients and visitors at ease and, most importantly, link the hospital back into the local community. The standard of the students' work has been absolutely fantastic.'
A public vote will decide which of the 16 pieces are chosen to be commissioned, with the top three being announced in mid-June.
Karen Harrison, Head of Creative Design at Harlow College, said: 'Initially, the Hospital were looking to commission a sculpture for the main entrance, as Harlow is a sculpture town. The project then grew to include paintings, fabrics and ceramics. The students have really enjoyed working with Princess Alexandra Hospital and have even started researching themes such as mental health and dementia.'
In attendance at the lavish opening ceremony were senior staff from the Hospital, alongside local dignitaries Sue Livings, the Harlow District Council Chair and Robert Halfon, MP for Harlow, who officially unveiled the refurbished entrance.
Robert said: 'I've visited Harlow College over 65 times since I've been an MP and I have seen Harlow art students do wonderful things, so to see their work now being displayed in Princess Alexandra Hospital is wonderful. Well done to everyone at Harlow college.'
Harlow College second year Art & Design student, Jada Green, who also lives in Harlow, is hoping her work is one of the three to be chosen. ''It was really good to work with Princess Alexandra Hospital because this is my local hospital and I have lived in Harlow my whole life.
'I have designed a large vinyl print, incorporating the main structures and sculptures of Harlow as this is a sculpture town. The artwork is designed to be hung on a prominent section of wall near the Hospital entrance - I would be overwhelmed if it gets commissioned. I would love to study architecture once I complete my studies at college.'
The artwork is expected to be seen by over 200,000 people before the end of the year. The Hospital serves a population of 258,000 and provides healthcare services to the communities of Harlow and the surrounding areas.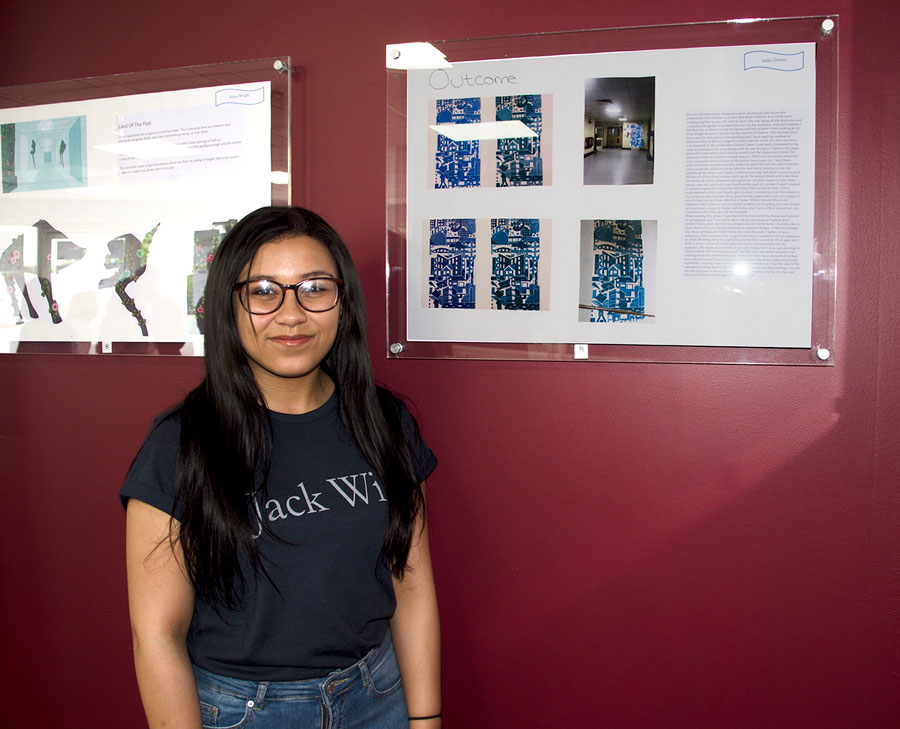 Jada Green with her artwork 'Outcome'