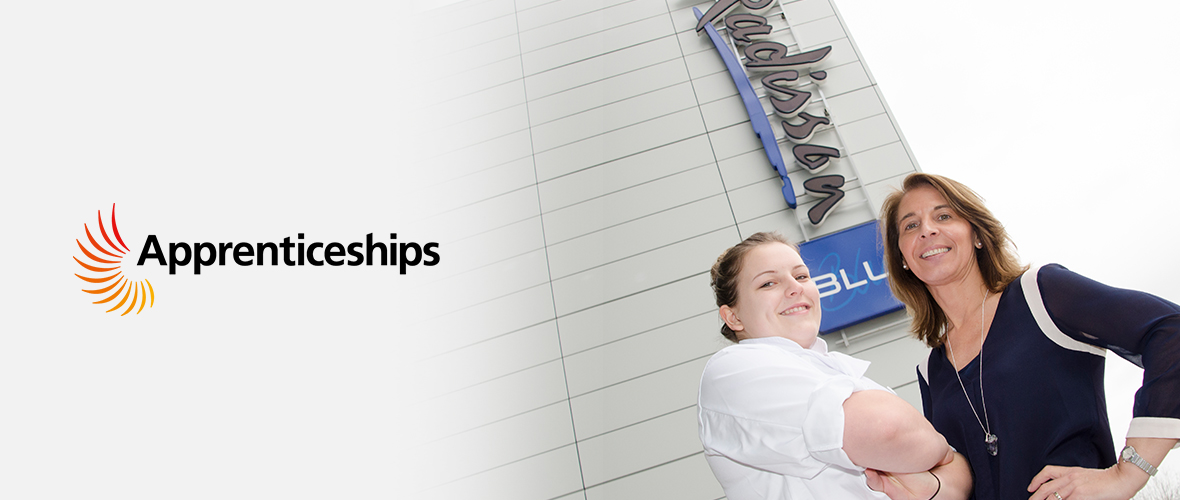 Employ an Apprentice
What is an Apprenticeship?
An Apprenticeship is a way for young people and adults to earn while they learn in a real job, gaining a relevant and useful qualification. Apprenticeships are available at intermediate, advanced, higher and degree level. Hiring apprentices will help your business to grow talent by developing a motivated, skilled and qualified workforce.
The Apprenticeship is structured to build the skills, knowledge and behaviours required for your workforce. It involves 20% off-the-job training, skills building in the workplace and an End Point Assessment of competency upon completion of the training programme. Some Apprenticeships also include a diploma qualification.
Apprenticeships are available to businesses of all sizes and sectors in England, and can last from between 12 months to 4 years. They are linked to job roles or occupations, over 1,500 of them across 170 industries. The range of Apprenticeships available mean that each one is relevant and appropriate both for your business and the apprentice.
The Apprentice
Most of the training within an Apprenticeship is on-the-job, working with a mentor to learn job specific skills in the workplace. Off-the-job training will depend on the occupational area and your requirements and needs. This training may be delivered in the workplace or through day or block release at premises away from the working environment i.e. a college.
Typically, the apprentice will spend four days at work and one day at college. They must be in paid employment for at least 30 hours a week which includes both the on and off-the-job training.


The process of hiring your Apprentice
We will:
Advise you on the Apprenticeship that would suit your role and give you all the information you need
Take details of your vacancy by phone, email or face-to-face meeting if you'd prefer
Advertise your vacancy on national websites and our Harlow College website
Shortlist candidates and send you the applications
Arrange the interviews
Enrol your apprentice
All you need to do is:
Give us details of your job role
Decide who you want to interview
Choose a successful candidate
Our assessors will visit to complete all the necessary paperwork with you.
We are your perfect Apprenticeship training partner
As well as offering a FREE recruitment service we will provide support from initial enquiry through to Apprenticeship completion.
We offer a wide range of Apprenticeships within a variety of industry sectors.
Our staff have years of industry experience and a wealth of knowledge when it comes to training young people.
Apprenticeship Levy payers
We can help with the set-up of your Digital Account. Selecting Harlow College as a training supplier is one simple click away. Ask for our Levy Account set-up guide or one-to-one assistance from our experienced team.
Training costs
Funding is available towards the training costs of an Apprentice. The size of the contribution varies depending on the size of your organisation, the age of your apprentice and the occupational area in which you require training.

You may be eligible for the full cost of training to be paid by the government; you may have to pay 10% of the training cost or you may have access to your Apprenticeship Levy if you are a large employer.

You may be entitled to incentives for employing a young person – see below:
Employer grants for taking on young apprentices
Training younger apprentices
All employers will receive £1,000 if, at the start of the apprenticeship, the apprentice is aged between:
16-18 years old

19-24 years old and who has previously been in care or who has an Education, Health and Care plan provided by their local authority
This payment will be made to the employer in two equal instalments via the training provider.
Where is Apprenticeship training delivered?
From our large, modern campus in Harlow
At your premises
From our new campus at London Stansted Airport (from September 2018)
Online/Blended learning
Get in Touch
Call 01279 868212
email