Overview
This Apprenticeship will provide you with the skills and experience to work competently in the electrical industry whilst working towards the industry standard qualification. You'll work under the close supervision of an experienced employer, learning all aspects of the job while maintaining effective working relationships with other trades and customers.
Am I ready to start?
Entry criteria varies depending on the framework you are studying and the needs of the employer, but a good level of secondary education is expected and many employers expect you to have maths and English GCSE at a C grade or above.
Employers also look for skills like motivation, good interpersonal skills, good communication skills and a willingness to learn and will set their own specifications depending on the role.
What does the course involve?
The training will be a mix of hands-on practical learning and theory covering things like:
Health and Safety legislation
Environmental legislation
Practices and procedures for overseeing and organising the work environment
Cable termination
Inspection and testing
Fault finding
Electrical principles
Functional Skills
How and when will I study?
The length of the course will depend on you and your employer, but to be a fully trained electrician takes four years.
You will spend most of your week in the workplace, where you will be assessed on the job. College will be one day a week where you will complete the knowledge based theory work.
Down to business, what can I do and what can I earn?
Newly qualified electricians earn between £19,000 and £22,000 a year. With experience, this can rise to £30,000+. This is above the national wage average and demand for skilled electricians is high.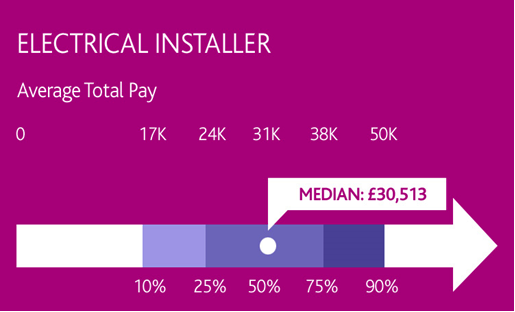 Got a job?
You must have a job to do an apprenticeship. If you already have a job you may be able to do an apprenticeship with your current employer.
If you don't have a job for your apprenticeship – apply for your place at College by clicking the 'Apply Now' button at the top and bottom of the page.
Once you have applied please check out our apprenticeship job vacancies.
An apprenticeship comprises two parts:
Typically 20% study element (at Harlow College or Stansted Airport College).
80% work based element with an employer. It is your responsibility to find an employer.
Great, so what do I do now?
Call 01279 868240 to speak to an Apprenticeships adviser
Contact us about applying for an Apprenticeship