Level: 2
Start Date: Variable
Overview
Site carpentry is a skilled trade, creating and installing building components using timber products. Site Carpenters normally work on a building site or in domestic and commercial premises, preparing and fixing building components, from the initial erection of a new building, through to the installation of all necessary fixtures and fittings, as well as a range of repair and maintenance activities. Advanced site carpentry involves carrying out skilled tasks on a construction site or in a workshop, creating and installing building components. The advanced carpenter and joiner is able to undertake complex job tasks, requiring high levels of practical skills and knowledge, in addition to managing their own work and leading small teams.
Am I ready to start?
You will be required to sit a diagnostic assessment for both Maths and English before your start on your framework, dependant on the outcome of the assessment it may be advisable for you to upskill before commencing with your apprenticeship. If this is the case the college will support you to find an appropriate course.
Before starting an apprenticeship you will be required to go through the interview process with an employer. Employers may be looking for slightly different qualities but on the whole employers are looking for motivated, enthusiastic and hardworking individuals that have good interpersonal skills and the ability to problem solve and work effectively as part of a team.
It may be you don't feel you are ready for an apprenticeship and might benefit from a Traineeship or other full-time course first.
How does an Apprenticeship Work?
An apprenticeship programme is delivered via a mixture of on and off the job training, whereby you can apply your skills in real work contexts. The apprenticeship programme usually consists of the following elements:
Diploma
This is the training that you will undertake in college. Through this training you will develop some of you underpinning knowledge as well as have the chance to practice and refine you practical skills.
NVQ
This is the assessment of your competency in the work place. Our team of onsite assessors will observe you in the work place and support you to gain the evidence required to prove your ability to work effectively.
Functional skills
This area covers your English and Mathematics development to the highest possible level.
Transferable skills
These are the skills that help you to develop your Personal Learning and Thinking Skills (PLTS) and your rights as an employee within the workplace.
The duration of the course is dependent on prior attainment and can range from 18 months to 24 months. You will attend College for 1 day a week and you be in the workplace for the remaining 4 days.
At Harlow College we do not believe in aiming for the bare minimum. Wherever possible we encourage our apprentices to go above and beyond the requirements of the framework and achieve their maximum potential.
What does the course involve?
INTERMEDIATE LEVEL
Core skills and competencies:
Work safely and be aware of key health, safety and welfare issues .
Plan an d carry out their work to commercial standards of quality and speed .
Move, handle and store resources , such as materials and timber components, complying with relevant legislation & guidance.
Interpret and follow verbal an d written work instructions from trade supervisors and site managers
Select the required materials to c arry out the work , such as correct timber, tools and fixings.
Access, interpret and use drawings and specifications to carry out their work.
Level 2 Extended Diploma or Diploma in Site Carpentry
Level 2 NVQ Diploma in Wood Occupations (Site Carpentry)
Functional Skills Maths and English of a minimum of level 1
Personal Learning and Thinking Skills (PLTS)
Employment Rights and Responsibilities (ERR)
Core knowledge
Understand the principles of health, safety and welfare and how these are applied in the workplace.
Understand how to communicate with others and comply with instructions and directions.
Understand the different techniques and methods used to move, handle and store materials.
Understand how to interpret and use relevant product information and specifications.
Understand their responsibilities under current employment and safety legi slation, such as The Health & Safety at Work Act.
Understand how to calculate quantity, length, area and wastage of resources.
Understand the needs of other workers and how to work effectively with others.
Understand the characteristics, quality, uses, sustainability, limitations and defects associated with timber and timber based products and components, such as hardwood, softwood, MDF and other materials.
Core skills
Carry out a range of job tasks including measuring, marking out, fitting, cutting, splicing, finishing, positioning and securing.
Install door and window frames, door and hatch linings, floor joist coverings, straight partitions and straight staircases.
Install doors, ironmongery, service encase ments, wall and floor units and fitments, cladding and staircase components.
Erect inclined roofs with gables, joists, roof coverings and roof components.
Repair or replace frames, mouldings, doors, windows, door and window ironmongery, roofing components , guttering and downpipes and window components.
Use, maintain and store hand tools, power tools and associated equipment
Qualification
NVQ Level 2 Diploma in Wood Occupations – Site Carpentry
ADVANCED LEVEL
An advanced site carpenter will normally work on a building site, or in domestic and commercial premises, preparing and installing complex and often bespoke building components e.g. high quality doors, shaped linings, staircases with turns, complex wall and floor units, erecting bespoke structural carpentry (inclined roofs and joists) and erecting complex roof structures (e.g. inclined roofs with hips, valleys and dormers).
On completion of this apprenticeship, advanced carpentry and joinery workers will be able to carry out all the activities und ertaken by a carpenter and joiner, but also be able to:
Work safely and proactively in the application of good health and safety practice in their work area, to protect self and others.
Understand the programme and work schedule for their work area and plan their wor k accordingly.
Develop and maintain good working relationships with managers, supervisors and work colleagues.
Determine the best way of carrying out the work and ensure this is communicated clearly to colleagues.
Interpret technical specifications and en sure compliance with legislation / guidance relevant to the work being done.
Select the required quantity and quality of resources required for carrying out complex and non - standard work , including timber, tools and fixings.
Be prepared to take a lead when working in a team, especially when complex or non-standard work is involved.
Qualifications
Level 3 Extended Diploma or Diploma in Site Carpentry
Level 3 NVQ Diploma in Wood Occupations (Site Carpentry)
Functional Skills Maths and English of a minimum of level 1
Personal Learning and Thinking Skills (PLTS)
Employment Rights and Responsibilities (ERR)
How and when will I study?
You will study for one day a week for 12–15 months.
On completion of this s tandard, apprentice will progress to a wide range of employment opportunities, or move onto full or part-time further education. The achievement of this standard will meet the requirement of the Construction Skills Certification Scheme (CSCS) 'Advanced Skilled Worker' standard, which is widely recognised as a 'licence to operate' in a skilled construction trade.
Down to business, what can I do and what can I earn?
Demand for skilled tradespeople is very high and there are a huge number of construction projects across the UK and abroad due to start over the next few years.
This apprenticeship could lead to one of the following opportunities:
Employed as a Carpenter – Salaries range from £15,000 to £36,000. However with the recent boom in housing construction some reports suggest experienced carpenters are able to command salaries in excess of £40,000.
Self Employed Carpenter – Salary negotiable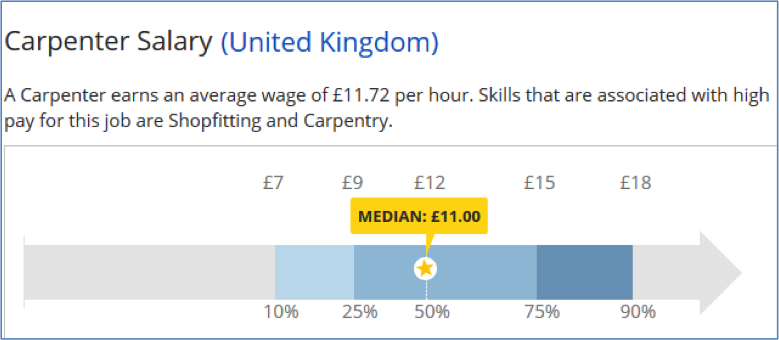 Got a job?
You must have a job to do an apprenticeship. If you already have a job you may be able to do an apprenticeship with your current employer.
If you don't have a job for your apprenticeship – apply for your place at College by clicking the 'Apply Now' button at the top and bottom of the page.
Once you have applied please check out our apprenticeship job vacancies.
An apprenticeship comprises two parts:
Typically 20% study element (at Harlow College or Stansted Airport College).
80% work based element with an employer. It is your responsibility to find an employer.
Great, so what do I do now?
Call 01279 868240 to speak to an Apprenticeships adviser
Contact us about applying for an Apprenticeship