TV star George Clarke helps students design for the future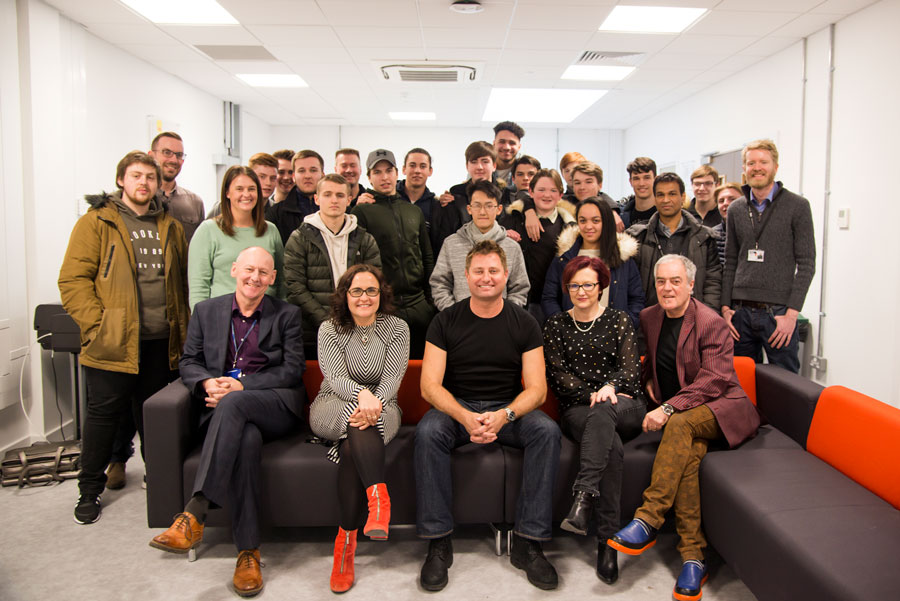 Harlow College Construction students, taking part in a design competition, found themselves pitching their ideas to none other than TV presenter and renowned architect George Clarke, famous for his Channel 4 series The Restoration Man and Amazing Spaces.
George was visiting Harlow College as part of the judging panel to choose winning designs for his recently launched MOBIE (Ministry of Building, Innovation and Education) Design Challenge, where groups of students from schools and colleges across the UK were invited to submit ideas for a homes of the future national design competition.
Gerry Ruffles, Head of MOBIE Education, who has been working closely with the students over the past few months, said of the students: "I've been really impressed, not just by the work they've been doing but by their motivation and enthusiasm. They've come up with some really creative and wacky ideas."
MOBIE was launched in May 2017 primarily to help create new ways of thinking around designing and building homes for the future.
"What we're looking for is a bit of inventiveness when it comes to thinking about the future of homes" George commented. "For me, more than anything, it's about thinking differently. Most houses are built in a fairly conventional way and MOBIE's been set up to do something different to that.
"Three attributes that a good young designer should have are passion, inspiration and naivety. The beautiful thing about being a little bit naïve is that you have more of an enquiring mind and you ask more questions."
After much deliberation, two groups were chosen to go through to the national final at MTC (Manufacturing and Technology Centre) in Coventry on 22 March, where they will be up against teams from Sheffield, Nottingham, Hartlepool and Middlesbrough, pitching their designs to a packed auditorium of over 250 industry professionals.
Charlie, a Year 1 Construction student and a member of one of the winning groups, said: "We're really glad we put the hard work in – it was a real group effort. We're so excited that we've made it through to the final."
Mark Strange, Assistant Academy Manager for Construction, said: "George's visit was an amazing experience for both staff and students. It was great to be able to take advice from someone who is at the top of their profession and I know George was impressed with how the students presented themselves and put their ideas across."
George said of his time at the College: "The day was a massive success. The two groups that we chose to go through to the final were outstanding – much beyond the level that I thought they would be. That's what we're looking for with MOBIE – people who are competent in all areas, whether it be good design or good technical ability."
The winning group will be awarded £1,000 and the honour of being the winners of the inaugural MOBIE Design Challenge.