£1500 Award from Gateway Qualifications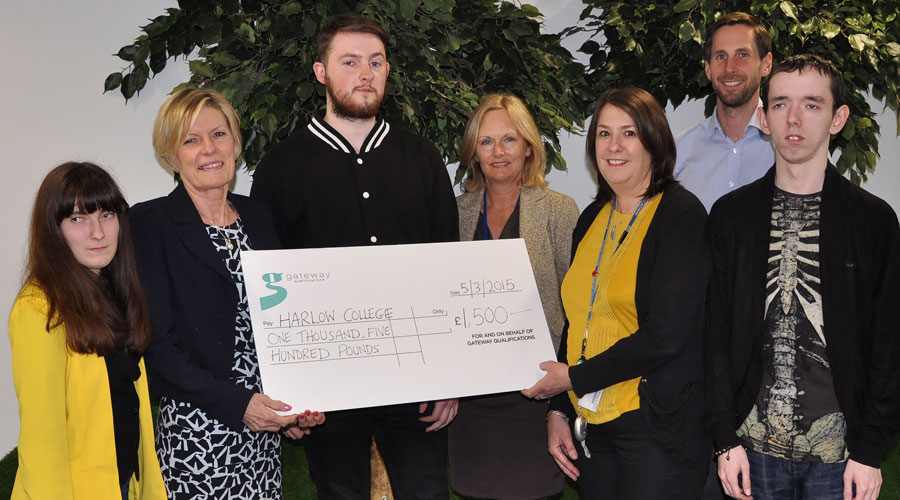 Carol Snape from gateway Qualifications, Ann King (Assistant Principal), Rachael Barnes (Hospitality Tutor), Julien Sample (Head of Employability, Innovation and Skills Academy) with students from the Level 1 Certificate in Hospitality Skills course.
Harlow College finds gateway to £1500 award for the benefit of unemployed people across the East of England.
A proposal submitted by Harlow College Head of Employability, Innovation and Skills Julien Sample, has won a £1500 prize from Awarding Organisation and Access Validating Agency Gateway Qualifications.
The award was launched at last year's Association of College (AoC) conference in Birmingham's ICC to help celebrate Gateway Qualifications' launch of its new corporate identity and was the brainchild of Chief Executive Officer Carol Snape.
"We wanted to offer something that would have lasting and positive impact on the learner journey", she says "and offering an award where Colleges could make their own case and decide their priority seemed by far the best option."
Colleges were invited to enter the award competition on the Gateway Qualifications stand at the AoC event. Harlow's follow-up submission specified the purchase of a handheld, wireless point-of-sale and digital recording system as a contribution to the Gateway L1 Certificate in Hospitality Skills being offered to unemployed people across the East of England.Harlow College's entry states, "The POS system allows orders to be taken and sent electronically, allowing employees more time to interact with customers. This technological advancement is widely used within the industry no matter what the size of the business, so confidence in using them is essential in securing employment."
In another extract from the submission the long-term benefits of acquiring the unit are well supported. "Some learners have basic literacy skills, use of this equipment will ensure that they are not disadvantaged and at the same time their aspirations will be raised when they are able to overcome long-term literacy barriers which have held them back from entering the work force.
We are confident that the inclusion of this equipment into the delivery of the L1 Certificate in Hospitality Skills will significantly improve the learners' chance of securing and sustaining employment in the hospitality industry."
Julien Sample, Head of Academy, wrote the award-winning submission.
"We've come to know the quality of Gateway Qualifications' work and this award sums up their innovative approach and practical support. Here is an initiative which will make an impact on the course and in the classroom setting or in peripatic teaching locations. We'll be able to create a realistic working environment. The unit will provide some fun and some valuable skills too."