A Good Hair Day!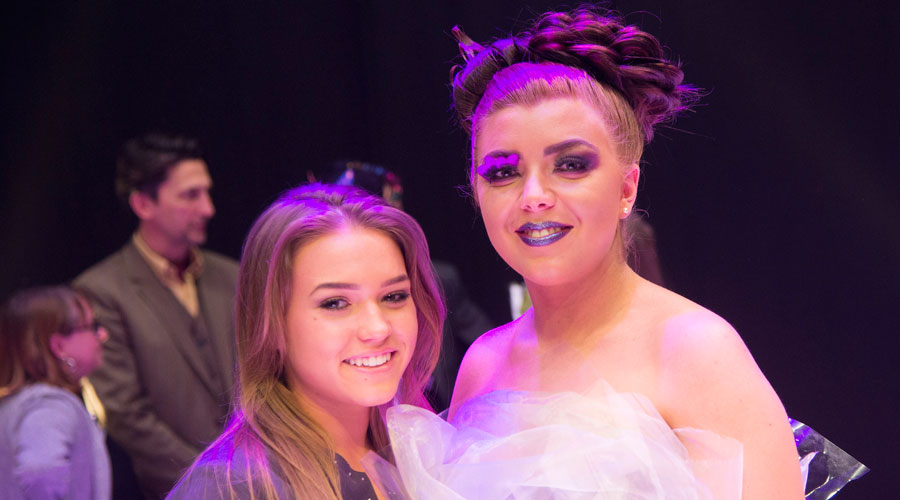 Winner Lillie West with her amazing model
Harlow College's ninth Annual Hair Competition was won by Level 2 Hairdressing student Lillie West. Lillie was selected from an entry of over 100 talented students.
The theme of the competition was 'Seasons of the Year'. Students were tasked with developing a mood board from which to create an entire look including hair, costume and make up (assisted by our talented beauty students).
We wish Lillie the best of luck when she goes on to represent Harlow College at the Chris & Sons Student of the Year competition.
"I still can't believe I won the competition, she said. It's such a great achievement and I'm so proud of myself. I practised, practised and practised so I'm glad all the hard work and effort I put in payed off! Now I'm looking forward to going on to the next stage of the competition and representing the College!
Principal of Harlow College - Karen Spencer
"The students showed great flair and creativity, using the theme of the 'Seasons' to inspire new hairstyles. Participating in a skills competition with industry experts judging really helps their confidence and prepares them for a competitive world.
I am really proud of their achievements and excited for the winners who now get to compete in a regional competition"
Senior tutor - Debbie Thaddeus
"The show was a resounding success and we are very proud of all the hair and beauty students who took part and produced such great results.
Competitions like this are very common in the glamour industry, this event stimulated the students imaginations and creative skills which will help prepare them for the many challenges they will face in the commercial word"
Head Judge - Pete, Chris & Sons Hair and Beauty Wholesalers
"Once again Harlow College students have excelled with an exceptionally high standard of work. With not only the fantastic hair work, but make up and costumes to compliment the overall look. Chris and Sons look forward to the Harlow students who will representing the College in our annual student of the year competition, competing against other College from London and the South East, a competition that has been previously won by a Harlow College student"
Tags: hair