Gearing Up For New Engineering Centre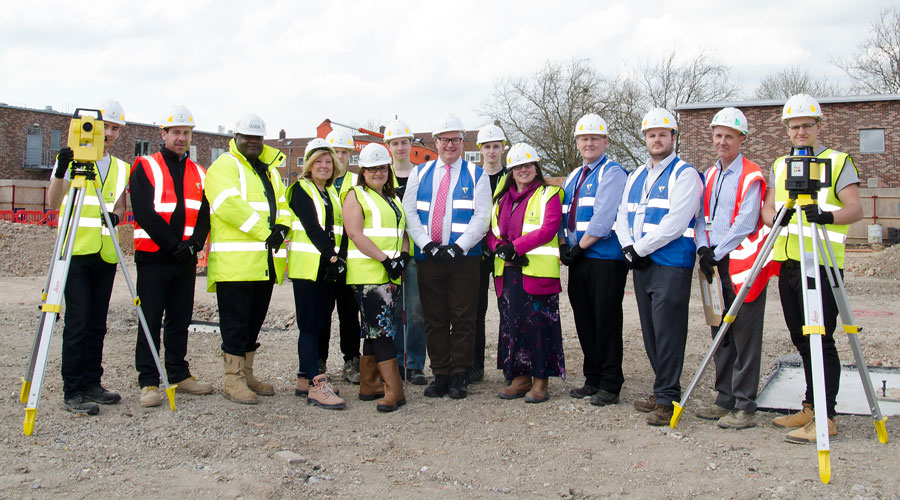 Councillor Bentley with Principal Karen Spencer and staff from Willmott Dixon and Harlow College
Harlow College hosted a visit from Essex County Council to the site of its new Advanced Manufacturing & Engineering Centre (AMEC) last Thursday 14th April.
AMEC, due to open in December 2016, will be focused across three key engineering areas – Advanced Manufacturing, Aeronautical Engineering and Operations & Maintenance Engineering.
Construction students from the College had the opportunity to go onsite and test the brand new equipment, including levelling and measuring devices, under the watchful eye of Setting Out Engineer Andrew Mutoti from Willmott Dixon, the company building the new Centre.
Essex County Council have been pivotal in the funding of the new Centre, along with the South East Local Enterprise Partnership and Harlow College. The total investment into the AMEC is £8.5 million.
Visiting in his role as Deputy Leader of ECC and Cabinet Member for Economic Growth, Waste and Recycling, Councillor Kevin Bentley was impressed by the work on the site. He was accompanied on the visit by Councillor Penny Channer.
Councillor Bentley said: "I found the visit to the site today absolutely brilliant. Harlow College is doing some superb work here and I'm really pleased that we as a County Council have enabled, through our Local Enterprise Partnership, to fund a lot of this.
This new Centre is a great credit to both the College and Harlow as a town. We've got some really exciting things happening, with the Enterprise Zone and business from the public health sector moving here. Harlow has got a really bright future and the College sits right in the middle of that - the jewel in the crown of Harlow."
Karen Spencer, Harlow College Principal said: "It was a pleasure to welcome representatives of Essex County Council to Harlow College today. They are playing a key role in the investment in the Centre and supporting Engineering businesses in Essex. Our young people are really going to benefit from its legacy through the development of the skills required for a key industry."