Stansted Airport College Opens its Doors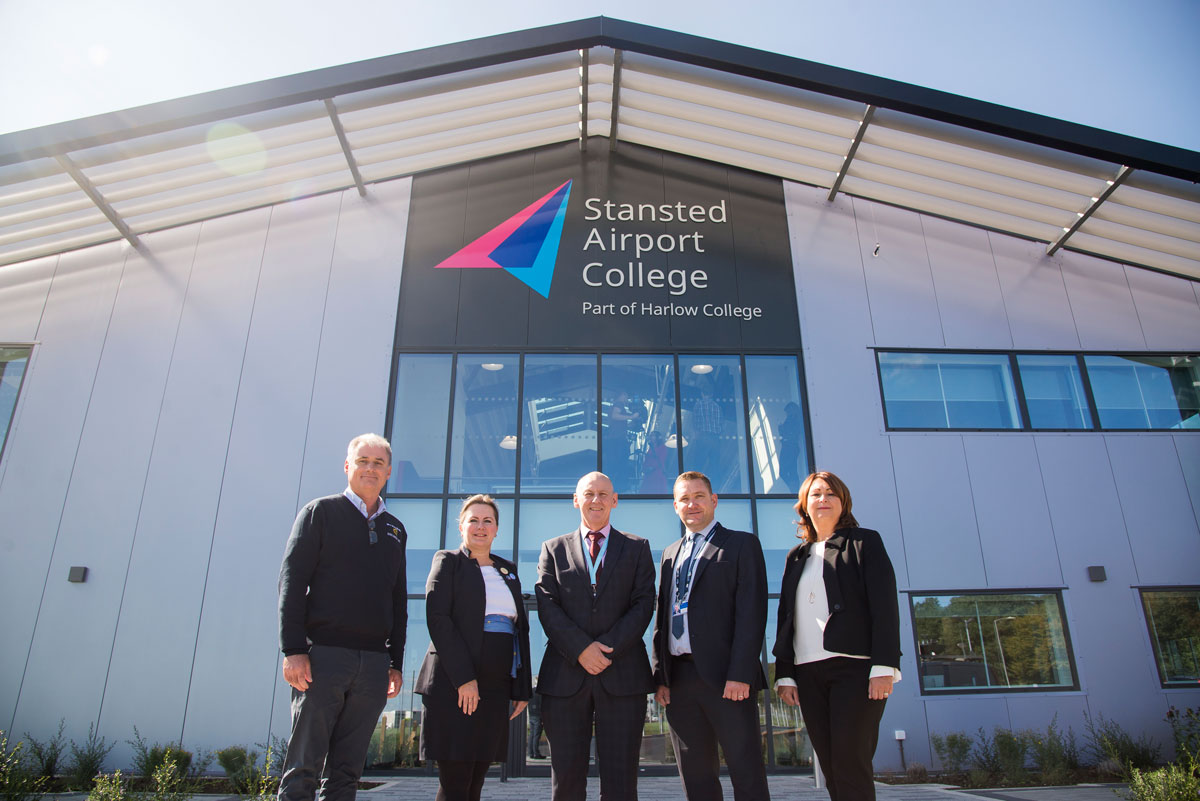 Stansted Airport College has opened its doors to almost 300 students who will study at the brand-new facility.
The £11 million technical skills college is the first purpose-built on-site college at a major UK airport and the only Further Education facility in Uttlesford.
Courses on offer are specifically chosen to bridge the regional skills gap in STEM (Science, Technology, Engineering and Maths) subjects as well as specific airport roles in aircraft and airport engineering, business studies, logistics and supply chain management, asset management, hospitality and customer service.
The college can train up to 500 people each year in technical skills, traineeships and apprenticeships and will play a crucial role in providing London Stansted Airport with skilled on-site workers, with qualifications offered by Harlow College.
Jonathan Oates, Corporate Affairs Director at London Stansted Airport said: "Today is the culmination of four and a half years of work between Stansted and Harlow College and we are delighted to welcome so many students through our doors. This exciting partnership has really taken off and will enable us to build up the kind of skill base that we will need to meet the demand for growth here at London Stansted, whilst also providing a huge range of possible career paths for young people in Uttlesford and further afield.
Karen Spencer, Principal of Harlow College, said: "Harlow College is proud to support the development of London Stansted Airport with the new college at Stansted. We firmly believe in providing students with a clear line of sight to the workplace and excellent career opportunities. The college provides a bridge between young people and employers, as well as supporting our region's economy. We are so excited to have welcomed our new trainees this week – this is where their careers will take off!"
Val Hopkins, Sales Manager at Novotel said: "Our hotel is literally on the doorstep of the college with an ongoing demand for skills, so we're well placed to support students by providing them with part-time work at the hotel, with a wider opportunity of work experience in London and beyond.
Shaun Fitzpatrick, Cabin Crew Manager at Titan Airways said: "Recruitment in cabin crew and inflight services is always quite challenging for us, but with the newly opened college we're hoping to tap into a pool of talented individuals. As an airline we're able to offer support, not only to the students but also the tutors, in assisting them with technical details in lessons, as well as offering workshops for potential employment and interview processes."
Andy Daines, Engineering Training Manager at Ryanair said: "There is a massive demand for engineers and we've been working closely with the college to see how we can help support those students once they've qualified. We're taking 16 students next year on apprenticeship programmes, which we hope will be the start of a long term relationship with the college.
"After visiting this wonderful facility today and seeing the students in action, I'm convinced that the Frank Whittle (inventor of the turbojet engine in 1930) of tomorrow is here today!
Shannon Barber, 23, from Great Notley is just starting an Engineering Apprenticeship. "I've always had a passion for engineering – my dad was a mechanic and I used to love going to work with him. Once I finish my Apprenticeship I'd like to stay working here at the airport, hopefully progressing through to management, so I could have my own team of engineers."
Stansted Airport College trainees have access to a generous travel card scheme currently offered to London Stansted Airport staff, which offers discounts of up to 80 per cent on bus, coach and rail travel, making studying at the college accessible to students from a wide area.
The two-storey facility has been built on a one-acre site on land made available by the airport near the long-stay car park and Novotel Hotel. The project received two separate £3.5 million grants from the South East Local Enterprise Partnership (SELEP) Local Growth Fund and Essex County Council.