Minister for Apprenticeships and Skills Visits Harlow College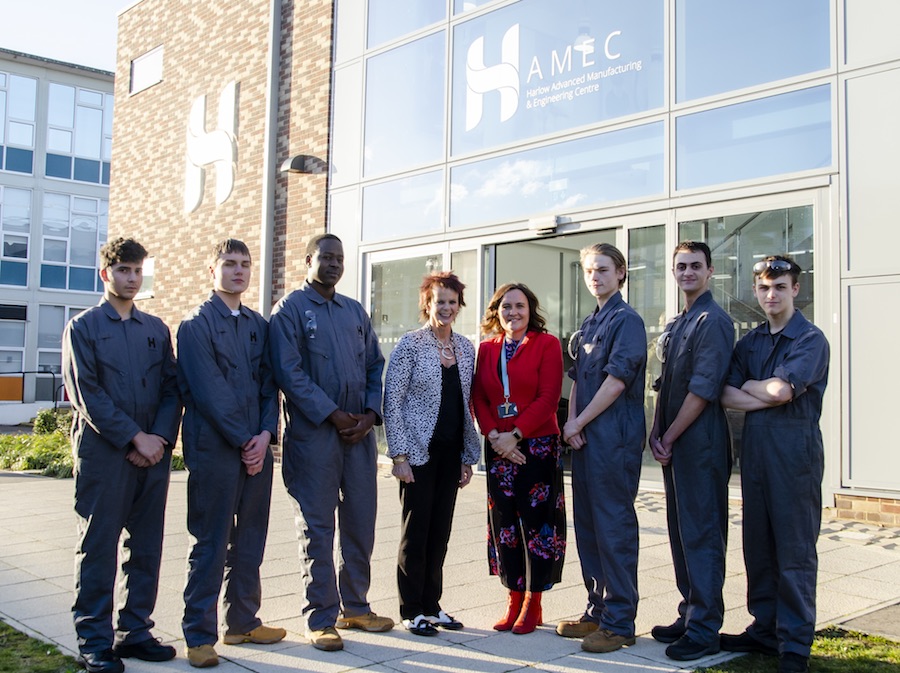 Apprenticeships and Skills Minister, Anne Milton (centre, left) with Karen Spencer, Principal of Harlow College and Engineering apprentices at the Harlow Advanced Manufacturing & Engineering Centre
Anne Milton, Minister of State for Apprenticeships and Skills, visited Harlow College on Thursday 7 February, taking a tour of the Harlow Advanced Manufacturing and Engineering Centre (HAMEC) before meeting key employers from London Stansted Airport as well as College staff and apprentices.
The Minister was at the College to look at apprenticeship provision and to promote the Taking Teaching Further project, a national initiative to attract experienced industry professionals with expert technical knowledge and skills to work in Further Education (FE).
The project will create collaborative partnerships across the STEM sector between FE providers and industry. It will be supported by Essex County Council and other local councils; post-16 providers including Harlow College, South Essex College and Colchester Institute and major employers such as Stansted Airport.
As part of her visit, The Minister spoke to Engineering apprentices from both Harlow College and Stansted Airport and encouraged them to recognise the benefits of undertaking an apprenticeship and of the 1000's of jobs that are available.
Anne said: "It is so important that the further education sector continues to attract brilliant teachers with the knowledge and skills. This is the way we inspire the next generation of highly-skilled young people. So, I'm thrilled that Harlow College is supporting our Taking Teaching Further initiative working with local employers including London Stanstead Airport to help attract talented industry professionals to work in further education. Imaginative employers working with great colleges to build the skills we need for the future!
"It was also great to meet apprentices and staff at the College too. They are doing fantastic work here to make sure apprentices receive the best training possible and go on to have amazing careers.
"I wish them all the best and look forward to hearing more about their great work!"
Robbie, 19, from Enfield, is currently studying the Level 3 Engineering Apprenticeship at Harlow College, whilst working for James Purdey & Sons in Hammersmith. "The great thing about an apprenticeship is that you get a job straight away; I'm earning money and learning everything on the job so it's more relatable to the industry I'm interested in.
"When I finish my apprenticeship, I could stay with my current employer or use my skills to look for lots of different jobs within the engineering sector, including things like aerospace engineering, as you learn many transferable skills."
Karen Spencer, Principal of Harlow College, said: "It was our great pleasure to welcome Anne to Harlow College today. She was able to see our strategy of 'Not just courses, Careers' in action and hear how we are supporting young people into meaningful employment and apprenticeships. She also got to meet our finalists for the Formula 1 in Schools competition and hear how they are raising funds to support their bid to be world champions."