Girls Into Engineering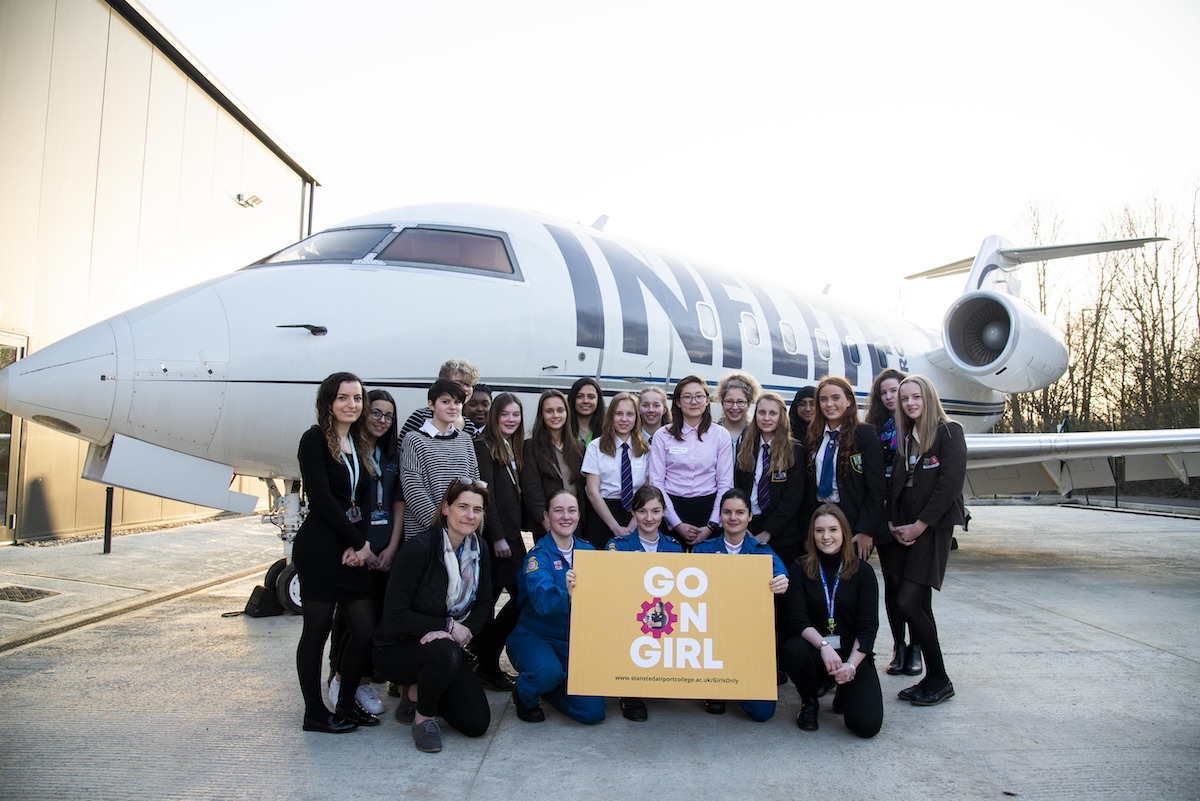 Stansted Airport College held a ground breaking Girls Only engineering event on Wednesday 27 February.
Budding Year 11 female engineers headed to the College from Schools as far afield as Chobham Academy in Stratford, East London and Colchester High School, to meet members of the Red Arrows 'Blues Team', take part in Engineering activities in the workshop, and have an "access all areas" tour of the Ryanair building at Stansted Airport.
With International Women's Day on 8 March and with a shortage of female engineers across the region, the College has hosted this prestigious event to raise awareness of the vital role that females play within the engineering industry and to showcase the many different opportunities that are available.
Mary Cooksey, Area Manager at Ryanair, said: "There are various benefits to having more females in Engineering. Women tend to have the ability and the flexibility to look at things from a different viewpoint; they have strong analytical skills and a real 'can do' attitude, particularly in the area of avionics."
Lydia Ford is an avionics engineer with the Red Arrows, Blues Team. "We deal with all the electrical aspects of the aircraft, from lighting to radar systems. This season I'll be flying as a circus engineer, which means I'll be flying in the back of the Red Arrows jet, going to all the air shows with the team and looking after the aircraft while we're on the road.
"We currently have eight female engineers in the Red Arrows out of around 120 Engineering roles. I was actually the first female engineer to be recruited to 9 Squadron, who fly the Tornado jets."
Bethany Baxter, another member of the Blues team, said: "As a female, don't let anything stop you becoming an engineer. Females excel in different areas to the men. We work well as a team and have our unique skills. Don't let the male dominance put you off because it's really not that bad. You are treated exactly the same as the men."
Two of the Year 11 girls who attended the event were Khadeja, from Chobham Academy in Stratford and Kaitlin, from the Herts and Essex High School. Khadeja: "I really enjoyed hearing from the Red Arrows team and the work they do. Today has been really inspirational and has made me more determined to look for a career in engineering."
Kaitlin: "I'm part of the Air Cadets so I'm not put off at all about being a female looking to go into engineering. There were only a few girls who joined which made me more determined. My advice to any girls who are thinking about becoming engineers is just do it if you enjoy it and don't let anything put you off."
Victoria Clayden Smith, Deputy Head of Stansted Airport College, spoke about the event: "To be able to inspire the next generation of female engineers today with our special guests has been a fantastic opportunity. The girls' interest and enthusiasm has been infectious throughout the day; it's been wonderful to be part of that.
"They were able to showcase their skills with the mini-minute challenges and see inside the life of engineers with the Red Arrows and Ryanair. It's been great to show the girls that there are many different routes into engineering and it can all start here at Stansted Airport College. The fact that their future careers could be working alongside the Red Arrows, or earning £40,000 by the time they're 21 with Ryanair, has really motivated them!"