BBC Look East Editor visits NCTJ Students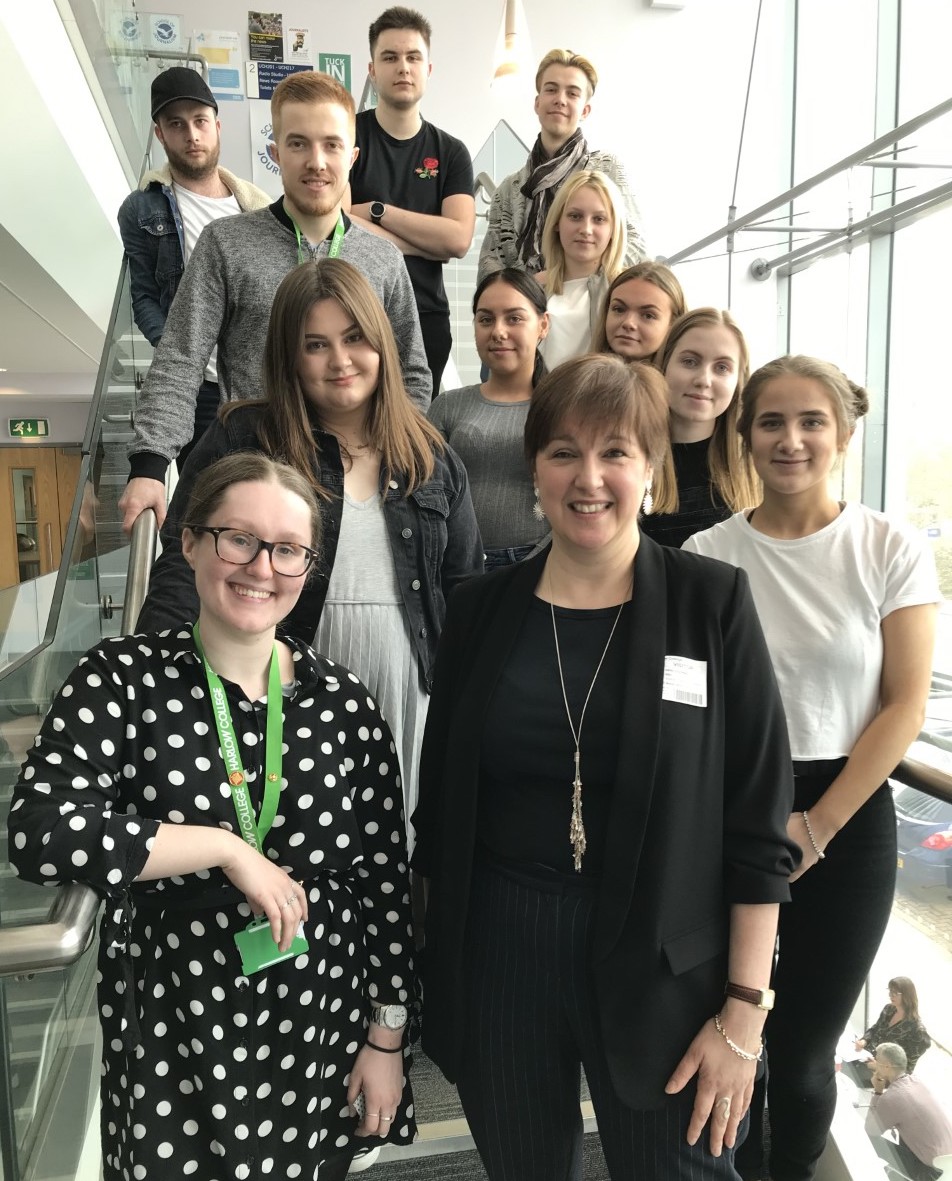 NCTJ students with Nikki centre
BBC Look East Editor Nikki O'Donnell told Harlow College journalism students they have an important role to play in shaping the future of the media industry.
She visited Harlow College School of Journalism to speak to the current National Council for the Training of Journalists (NCTJ) students about what it is like to be both in front of and behind the cameras at the BBC. And she admitted that the BBC appeals to the older generation but struggles to persuade young people to switch on.
Nikki was a graduate of Cambridge University before joining the BBC as a radio trainee in 1990. She worked in a variety of roles within the BBC before joining Look East in 2006 as News Editor.
She described working in broadcasting as: "Fantastic, it has an important place in society. The BBC can help people understand what is going on in their area and I believe that journalists play a role in democracy."
She asked the students for feedback on what they thought of the BBC and what they could do to increase the number of young people watching the news. Most students said they would watch it more if they could relate to what was being reported.
When discussing the formality of the BBC, Nikki said: "There is Cbeebies for infants, CBBC for children and then BBC for the older generation. There is a gap for teenagers and it is important that young people are engaged by having less formal and more diverse people to present the news."
She added: "People like me want to know how journalism is going to thrive in the future, it's in your hands."
Nikki explained that throughout working for the BBC she had moved around in various roles and recommended students to do the same.
She said, "The best thing about journalism is that you pick up on new ideas in new places." Nikki also revealed that people within the industry enjoy giving advice and are interested in persistence, originality and enthusiasm.
Story by Willow Jacobs-Harding – Harlow College Journalism student