Harlow College student wins Wool4School design competition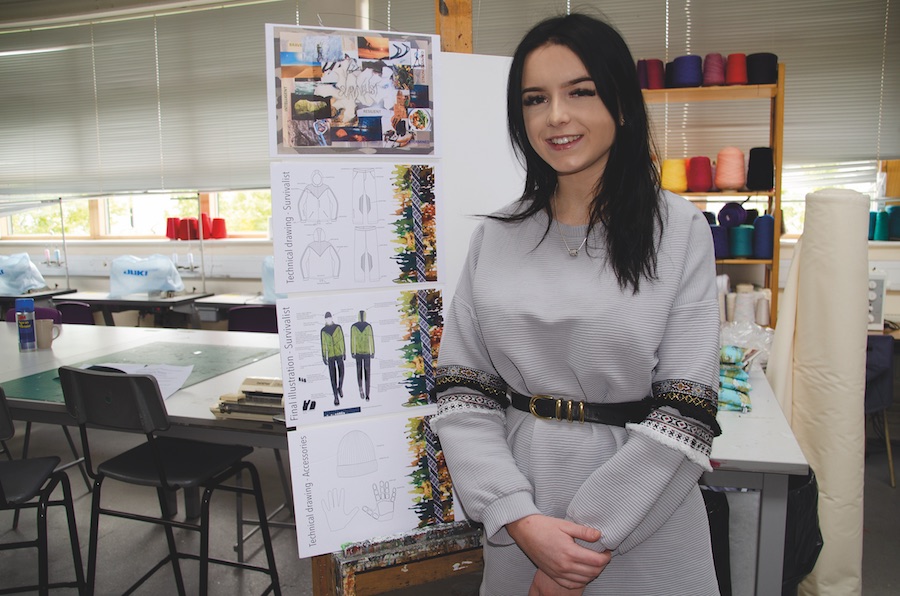 Wool4School is pleased to announce Harlow College student Elise Bailey as the inaugural Wool4School UK winner for 2019.
Elise's multifunctional Merino wool design incorporated the performance benefits of wool with the added technical functionality of solar panels.
On the announcement of her win Elise expressed her excitement: "In such a competitive field it means a lot to me that a panel of judges have chosen my design to win, this has fuelled my motivation to keep aiming for my dream career." As the fashion industry is a considerable contributor to the world's pollution, I am interested in sustainable and eco-friendly fashion. As wool is biodegradable, I was very excited about this competition because the design had to consist of 80% wool. Because the design needed a multifunctional aspect, I started to look into solar panels in fashion and the possible ways that they could help a garment."
Innovatively incorporating technology into her design, Elise was commended by the expert panel of judges for including solar panels in her design. Inspired by a survivalist, the incorporation of solar panels naturally warm up her outfit.
"Elise's winning entry responded to the Wool4School brief extremely well, identifying a focused and specific problem and then providing a sophisticated solution," explained University of Arts London Director Ross Anderson.
"The technical drawings and accompanying annotations were excellent, and this was one of very few entries that sought to incorporate technology into the design through the use of solar panels. A worthy winner."
Students were invited to design an outfit that incorporated technology for a particular purpose for the wearer. With so many fantastic submissions, the talent from the UK was extremely high.
Shelley Clarke, Senior Tutor in Fashion at Harlow College said: "The Wool4School competition challenges students' attitudes towards the use of such a versatile fabric as wool. This year's competition encouraged students to consider their target audience and the designer's responsibility in making an item of clothing multifunctional. Elise was highly driven to produce a design incorporating both the benefits of wool, and the inclusion of technology. She worked to a high level in order to fully meet the design ideas she had and we now look forward to seeing her design being made by this prestigious Woolmark and UAL national competition panel."
Wool4School Project Manager Ashley Hollis said: "It was a real pleasure viewing all the submissions from this year's Wool4School competition with fantastic entries from across the UK.
"Congratulations to all who participated and we look forward to the 2019/20 competition. Off the back of the success of this year's competition, the 2019/20 competition will expand to be open to the GCSE level."
Karen Spencer, Principal of Harlow College said: "Harlow College are delighted that Elise has won the Wool4school competition. I was personally blown away by Elise's design, not only did she have a strong understanding of the material but she had also incorporated wearable technology into her design and produced them using industry standard software. This is an amazing opportunity for her CV and exemplifies our approach at Harlow, focusing on not just courses, but careers!"