College Supporting Frontline NHS With Vital Equipment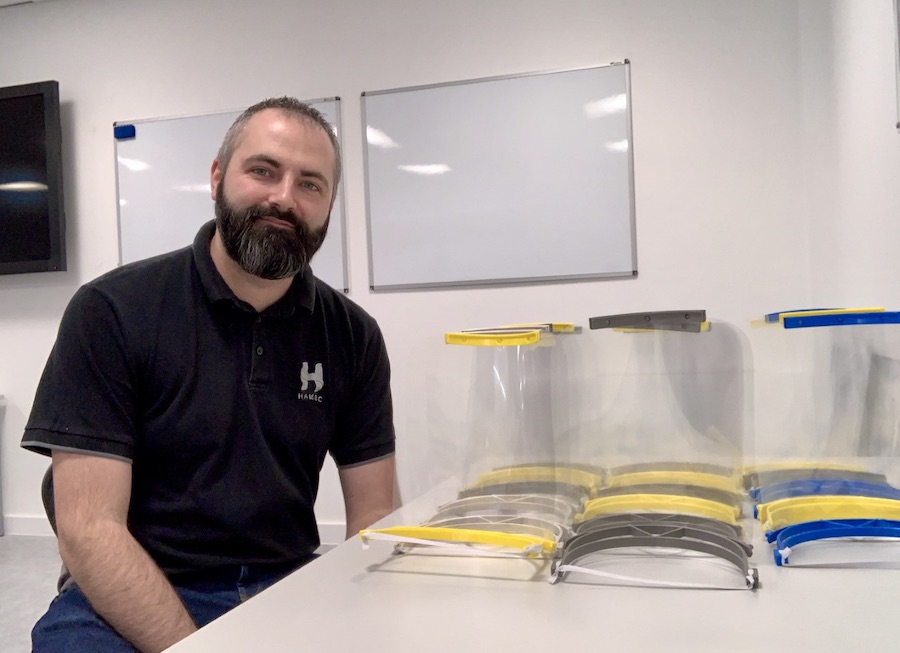 A collaborative approach across different sectors has enabled staff at Harlow College to begin the manufacture of vital personal protective equipment (PPE) for frontline NHS staff.
The Harlow Advanced Manufacturing and Engineering Centre (HAMEC), part of Harlow College, has received a prototype from Prusa Protective Printers, a company based in the Czech Republic, for creating a 3D printed head guard, and with window film for producing the plastic visor, generously donated by Eastman of Harlow, production has begun on face shields for NHS workers.
Rob McGowan, Learning Coordinator in Engineering at the College, said: "We received information through a network of FE colleges which contained printable computer files and instructions, and we also were able to use a design produced by Prusa Printers who have been helping people print their design globally.
"We are currently up to production of 30 face shields per day and will continue for as long as necessary."
The production of these face shields received a massive boost when Sawbridgeworth resident Graham Rider took the initiative to set up a Crowdfunding page. The initial total of £1,500 was reached by the end of the first evening, so a new stretch total of £3,000 was added, which was also quickly surpassed. The generosity of so many people pledging money has meant that the new total of £9,000 has been very nearly reached.
Among the many supporters who have so far pledged money, Princeps Electronics Ltd in Harlow and Clement Clarke (Clement Clarke Holdings, Clement Clarke International, Haag Streit UK and John Weiss) have both pledged £1,000. Fyfe Wilson, Electrical and Mechanical Engineers in Harlow and Elliot Wollen have both pledged £500, with the latter raising the money at the Harlow Soup Event on 2nd April.
Graham spoke about his desire to set up the Crowdfunding page. "I've lived in Sawbridgeworth most of my life. My two girls were both born in PAH and my wife's nan Margaret's life was saved in PAH 2 years ago when she was 87, so when I heard that Harlow College were going to make face shields I knew I had to do something.
Through the fantastic donations of local business, some great friends and relatives and through sharing by other thoughtful people, the fund is now over £8000. What an amazing response! Every one of those people and businesses that have donated will have their own stories to tell of how PAH have saved lives and helped people through difficult times."
The College would like to say a big 'thank you' to everyone who has pledged money so far. This will enable us to produce face shields, not just for PAH, but for frontline NHS workers in pharmacies and care homes in Harlow and the surrounding areas.
Karen Spencer, Principal of Harlow College, said of the venture: "Colleges are anchor organisations in their communities and are all looking to support our amazing NHS at this difficult time. We are using the resources we have to assist in any way that we can and have some amazing staff who are supporting this work. We are really proud to help."
As well as producing face masks, the College has already donated other essential PPE, including latex gloves, face masks, goggles, gowns and lab coats and a supply of anti-bacterial solution, mostly sourced from the College's Science labs. The first boxes left the building on just before the Easter break, bound for Essex County Council's Adult Social Care team and the West Essex NHS Clinical Commissioning Group. A recent initiative has seen the College working on making disposable medical gowns for PAH and is currently sourcing spunbound polypropylene.
The College also remains open for essential training for staff at Princess Alexandra Hospital in Harlow.