Festive cheer for local community foodbank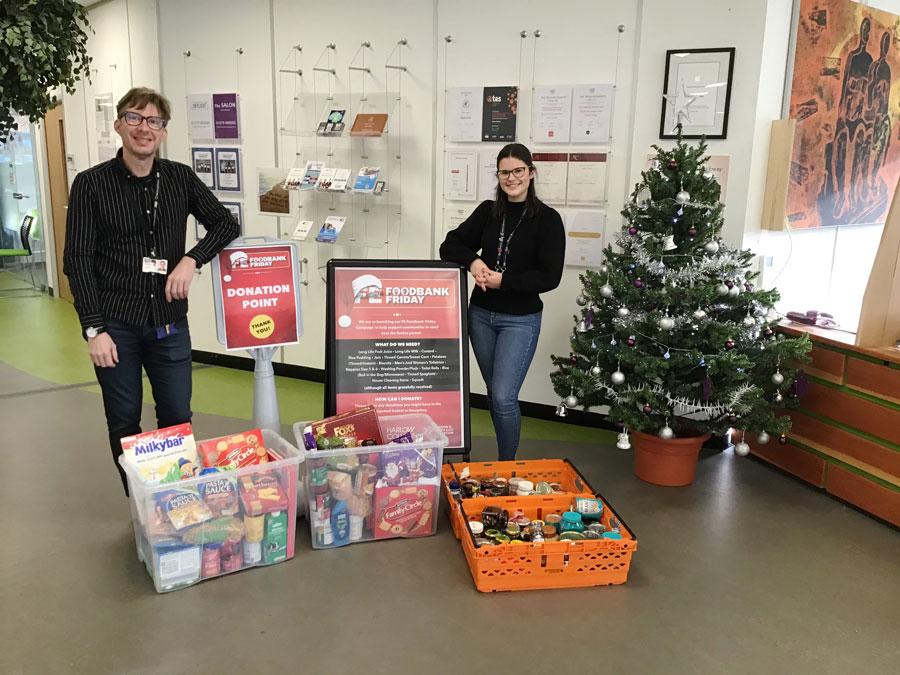 Christmas can be a tough time of year for many people, particularly the vulnerable and homeless. Harlow College is delighted to be supporting the national FE Festive Foodbank Friday campaign, where FE organisations up and down the country came together to encourage staff and students to donate food and household items for community foodbanks.
The original FE Foodbank Friday campaign, which ran over the Summer and was again supported by the College, successfully raised over £43,000.
This time, 20 colleges have signed up and to date over 16,500 items have been donated and £3.5k has been pledged to a variety of #FestiveFEFoodbankFriday fundraising platforms, which is the equivalent of 99 x 3-day emergency food parcels.
Over the past couple of months donated items, including tinned food, fresh juice, toothpaste, toiletries and an impressive amount of chocolate, have been filling the special collection boxes in the College's Reception and are now ready to be delivered to Harlow Foodbank, who are committed to help individuals and families in crisis by providing free emergency food helping to combat hidden hunger.
The College has also teamed up with London Stansted Airport's Community Engagement team, to jointly deliver the donations to Harlow Foodbank. The Airport's Community team regularly deliver unopened items that have been surrendered at security, such as spreads, jams, tinned fish and toiletries.
Karen Spencer, Principal of Harlow College, said: "quote please'"
Make a donation to the FE Festive Foodbank JustGiving page
For more information about Harlow Foodbank, including making a donation please visit their website
Photo: Paul Woods, Harlow College Marketing Team Leader and Emily Ferris, London Stansted Airport Community Engagement Coordinator, with jointly donated items for Harlow Foodbank