Ed Miliband at Harlow College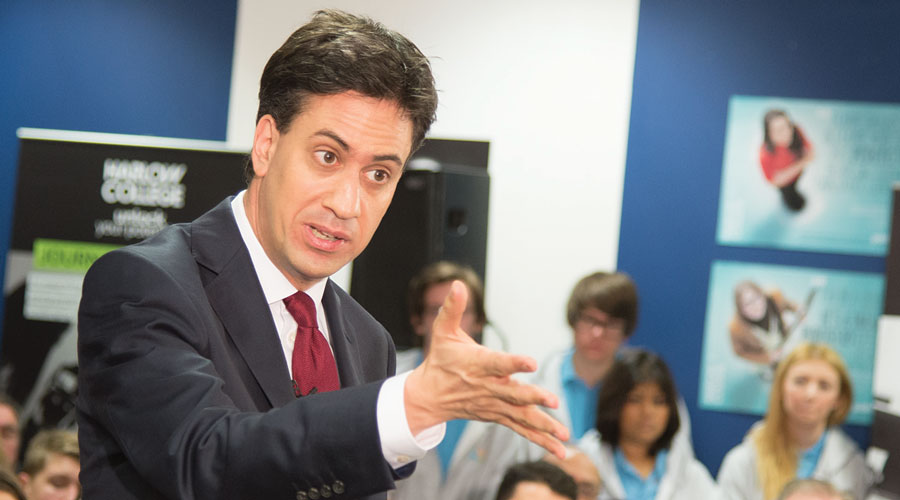 Labour Leader Makes a Return Visit

Harlow College hosted a second visit from Ed Miliband on Wednesday 12 November. After being welcomed to the College by Principal Karen Spencer, trainee journalists from the College were given the chance to meet the leader of the Labour Party for an informal interview session. He faced some tough questions on topics that included tuition fees, unemployment amongst young people, engaging with voters and how he deals with the pressure of leadership.
Tom Powter, 21, is currently studying for his NCTJ Fast-Track Diploma at Harlow's prestigious journalism centre, celebrating its 50th anniversary and which counts Alan Rusbridger, Piers Morgan, Mike Wooldridge and Jeremy Clarkson amongst its alumni. Tom said: "Meeting and interviewing Mr Miliband was a fantastic opportunity for me as a trainee reporter."
"I felt the college set up the day excellently and it gave us an amazing insight into the dizzying world of political journalism."
Rebecca Cushway, 25, a journalism student who asked a question in the Q&A, said: "Having Ed Miliband visit the college was something really special.
"Never did I think I would get to question the leader of the opposition so early on in my journalism career."
In a question and answer session with students, staff and invited guests, Mr Miliband spoke about issues such as housing improving the NHS, vocational training and apprenticeships. Afterwards, journalism and media students benefited from watching BBC political editor Nick Robinson film an interview with Mr Miliband in the College's brand new Media and Journalism Centre. Mr Robinson spoke at length to students and answered questions about his work at the BBC.
This has been a busy year for Harlow College, having previously hosted a visit from Prime Minister David Cameron earlier in May 2014. Neil Silver, course leader for HE Journalism and Media Department said of the visit "This was a fantastic opportunity for our students to experience life in the fast lane, covering live news by interviewing a high-profile public figure and then writing a news story afterwards – this is what journalism is all about".
Karen Spencer, Principal said: "I'm very proud of our students who proved they have the skills and qualities to hold their own with a senior politician. Our School of Journalism is celebrating 50 years this year, and so it has been a fantastic opportunity for them to welcome both the PM and leader of HM Opposition to Harlow College."
Ed Miliband MP, Leader of the Labour Party, said:
"It was a real privilege to visit Harlow College again and speak to such switched on, inspiring students. I had several press interviews but some of the most challenging and interesting questions came from the journalism students - I'm sure they will go far. It's great to see colleges like this working so well to give our young people the skills and aspiration they need to achieve their potential."