And the winner is…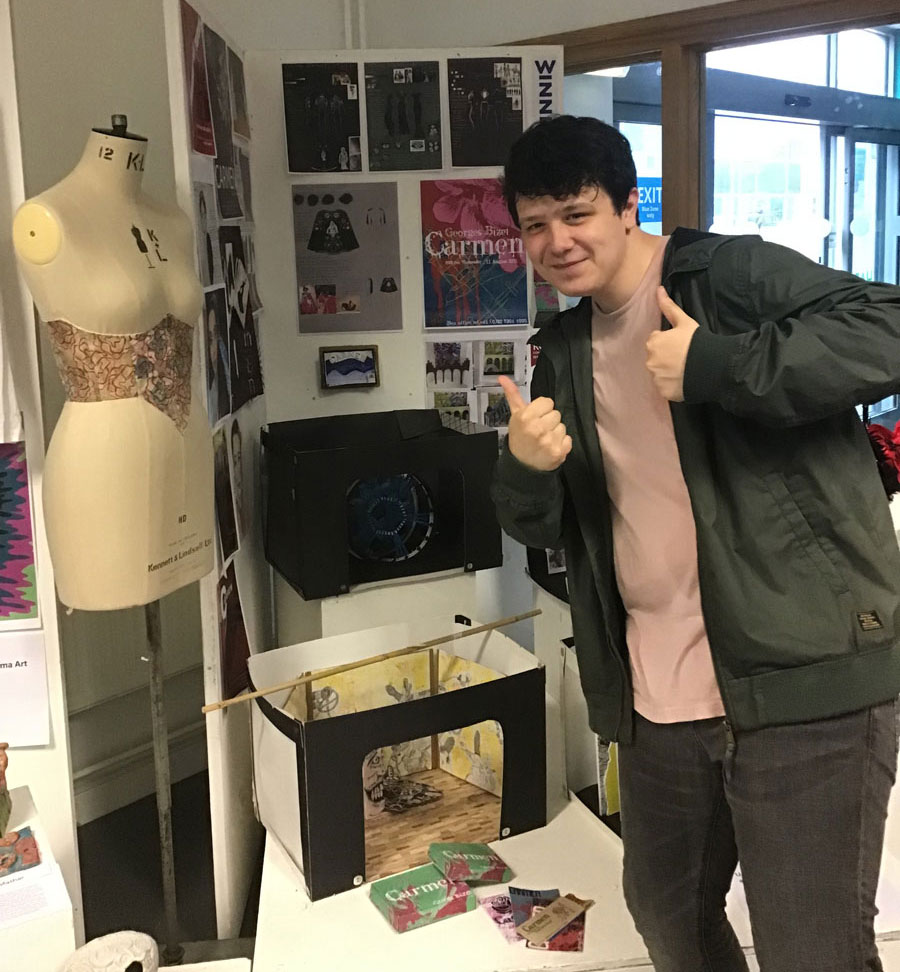 A Harlow College student has won the prestigious Royal Opera House Design Challenge – a first for the College!
Taylor Cable, 19 from Stansted, a recent graduate from the Level 3 Art & Design course, saw his stunning costume design win first prize in the Design Challenge (FE) category.
Entrants were asked to create designs to promote the ROH's upcoming production of Carmen.
Taylor's design, entitled 'Escamillto', was inspired by the celebrations in Seville where Carmen is set. "I researched the culture and what festivals took place and the one that inspired me the most was All Saints Day, which is a bit like our Halloween.
"I also took inspiration from the toreadors, incorporating the fluid geometry from Spanish culture into my design.
"It was a massive shock to find out I'd won – a real 'wow' moment!
Emma Troubridge, ROH Head of Scenic Art, said: "Huge congratulations to all the students who took on Design Challenge this year, and also to the teachers, schools and colleges who made it possible.
"The judges have deliberated and found that the creativity and quality of work has set the benchmark high this year. They also found many thoughtful and inspired approaches to the director's visions."
Amy McGann, ROH Head of National Programmes, was equally enthusiastic: "I have been so impressed by the standard and level of creativity from the young people across the country in this year's Design Challenge. Congratulations to all who took part, and I look forward to meeting the winners."
All winners and highly commended students will be invited to the Royal Opera House to collect their prizes, have a backstage tour and spend some time in one of the production departments to get a real insight into the day-to-day working life of their makers.
The exhibition of the winning work will be on public display in the Linbury Foyer at the Royal Opera House, Covent Garden from 24 September 2021. ROH will also be celebrating the 10th anniversary of Design Challenge on this date.