St Clare Hospice team up with Harlow College for fashion with compassion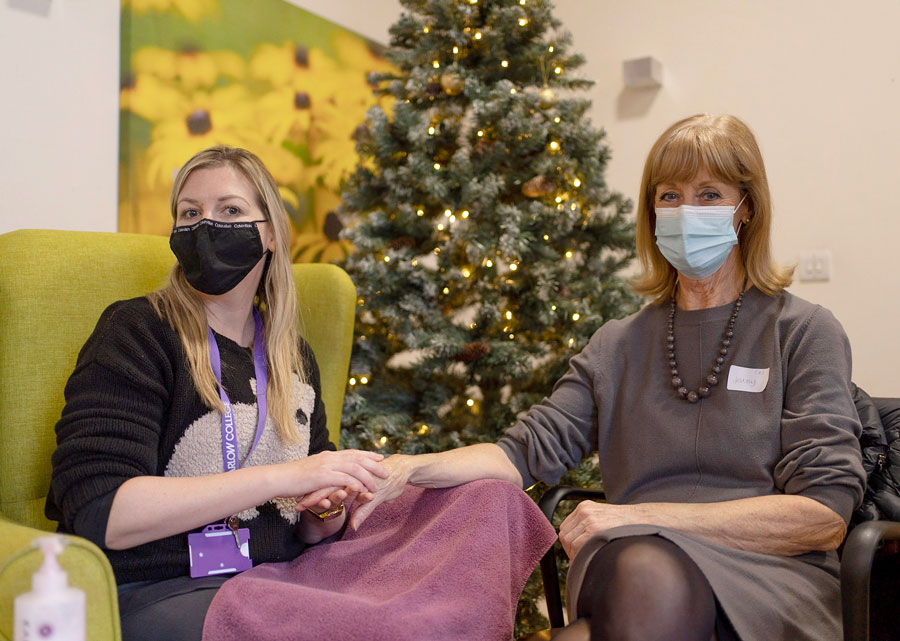 A collection of designer clothes, valuing thousands of pounds, has been given to vulnerable and socially isolated people at a pamper day with a difference – hosted by St Clare Hospice on Tuesday 30th November.
West Essex and East Hertfordshire charity, St Clare Hospice, teamed up with Harlow College to provide free hair and make-up appointments for 13 people who are lonely, socially isolated, frail or at the end of their life. The lucky pamper day participants were made up of people who attend the Hospice Café Clare and those who have been matched with volunteer Compassionate Neighbours.
Every person was individually styled by two St Clare shop managers, Tracey Chippet from Scarlet Vintage and Retro in Harlow, and Harvey Mead from Scarlet Boutique in Buckhurst Hill. They put together stylish outfits from the luxury clothing donated by Italian designer Brunello Cucinelli, which they wore for the event and were then able home at the end of the day.
The exciting donation of thousands of pounds worth of clothing was made to the Hospice last Christmas Eve. St Clare Hospice received around 150 pieces of the designer clothing with the expressed stipulation that these beautiful silk and cashmere pieces had to be given away to people who benefit from St Clare care and support, not sold.
The designer items which were gifted to the Hospice had remained unsold due to the pandemic and, rather than sell them at reduced prices, Brunello wanted to donate them as part of his 'Brunello Cucinelli for Humanity' project which aims to use his fashion to 'raise the dignity of mankind'
Amy Bramble, St Clare Compassionate Neighbour Project Manager said, "We're excited to be extending the distribution of these designer clothes to our Compassionate Neighbours project.
"This project matches volunteers – Compassionate Neighbours - with people who are lonely, socially isolated, and extremely frail or at the end of their life. The match means they can form a genuine friendship to help prevent loneliness and isolation.
"We know how important it is to have the chance to connect with others, which is why we wanted to team up with Harlow College to offer our Compassionate Neighbours an opportunity to spend time with the Community Members they are matched with, and do something a bit different. Alongside the beautiful clothing and pampering, each person will be given a goody bag by Harlow College and we very much hope they enjoy this special day."
Marian Taylor, from Harlow, who is matched with a St Clare Hospice Compassionate Neighbour, Hannah said, "Everyone has commented on how amazing these velvet designer trousers are. I can't believe how lovely all these clothes are. I feel really special and pampered. St Clare looked after my husband and made it possible for him to pass away at home, which was his last wish. After my husband died, I knew I needed some help. I got some counselling but it has been very lonely. Meeting up with Hannah, my Compassionate Neighbour has been a lifeline. We have become friends in the real sense of the word, and I look forward to her visits so much."
Helen Harmer, Head of Hair and Beauty at Harlow College, spoke about the collaboration between the College and St Clare. "It's really valuable to build this link to develop community networking and raise the profile of both establishments. We hope that everyone who has had a pamper session today feels really valued and that it has provided some welcome respite.
"Our students will have certainly gained some valuable experience from today, as many of them have not had the opportunity to work with clients outside of the classroom. From talking to them, I know they felt a real empathy with their clients and really enjoyed making them feel special."