Guardian Editor Strikes Gold Thanks to Harlow College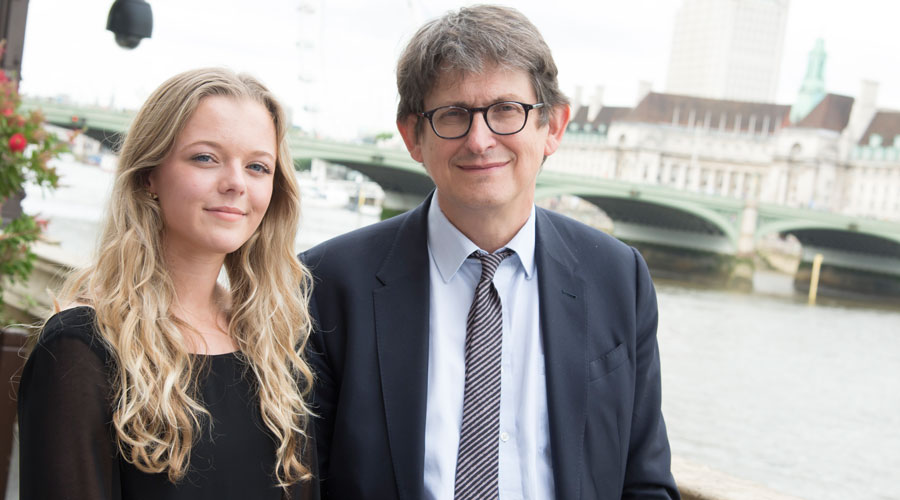 Tayla Mead Gets Rising Star Award
Harlow College is celebrating its success at the AoC Gold Awards held at the House of Commons on Wednesday 11 June. Alan Rusbridger, Editor of The Guardian and a former Harlow College student, was awarded a prestigious Association of Colleges (AoC) Gold Award by Lord Willis of Knaresborough at the House of Commons. BA (Hons) Journalism student Tayla Mead received a Rising Star Award for her exceptional progress.
Staff and students from Harlow College were present at the awards ceremony which is held each year to celebrate the success of further education alumni as well as acknowledge the vital role that colleges play in the careers of the winners and of their continuing achievements.
Alan was nominated by the college where he studied an NCTJ in Newspaper Journalism in 1977 having already graduated from Cambridge University in 1976 with a degree in English Literature. He trained as a reporter at the Cambridge Evening News whilst completing his NCTJ as a block-release student from Harlow College.
Since 1979 he has held posts at The Guardian, The Observer, the London Daily News returning to The Guardian as a feature writer. He launched Guardian Weekend and the paper's G2 section and has been editor of The Guardian since 1995. He has overseen the integration of the paper and digital operations and The Guardian is now the third largest English-speaking newspaper website in the world with 100 million unique browsers every month.
The Guardian broke world exclusive stories by publishing NSA documents leaked by Edward Snowden and was recently awarded the Pulitzer prize, the highest accolade in US journalism. In April, The Guardian was named newspaper of the year and won the top digital prize at the British press awards.
Rusbridger and reporter Nick Davies received the UK's Media Society Award for their revelations and coverage of the phone hacking story in The Guardian. Alan has been awarded the Goldsmith Career Award for Excellence in Journalism by Harvard's Joan Shorenstein Centre and received the Burton Benjamin Memorial Award for lifetime achievement in the cause of press freedom from the Committee to Protect Journalists.
On winning his award Alan Rusbridger said:
"It is an honour to receive this award and especially from my former journalist college. There is – regardless of all the debates about the future – a craft involved in journalism. Harlow was where I studied that craft – learning about media law and how government worked; about basic ethical dilemmas – and how to do shorthand. It was an invaluable grounding in the things I've spent the rest of my working life doing."
Alan was among eight former students whose careers have been positively influenced by their former Colleges. The other winners are Gloria de Piero MP – Shadow Minister for Women and Equalities, Rob Forkan – Entrepreneur and founder of Gandys Flip flops, Anton Piotrowski – Chef and winner of Masterchef the Professionals 2012, Martin Brundle – Formula One driver and TV presenter/commentator, Toni Pearce – President of the National Union of Students, Christopher Bailey MBE – CEO and Chief Creative Officer of Burberry and Dr Munira Mirza – London Deputy Mayor for Culture and Education.
To highlight the important role further education continues to play for today's students, a 'future star' campaign is run alongside the Gold Awards. The nominating colleges each select a current student who shows promise in a similar field to their Gold Award winner.
Tayla Mead, a BA (Hons) Journalism student, was selected as the Future Star, and was awarded a £1,000 grant to help further her career aspirations. Tayla who studies at the University Centre Harlow aspires to become an editor of an online lifestyle magazine.
Tayla (21) had the opportunity to meet her muse at the award ceremony at the House of Commons on 11 June and find out what it takes to carve out a successful career and about the role that their college played in their success.
Tayla said, "Alan Rusbridger is an inspiration as he has progressed to the top in the field through The Guardian, and is proof that attending Harlow College can be the launch pad to success."
Tayla, who has her own blog and contributes to two further blogs, has ambitions to expand her talents and run her own business. On being awarded the grant she said:
"The grant will enable me to expand my horizons in terms of writing as at present I am having to decline invitations to events as I cannot afford to go. The vast majority of products and events that I am covering in my blogging come out of my own pocket, so any financial assistance would be a great help.
"I am in the process of attempting to secure further work placements… the grant will be a huge help to cover these costs and guarantee me getting that invaluable experience."
Sue Barr, Assistant Academy Manager in HE, Journalism and Media at Harlow College said:
"I'm just so thrilled with what she's achieved so far. She's only in the first year of her programme but she's blogging and working in journalism already. She's very involved, very engaged. she contributes hugely in class, shows initiative and curiosity – all the qualities that you can't really teach but that journalists need to have."
Karen Spencer, Principal of Harlow College, said of the event:
"It was an incredibly successful event that really showcased the talent that's out there in further education colleges. We're very proud of our future star Tayla, as well as our ex-student Alan Rusbridger."