Minister of State for Skills and Enterprise Visits Harlow College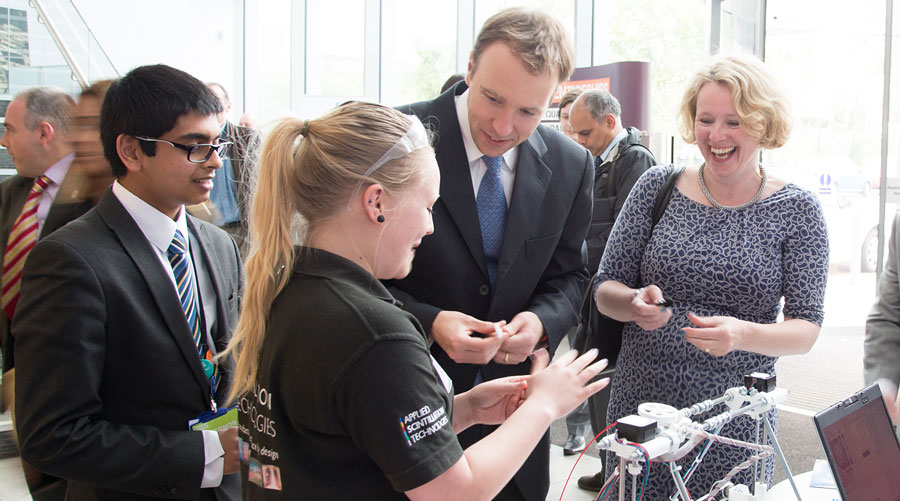 On Friday 2nd May Matthew Hancock MP, Minister of State for Skills and Enterprise, paid a visit to Harlow College to take a look at some exciting initiatives, including the links between the College and local employers and the new University Technical College, due to open in September.
It was a chance for the Minister, along with MP for Harlow Robert Halfon and MEP Vicky Ford, to see in action our 3D printer, make canapés with our Hospitality students and even test out a chair made entirely of rolled newspaper by our Engineering students.
Mr Hancock said of his visit: "I've really enjoyed my visit to the College. The links with employers are clear and the practical display of skills taught here has been not only interesting but good fun too."
"Harlow College is advanced in the linking of FE and HE with clear progression pathways and with Apprenticeships being the most formal link between education and work as you have to have a job plus you're in education too. The students are self confident and forthright and you can sense a real vibe."
Robert Halfon MP was equally excited by the event. "It was incredible! We saw the best of Harlow College's Apprenticeships and to see the UTC being built is amazing. I'm really very proud today and it was the perfect day to get the Skills Minister along to see the best of Harlow College and the UTC."