College student has designs for the future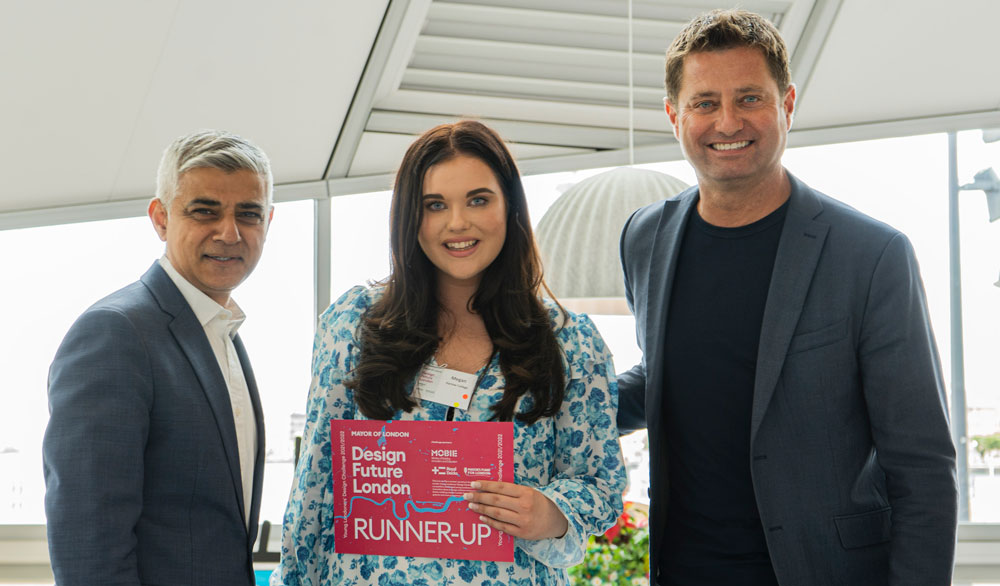 A Construction student from Harlow College gained an incredible runner up spot in an exciting design challenge, where young people were encouraged to develop proposals for a new village in the Royal Docks, bringing the national curriculum to life and inspiring a new generation to learn about the exciting career opportunities in the built environment sector.
The challenge was set around four key themes central to London's recovery from Covid-19: improving air quality, sustainable transport, affordable housing and green energy, and was open not just to Londoners but to the wider South East.
Megan Epstein-Knights, from Dunmow, who is studying Level 3 Construction at Harlow College, celebrated her 19th birthday by scooping the prestigious runner up spot at the Design Future London challenge at London's City Hall, after her shortlisted design caught the eye of the judges.
Sustainability was key to Megan's pioneering modular design, which was based around the concept of multi-generational living and involved using locally sourced timber and a sustainable urban drainage system to help reduce the amount of water used.
Judging the finalists were George Clarke, architect, TV Presenter and founder of MOBIE (Ministry of Building Innovation and Education); Sakina Sheikh, Member of the London Assembly; Andrew Thomas from Grimshaw Architects and Edward Mayes from Lendlease, who are working on the Millennium Mills/Silo D redevelopment at Silvertown Quays where the design challenge was set.
After a very successful presentation, where Megan pitched her ideas to a packed City Hall full of industry professionals, including architects and town planners, she had a tense wait before George Clarke and Mayor of London Sadiq Khan announced that she had secured runner up spot in her age category.
Speaking of the amazing work of all the finalists, Sadiq Khan said: "I have been overwhelmed by the quality of entries to the Design Future London challenge. This challenge has encouraged talented young Londoners to showcase their ideas on how we can shape the future of our great city - from the types of housing and the transport links we need, and what our public areas and open spaces should look like, to how we plan for future climate challenges.
"I congratulate all the finalists on their inspirational designs. The future of architecture and design in our city is in safe hands."
Describing her experience, Megan said: "Sustainability was my main focus, right from the initial designs. What we're doing now will affect future generations which is why it's so important. Without my college course I definitely wouldn't have found my passion for architecture. I'd love to see more females in the construction and design industry; at college, for the last two years, it's just been me as the only girl in the class which speaks volumes. I feel like I'm doing this for the girls."
Megan's tutor, Yagmur Bulut, said: "Megan's amazing, she always puts 110% into her work and spends a lot of time outside the classroom researching new ideas. Today has been great. It was really good in terms of networking and we've got a runner's up prize so we're really happy. To succeed in this industry you really need to use your imagination and to strive for what you believe in."
George Clarke, MOBIE founder, said: "Home is the most important piece of architecture in our lives. A well-designed home and neighbourhood can enhance the way we live and promote good health and wellbeing.
"I have been genuinely wowed by the standard, quantity, creativity and sheer brilliance of the work that these young people have produced. The submissions to this competition have been nothing short of outstanding.
"I loved meeting the students and learners and watching their presentations. It has been a brilliant event and a memorable experience for these young people. Whether a winner, a finalist or an entrant, every participant has earned my full respect and admiration."
Megan is on track to study Interior Architecture at the University of Hertfordshire, where she could then go on to work as an architect or interior designer.
Design Challenge Awards ceremony