Pastures new for former Harlow College student
A journalist who swapped office-based Hertfordshire life for a cow-milking career in Northern Ireland has written a book about her adventures.
Former Harlow College student Holly Crawford (36) moved from her homeland in 2020 after marrying Paul Crawford, a vet and sheep farmer from Northern Ireland.
Holly's new book, Stuck In The Middle With Ewe: Or How I found my flock and lost my heart in Northern Ireland, details how she went from city journalist to a milker of cows, a freelance writer and a lamb and sheep foster-mum!
"In my former role as a newspaper and magazine reporter, I was constantly chasing stories and meeting deadlines, now I am chasing sheep and meeting cows!" Mrs Crawford says.
Holly attended Harlow College in 2005 where she obtained a First Class BA (Hons) Degree in Journalism and a National Council for the Training of Journalists (NCTJ) news writing certificate. She went on to work as a newspaper and magazine reporter and press officer, before editing a journal for veterinary nurses.
Holly met Paul at a veterinary nursing conference where she interviewed him in her capacity as a reporter after he won a prestigious award for his veterinary work.
"We hit it off straight away and it was all very romantic. Paul proposed in 2019 in the conference room in which we first met," Holly recalls. "I said 'yes' and we planned to marry in May 2020. What could possibly go wrong? Quite a lot, as it happens!"
Despite Covid-19 causing chaos, the couple eventually tied-the-knot at Christ church, Ware, Hertfordshire and Holly moved in with her new husband and his 200 sheep.
"Ours is a traditional love story, really, just with added cows and sheep," Holly explains. "I realised that being able to take a shorthand note or report on a news story wasn't too helpful when standing in the middle of a field surrounded by ewes. So, I learned to deliver lambs and went to milk cows and I love it!"
Holly, who is currently studying for an MA in Creative Writing, initially started penning her adventures to entertain family and friends in England, but soon had the makings of a book.
"I wrote everything down; from learning how to milk cows to delivering my first lamb, which was an amazing but very surreal experience," Holly explains. "I also write about a cast of wonderfully woolly friends, including our sheep One Ear, Squeak, Frazzle and Deck. I have always wanted to write a book and I feel the courses I took at Harlow College really helped me realise that ambition"
I hope my story will make people laugh and smile, especially during these difficult times. I also hope it will remind them that it is never too late to make a fresh start, find true love or learn to lamb!"
Stuck In The Middle With Ewe: Or How I found my flock and lost my heart in Northern Ireland, is published by The Conrad Press (£9.99.) Copies are available from the author. Please email: It can also be ordered from a growing number of high street bookshops. The ebook is available to buy online.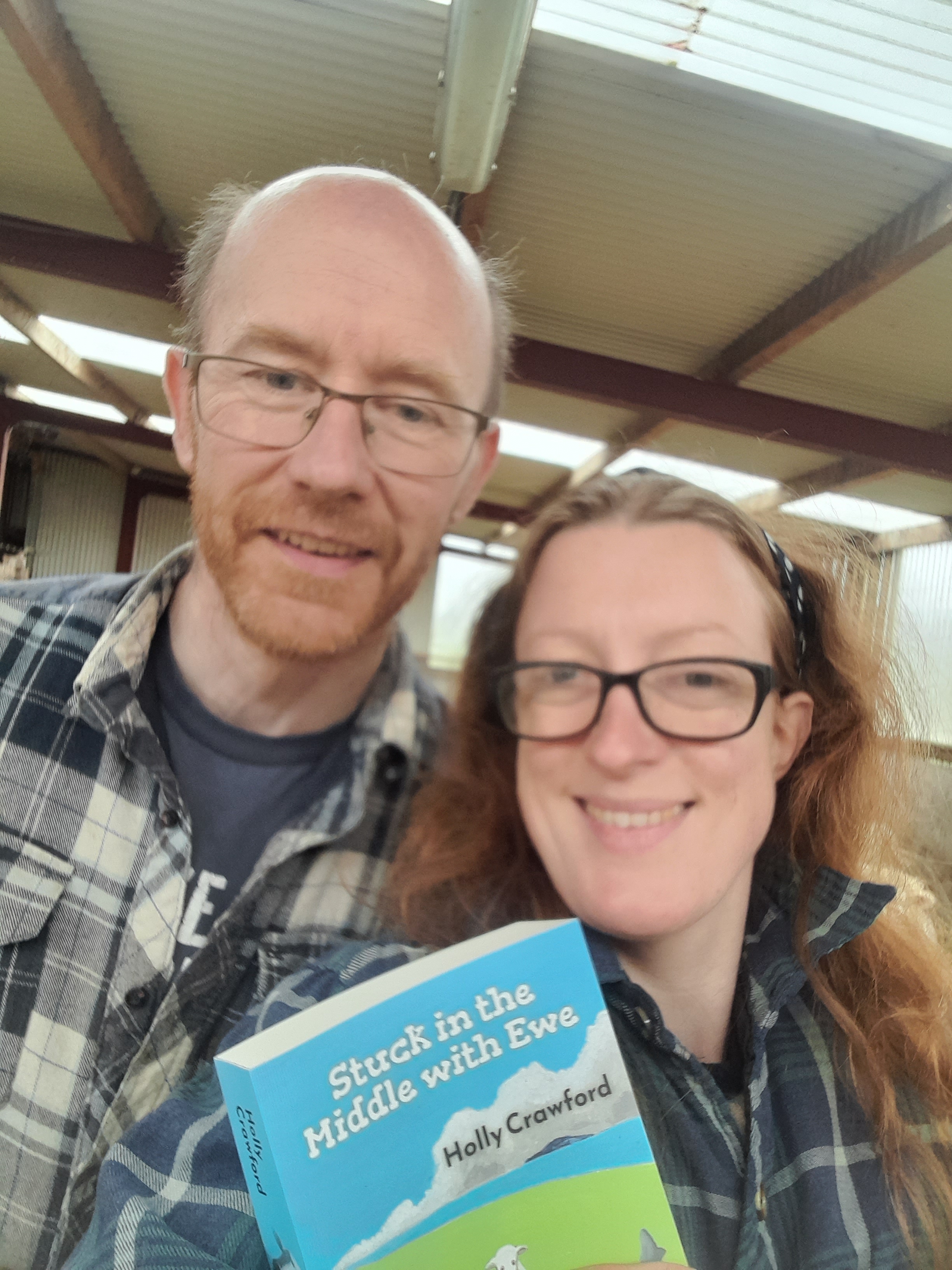 Outstanding in their field: Holly and Paul Crawford with some of their sheep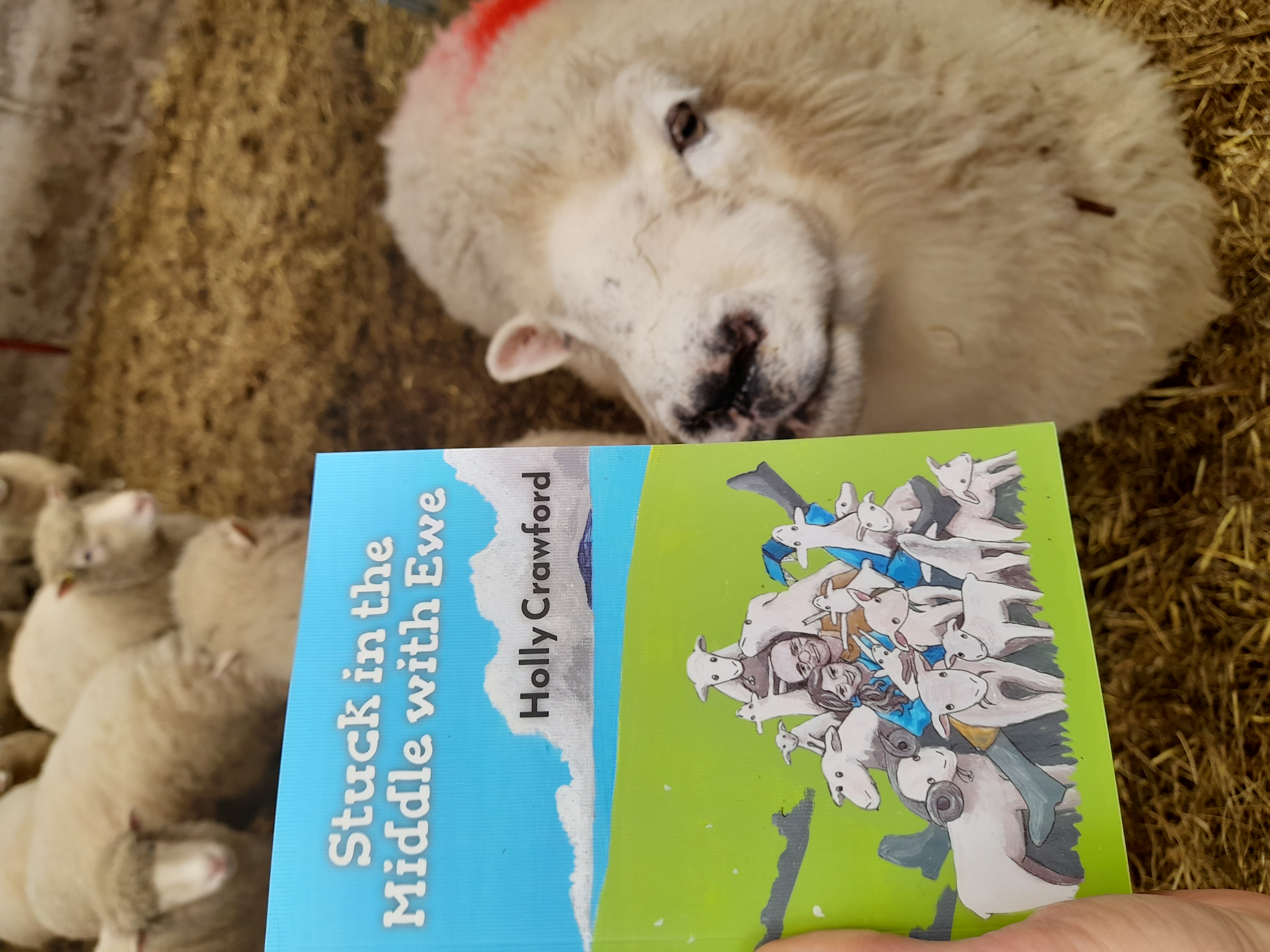 One Ear gives her seal of approval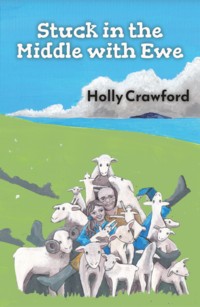 The book cover