Harlow College named Apple Distinguished School for third time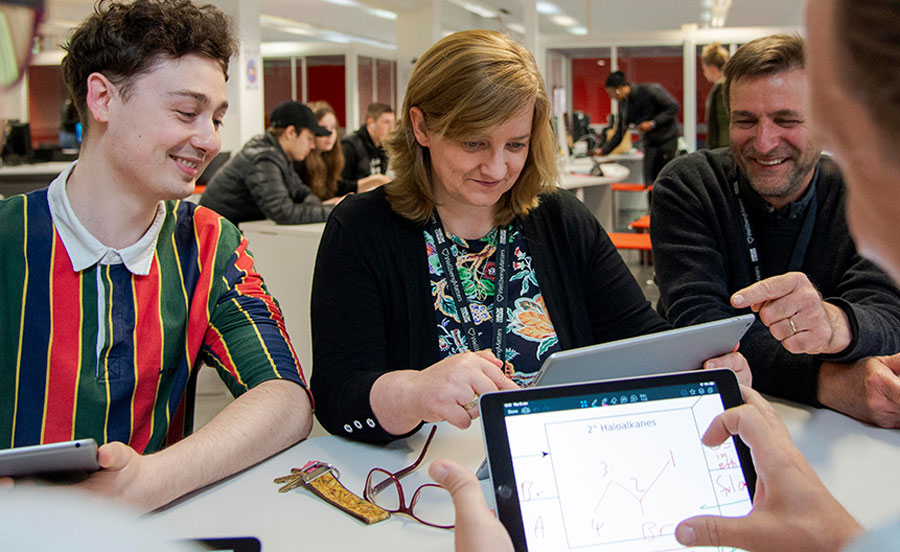 Harlow College and Stansted Airport College are delighted to announce that they have been recognised as an Apple Distinguished School for 2022–2025 for the third time, after first being named as an ADS in November 2017.
This latest recognition celebrates the College's ongoing approach to transforming learning, teaching and assessment by creating personalised curricula; instilling and developing digital confidence in line with industry needs and investing in a five year plan to upskill all staff to be digitally competent.
Apple Distinguished Schools are centres of innovation, leadership and educational excellence. They use Apple technology to inspire creativity, collaboration and critical thinking in learning, teaching and the school environment, and have documented results of academic accomplishment.
Karen Spencer, Principal of Harlow College, said: "It's a great accolade to be awarded Apple Distinguished Status again. Our digital work at Harlow College and Stansted Airport College has gone from strength to strength, and we have been proud to support other colleges over the last few years as they transition to more integrated digital learning. Credit goes to our fantastic team of staff who are real innovators in this area and ultimately, they assist our students to be better prepared for a changing world."
Kelly Edwards, Director of Professional Development said: "I am proud that Harlow and Stansted Airport College have achieved the Apple Distinguished School status for a third time for their use of technology for improving learning, teaching and assessment in the classroom. I have had the pleasure of seeing some amazing examples in classrooms of content creation and collaboration ideas which have allowed students to learn in engaging and innovative ways."
The continued selection of Harlow College as an Apple Distinguished School highlights our success as an innovator and a compelling learning environment that engages students, and provides tangible evidence of academic achievement.
All full-time 16-18 year old students at the College have an iPad, which they are encouraged to use in any of the new learning zones across the campus, designed to provide a real insight into a professional working environment.
Our excellent employer links and work placements give our students first-hand experience of the world of work.
Our teaching staff have industry expertise and this is matched by industry standard facilities, including specialist workshops, classrooms with the latest technology, as well as great social spaces to relax.