MP clocks up 100th visit to celebrate National Apprenticeship Week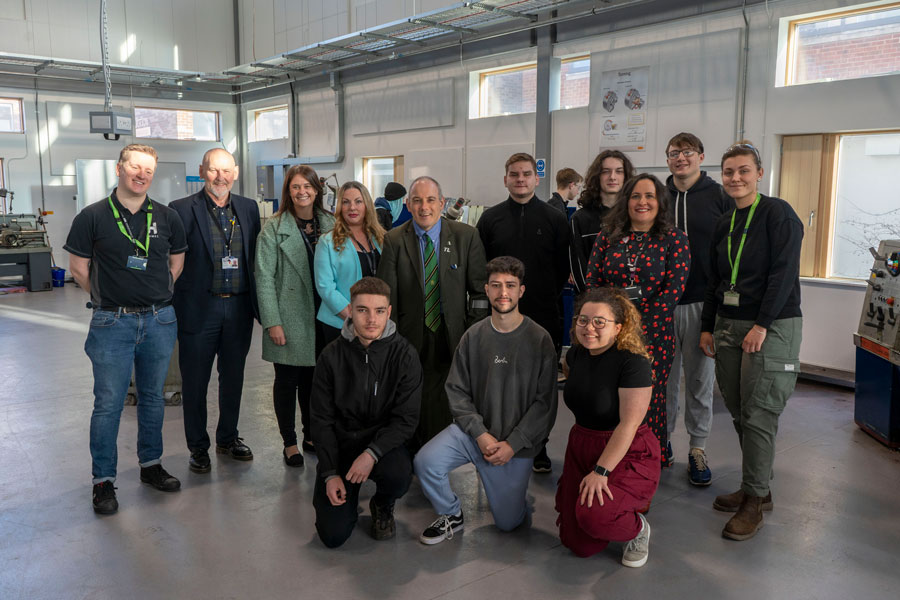 Robert Halfon MP, Minister for Skills, Apprenticeships & Higher Education, has rounded off his tour of the UK in support of National Apprenticeship Week with his 100th visit to Harlow College, where he spoke with apprentices before meeting members of the Federation of Small Businesses (FSB).
The roundtable event, held on Friday 10th February, in his own constituency of Harlow, saw Robert meet with FSB members who hire apprentices and shared their experiences of how it has benefited their business.
Robert said of his visit: "It was great to make my 100th visit to Harlow College today! The reason I've visited so many times is because of the incredible things that go on here - the college is really championing apprenticeships and skills. I've met some amazing apprentices today in your incredible advanced manufacturing and engineering centre, speaking not only about engineering but also the exciting new electric vehicle centre that will be opening soon. The best thing about coming here at the end of National Apprenticeship Week is seeing the opportunities that the college is giving to young people and how you help them climb the skills ladder of opportunity.
"The FSB play a really important role in upskilling young people because we want to ensure that T level students have industry placements and apprentices are offered jobs with local companies. We know that apprentices are very loyal to their companies and will get very good jobs with them, and we're doing everything we can to incentivise small businesses. It's really important that small businesses work with Harlow College, and other colleges around the country, because Harlow College is a brilliant training provider and the company will provide the on-the-job-training."
Ann Scott, Development Manager (Essex) at Federation of Small Businesses (FSB), said: "Apprenticeships offer a fantastic opportunity to empower young people, enable career changes and support those seeking to climb the ladder of social mobility into a better-paid job.
"Success is contingent on the right support, so we are delighted that some of our Essex members got the opportunity to meet with Robert Halfon MP to explore FSB recommendations, including the introduction of a £3,000 apprenticeship incentive for under 25s and small businesses".
With FSB figures showing that a third of small businesses recognise skills shortages as a significant hindrance to their growth, the FSB have called for the Government to prioritise upskilling the next generation who currently face a daunting job market, which could help unlock long-term, economic benefits for generations to come.
Karen Spencer, Principal of Harlow College, said: "It was a pleasure to welcome Robert Halfon and also the Federation of Small Businesses to Harlow College to celebrate National Apprenticeships Week. It was nice to see all of our apprentices working in the Harlow Advanced Manufacturing and Engineering Centre and them showcasing their skills as part of this week. It's always great to speak to young people about their training and we're delighted to have participated in such a great event."