F1 in Schools – Harlow College Hosts Regional Final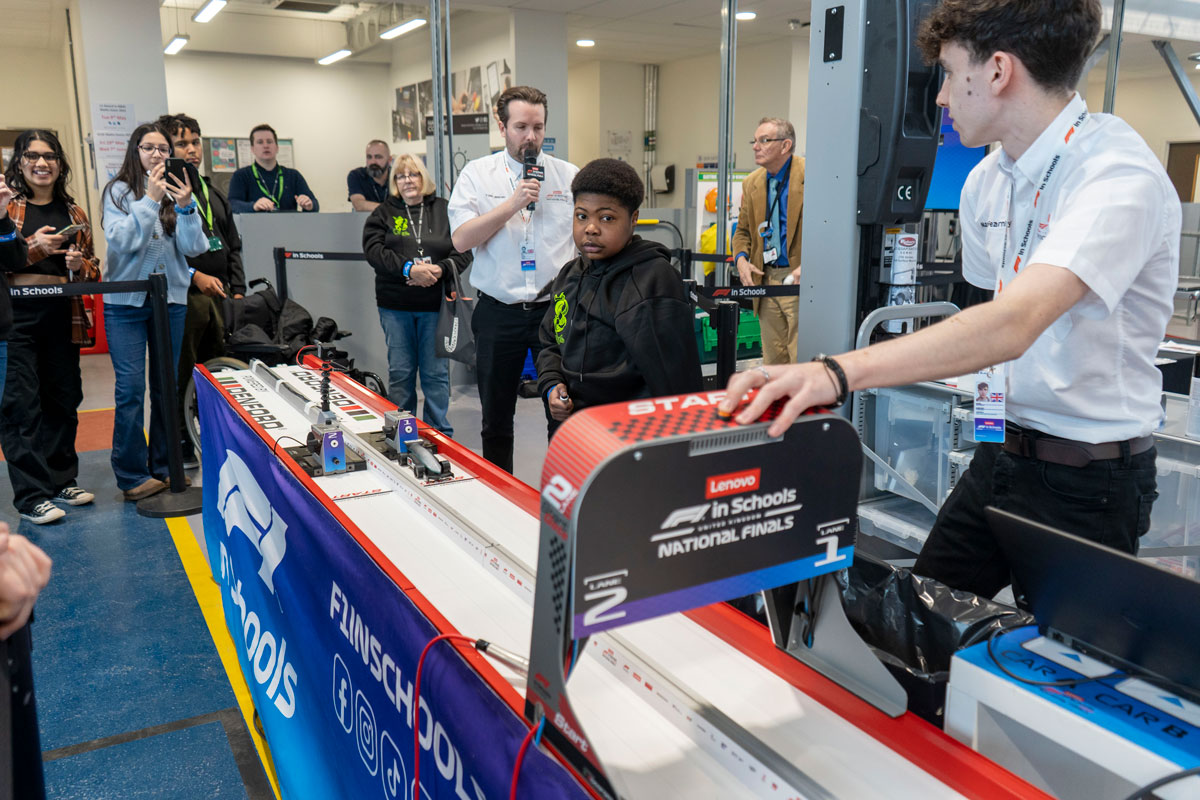 Over the first two days of March, Harlow College hosted the London North Regional Final of the F1 in Schools Challenge.
F1 in Schools is a STEM initiative that allows teams of young people aged 11 to 19 to effectively be a Formula 1 team, with the challenge to design, construct and race the fastest Formula 1 Car of the Future, powered by compressed air cylinders.
As well as designing the fastest car, teams must raise sponsorship, give a presentation and manage budgets to fund research, travel and accommodation, encouraging teamwork and communication skills as well as an aptitude for design and engineering.
F1 in Schools was created to help change the perceptions of science, technology, engineering and maths by creating a fun and exciting learning environment for young people to develop an informed view about careers in engineering, Formula 1, science, marketing and technology.
The challenge inspires students to use IT to learn about physics, aerodynamics, design, manufacture, branding, graphics, sponsorship, marketing, leadership/teamwork, media skills and financial strategy, and apply them in a practical, imaginative, competitive and exciting way.
Tom Milner, UK National Project Manager for F1 in Schools, said: "F1 in Schools is a global STEM competition, where students get into teams, pitch to businesses, design, engineer and manufacture their own cars and race them against other schools. It's competitive, but also fun and engaging. Students will get to experience links with industry and potentially build skills outside of the national curriculum. The Engineering Centre here at Harlow College is absolutely amazing and the help and support we get from the college to run this event is absolutely outstanding."
Over the two-day event, students from over 30 schools and colleges from across the North London Region descended on the College, with the event taking place in the bespoke Harlow Advanced Manufacturing and Engineering Centre (HAMEC) where several places in the national Finals were up for grabs. The teams had to demonstrate lightning fast reactions as they sent their super-charged miniature F1 cars down the 20 metre track, with both reaction times and speed times combining to give an overall points score.
"Charlie, a Level 3 Science student at the college, was thrilled to take part. "I really like being able to work with people from other departments – I've been working with engineers which might help me later in my career. Teamwork is so important in this project, it's the fundamental basis that we've built our team on, that everybody's equal and has their own roles and responsibilities."
Harlow College's own Team Cobra, comprising Supported Studies students, won the Judge's Choice category.
The UK National Finals are planned to take place in July or, alternatively, in January 2024 where they would be held at the Autosport International Show at the NEC Birmingham, where five teams from the UK will go to the World Finals.