Learning, on a jet plane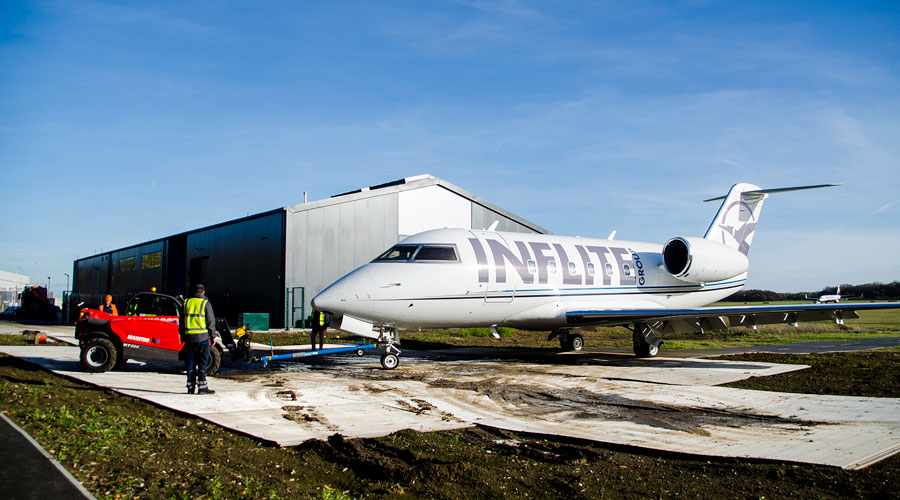 Stansted Airport College welcomed its latest addition on Wednesday 14 November, in the shape of a fully functioning jet plane.
The Bombardier Challenger 600 jet aircraft has been generously donated by the Inflite Group, who are based at the Airport.
The jet plane will now be a permanent fixture at the new College, allowing trainees the opportunity to gain practical hands-on experience from working on it.
Alan Barnes, Customer Support and Business Development Manager at Inflite Jet Centre Ltd, said: "The students using this fully functioning aircraft will be able to simulate component removal and system testing – the engines are still operative. They can comprehensively carry out full maintenance activity on an aircraft.
"The excitement of sitting on the flight deck with their instructor, simulating an engine start or undercarriage functions are examples of things that can happen on a fully functioning aircraft, as this one is."
Karen Spencer, Principal of Harlow College and Stansted Airport College, said: "This is an amazing resource for trainees at our new College to have at their fingertips. It genuinely brings them much closer to the industry and allows them to learn on a fully equipped jet plane. We are indebted to Inflite for donating the plane – it will inspire future generations of young people on their career paths."
Marcella M'Rabety, Head of Corporate Social Responsibility at London Stansted said: "We are very pleased to take delivery of this generous gift from Inflite. The aircraft will provide an invaluable and unique hands-on experience for all trainees at the College. After quite a complicated logistical plan to get it from its previous location across the airfield to the College I'm delighted to see it in its new home."
Built in July 1982, the plane has been used extensively by its former owner for both business and pleasure trips, completing many transatlantic missions as well as many into Europe and throughout the UK. The idea is that she will now bring many further years of benefit to the trainees at Stansted Airport College as they embark on their careers in the aviation industry.