Operation Sceptre visits Harlow College to educate about knife crime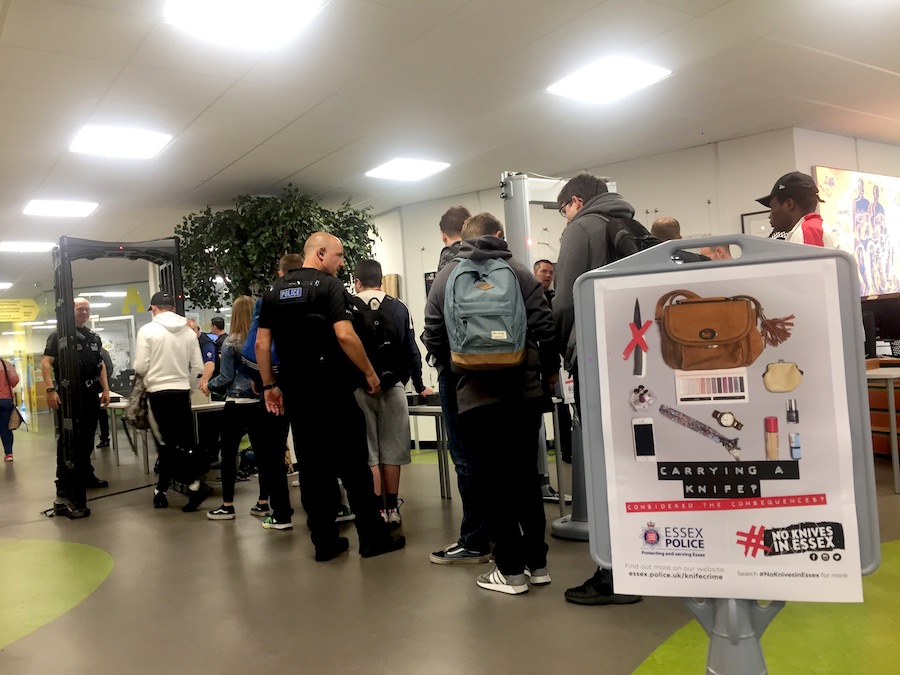 Harlow College were pleased to work with Essex Police as part of Operation Sceptre – a week long initiative involving all 44 forces in England and Wales that supports weapon searches and raises awareness of the dangers of carrying knives and bladed articles.
At Harlow College officers had set up knife arches to screen students as they entered the campus.
Sergeant Kevin Mayle is a Community Policing Sergeant based at Harlow Police Station. "The purpose of the visit is twofold. One is about educating young people around carrying knives. Secondly, it's National Knife Crime Week so we are doing some proactive work around reducing knife crime, reducing the number of people carrying knives and, by running a screening process within a college, we are raising awareness of knife crime.
"I think a lot of young people don't realise the consequences of carrying a knife. Certainly, it's deemed very serious by the courts and the sentencing powers behind carrying a knife are quite severe. My message around carrying a knife is simple - just don't do it, it's not worth it. If you get caught with a knife by the Police, you will be arrested, you will be taken into custody and in all probability, you will walk out with a criminal record. Carrying a knife could cost you your life!"
Assistant Principal, Sallyann Abdelmoula, said: "We are pleased to work in partnership with Essex Police to educate young people about the risks associated with carrying knifes. We aim to advise our young people about possible serious consequences to them and how to avoid these risks."
As part of our ongoing tutorial programme, the College was pleased to host Paul Hannaford, an ex-gang member who, since 2009, has dedicated his life to helping young people by providing inspirational talks to local school children, giving them a real-life insight into drug addition, alcohol, gang life, gun and knife crime, prison life, self-harm and bullying.
For more information about knife crime in Essex, visit www.essex.police.uk/knifecrime
To find out more about the work that Paul Hannaford does with young people, visit https://www.paulhannaford.com