Former Harlow College students now apprentice stars at Smiths (Harlow) Ltd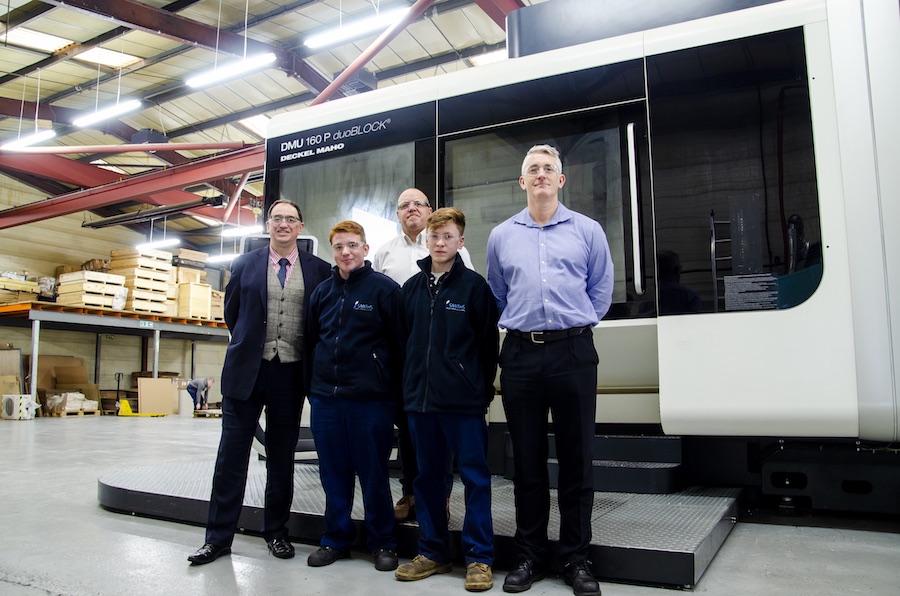 Frankie Griffiths,16 and Alex Ketteridge, 17, both former Harlow College Engineering students, have been making great names for themselves, after being snapped up by prestigious engineering company Smiths (Harlow) Ltd, only 8 weeks into a 12 week industry placement – something that has never happened before.
Smiths are an engineering company who specialise in complex component machining, mainly for the aerospace industry.
They have offered apprenticeships for young people looking to gain experience in the engineering sector for over 40 years.
Smiths were so pleased with their commitment and attitude that they were immediately offered places on their apprenticeship programme, ensuring Frankie and Alex gain a minimum of four years vital experience, alongside an industry-recognised qualification.
Frankie: "As part of my College course we had the opportunity to do an industry placement, with the possibility of an apprenticeship at the end of it. Lots of companies came to the College to pitch for suitable candidates and I thought that Smiths were the best company."
"The placement should have been for 12 weeks, but after only 8 weeks we were offered an apprenticeship, which was amazing!"
Alex: "I really enjoyed my industry placement. I thought it was really interesting to be in a top engineering company and see how everything is produced. Currently, myself and Frankie are in the workshop, being trained on the turning and milling machines. Once we're fully trained, we'll be able to start making components for the company."
Frankie: "Our industry placement consisted of spending time in lots of different departments, listening and learning all the time. We were involved in various hands-on activities including bench inspection and operating the turning machine. We learned many of the processes and techniques from the staff, who have all had many years of industry experience and were happy to pass on to us."
"When I was first offered the apprenticeship after only 8 weeks I was initially surprised, then excited. I thought, let's do this!"
Alex: "I was really happy to be offered a job that would give me lots of training and qualifications for the future. For me, I think it's better to have practical training rather than theory training, being in the workshop and seeing things in action."
"If you're thinking about an apprenticeship then getting an industry placement first is a good idea as potential employers get to see your strengths and you get a feel for what it's going to be like in the workplace. You have the chance to really show off all your skills to an employer."
Frankie: "It's really important on your industry placement to take lots of notes, be polite, ask lots of questions and try to get involved as much as you can.
Alex: "I made sure I showed how much I was enjoying the experience and tried to visit every department. It's important to let the employer know how much you're enjoying being there."
Frankie: "My ambition is to become a highly skilled engineer with a view to eventually going into management."
Alex: "After my apprenticeship I want to become a fully qualified mechanical engineer."
Gary Salisbury, (Employer Engagement Manager), said: "To see two learners progress so quickly onto an apprenticeship from an Industry Placement and with such a great employer, is wonderful and a testament to their hard work and determination. Employers only take on the best students to be an apprentice and Frankie and Alex are clearly outstanding future engineers!"
Neil Morris, (COO Smiths), said: "Our future growth is dependent on a multi-skilled and developed workforce. The opportunity to employ and train apprentices compliments our ongoing recruitment strategy. We'd like to thank Frankie and Alex for their efforts thus far, whilst wishing them future success in meeting their ambitions, here at Smiths."