Operation Sceptre Visits Harlow College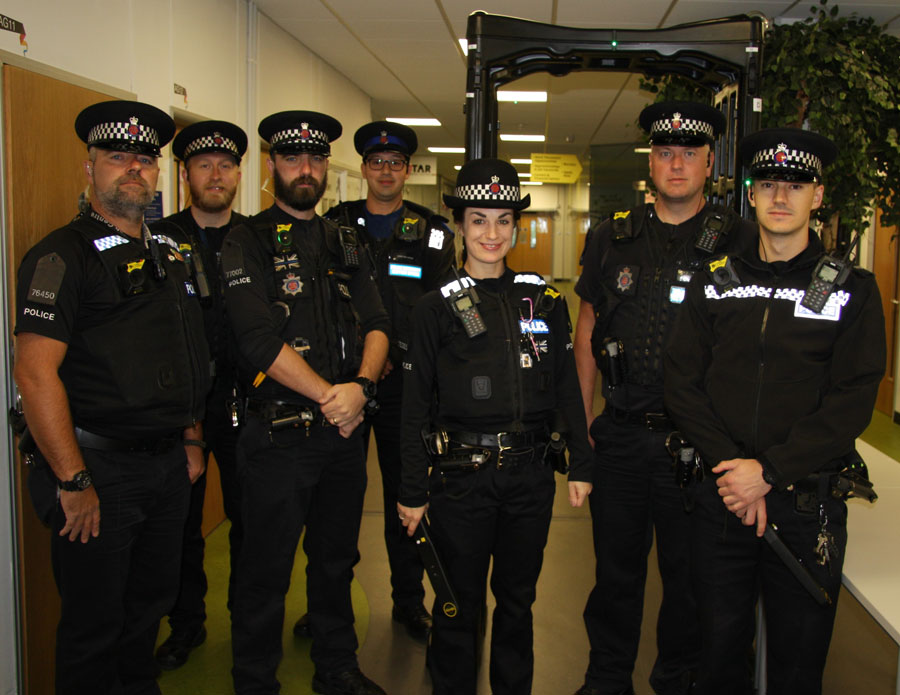 As part of the ongoing work to tackle knife crime in the county, officers from Harlow's Community Policing Team joined staff at Harlow College to raise awareness around the dangers of knife crime to prevent students from carrying knives.
On Wednesday 18 September, knife arches were set up to screen students as they entered the campus.
Harlow Community Policing Team Inspector Tony Walker said: "Harlow College have always been very supportive of the work we do to reduce knife crime and prevent harm coming to members of the community.
"We've worked with the college on a number of occasions to raise awareness around the seriousness of carrying a knife and as part of Operation Sceptre - the national week of action to tackle knife crime - we were once again working with them, and today, we're using a knife arch to screen the students as they enter the campus.
"The college seeks to take positive steps before an issue arises so today's visit is a preventative measure to remind anyone thinking of carrying a knife about the consequences of these actions. Ultimately knives can cost lives in the very worst cases and in others people may find themselves facing prosecution or even prison if they are caught with a weapon."
Over 2000 students walked through the knife arches with college staff searching bags.
Inspector Walker added: "We didn't find anything which caused us concern and that's a really positive thing.
"We hope that our messages are getting through and people are starting to realise the danger of carrying a blade.
"We'd like to thank the staff for their support and the students for their patience and cooperation and hope that today's activity highlights just how seriously we take knife crime.
"We are taking action every day to tackle knife crime and identify those carrying weapons and this is just another way we are protecting Essex and keeping people safe."
Assistant Principal, Sallyann Abdelmoula, said: "We are pleased to work in partnership with Essex Police to educate young people about the risks associated with carrying knifes. We aim to advise our young people about possible serious consequences to them and how to avoid these risks."
If you know someone who is carrying a knife, call 101 or report online at www.essex.police.uk

Alternatively, contact the Crimestoppers charity completely anonymously on 0800 555 111 or use the anonymous online form at Crimestoppers-uk.org
Always call 999 in an emergency.