Harlow College student wins award for saving woman's life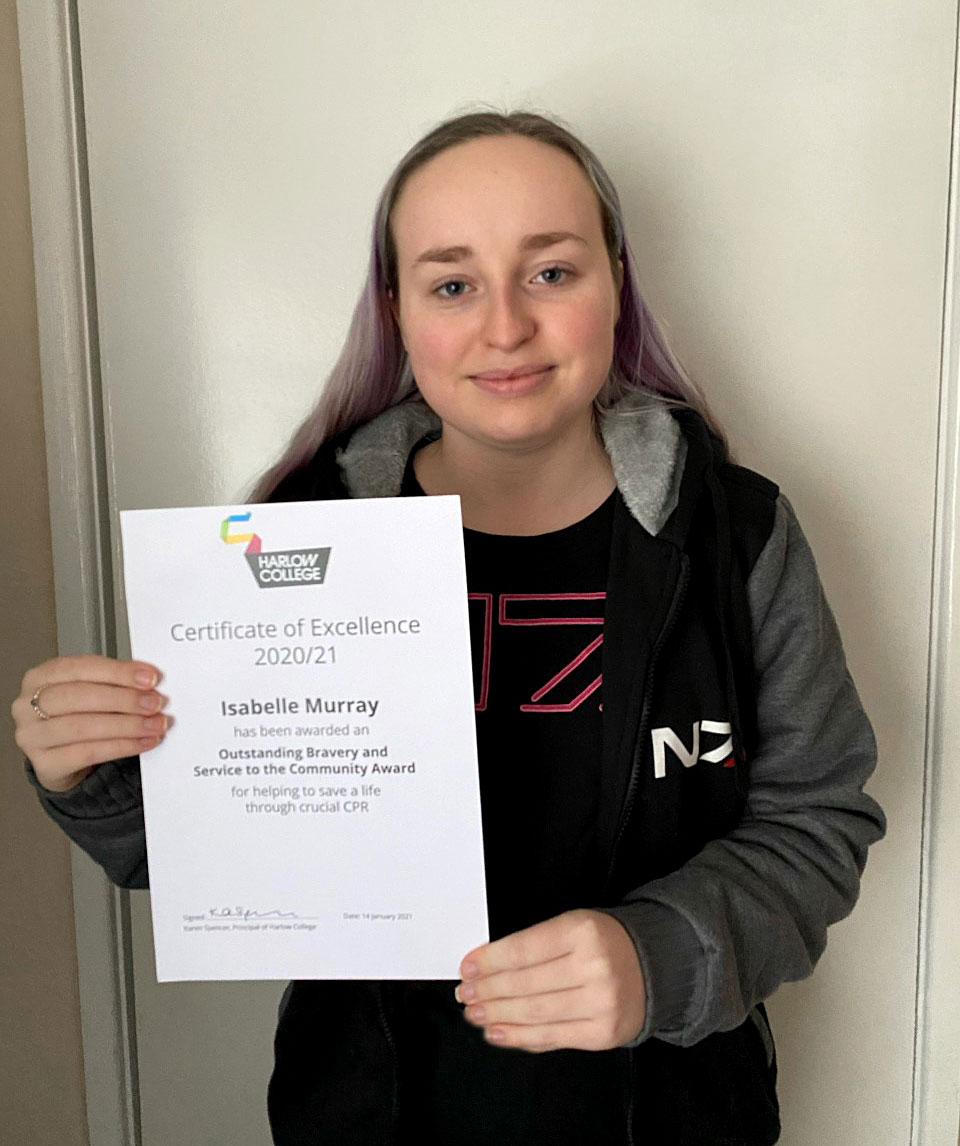 A quick thinking Harlow College student has been recognised with a Royal Humane Society award for her part in helping to save the life of a woman in Bishop's Stortford, who had collapsed in the street and stopped breathing.
Isabelle Murray, 17 from Much Hadham, is a Level 3 Public Services student at the College. She was with her dad when they came across the woman who had collapsed.
Isabelle, who is also a member of the Bishop's Stortford Police Cadets, had only recently trained in the use of CPR (cardiopulmonary resuscitation) and these skills instantly kicked in. She, along with her dad and two other men, fought desperately for 45 minutes to keep the woman in her 50s alive until the arrival of the air ambulance.
The helicopter's emergency medical team took over, however the woman had already been successfully resuscitated by Isabelle, and the others, before being flown to hospital.
Remarkably, only three weeks later the woman was able to walk from her home to personally thank the people who had helped save her life.
Speaking about the events, Isabelle said: "When I first saw the woman I thought she had just fallen over, but two men who were already with her said she wasn't breathing. I realised I had to do something quickly so while my dad got the defibrillator I ran to the police station to get help.
"We all took turns to give CPR, which we did for about 45 minutes while she was still unconscious and not breathing. I remember thinking, this is a very long time, we were all really concerned. Luckily, by the time the air ambulance arrived she was breathing again.
"My first aid training just kicked in. Something just clicked and I knew what to do. I guess most of the time I am the kind of person who likes to help others. If someone needs help I'll offer it. It's what you should do really; if you see someone who needs help you should help them."
Karen Spencer, Principal of Harlow College, said: "We are very proud of Isabelle. She kept a level head, stayed calm and used her training to help save someone's life. It is great to see in one of our students and should set her in good stead for her chosen career pathway. She not only showed great individual courage but how she could work effectively as part of a team to save a life. Congratulations to her on a well deserved award."