Pedal Power Helps Student Beat The COVID Blues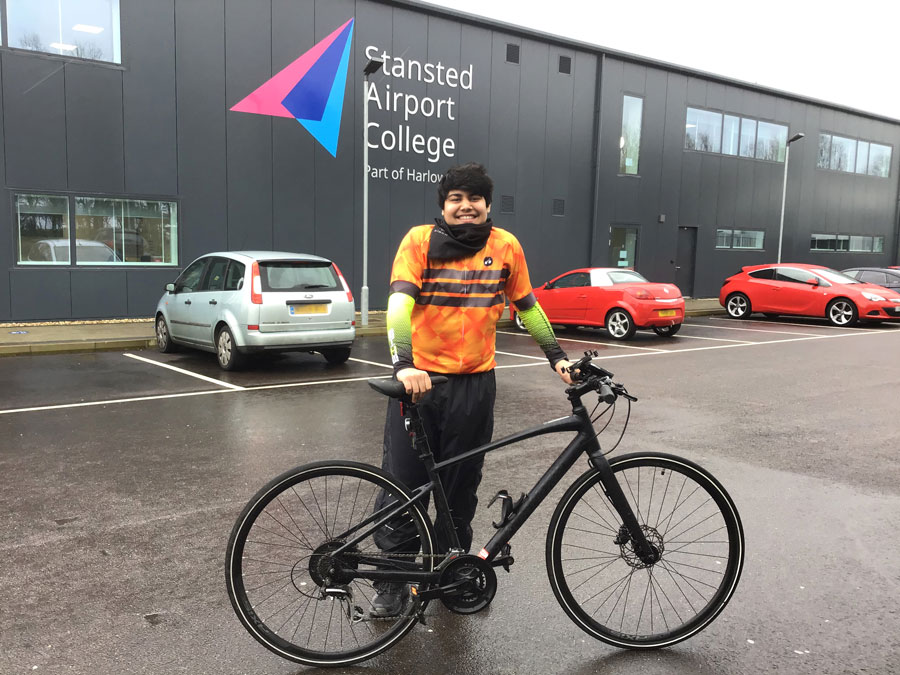 A Stansted Airport College student, whose usual coach route to college was cancelled due to covid-19, was so determined to get to his first face-to-face lesson in over three months that he took to his bike and cycled the 32 miles from his home in Ilford to attend class.
Shiv Kalsi, a first year Level 3 Aeronautical Engineering student at the College, had been missing the contact with his tutors and classmates so much that he decided to dust down his bike and take to the road rather than miss his first lesson.
Getting up at 5am, he managed the journey in just over two hours despite getting a bit lost and actually arrived one hour early for his class.
Head of College Wendy Martin said of Shiv: "We were so impressed with Shiv and his dedication to attend college. During the first week that our college re-opened its doors, Shiv cycled over 30 miles from his home to college in an effort to attend his first face-to-face class. He has shown great dedication and is an excellent example of how committed our students are to their studies and future careers."
Shiv, who's ambition is to become an airline pilot, said of his adventure: "I really wanted to get back to college and get learning. Although the weather was against me that day, I had no second thoughts about getting on my bike - I just thought let's go for it. My coach is back up and running again now although I'd love to continue cycling to college when the weather turns warmer.
"My message to anyone thinking of coming to Stansted Airport College, but who might be worried about the current state of the aviation industry, is don't let that bother you but keep your ambition and your motivation going and you'll succeed. I believe that there will be an increase in jobs in the industry."