Children's Commissioner Visits Harlow College
Dame Rachel De Souza DBE, Children's Commissioner for England, visited the College on Thursday 30th September, where she spoke to young people about some of the issues they have been facing since the pandemic began in early 2020.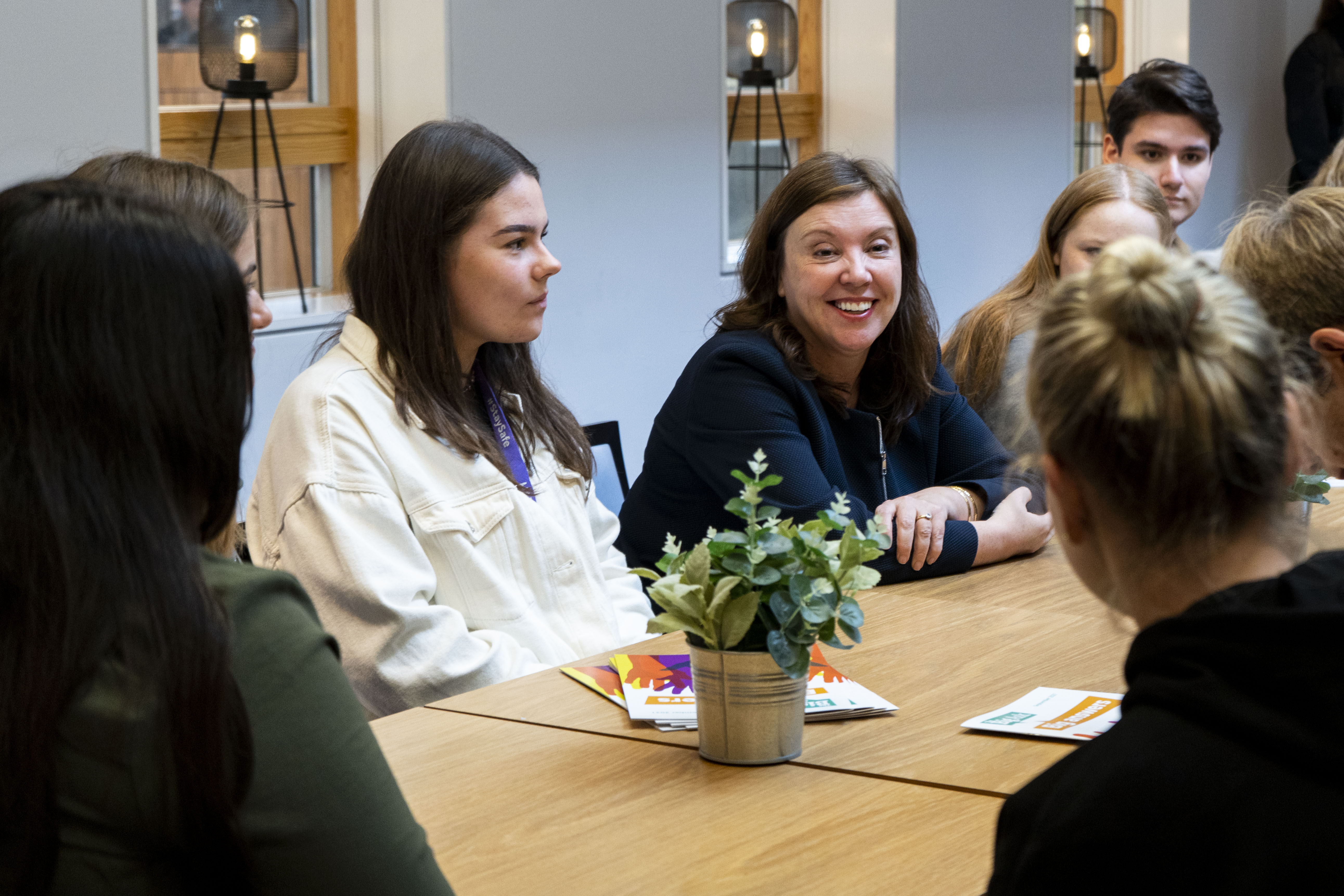 Dame Rachel De Souza, Children's Commissioner for England, speaking to college students
Accompanied by Robert Halfon, MP for Harlow and Chair of the Education Select Committee, Dame Rachel spoke about the recently published Big Ask report, which set out to hear the voices of as many children in England as possible. Over half a million responded – a record for a survey of its kind.
During her visit, Dame Rachel spoke to a cross section of students and staff, and had a guided tour of HAMEC (Harlow Advanced Manufacturing and Engineering Centre) as well as our Supported Studies classrooms before finishing with a working lunch in the College's Skylight Restaurant.
Speaking about her role as Children's Commissioner for England, Dame Rachel said: "It's a role about promoting and protecting the rights of children – I basically stick up for children to all the different government departments and public services."
About the Big Ask project in particular, Dame Rachel said: "When I came into the role in March children had been in lockdown and away from school so I wanted to do a survey of all of England's children to ask them what they needed to be successful coming out of lockdown, what were the barriers to their success and what did they really want for their futures.
"The biggest issues were their mental health and wellbeing, as well as life at school and college, as they were really worried about catching up with their studies. Another big issue was having places to go and things to do. The number one thing that young people said they wanted was a great job and a great career and that's why I'm really pleased to be here at Harlow today – good vocational training and careers advice came out far above all other hopes for their futures.
"I think the FE sector has a huge role to play in supporting young people with the issues raised. Having been a Head Teacher for 30 years I know what FE does and I think there's a huge appetite from young people to learn practically and vocationally and to excel in the areas that FE colleges offer. What I loved when I came to Harlow College was that I've seen where your chefs are cooking in your restaurant; I've seen trainee electricians actually making electric systems work; I've seen aerospace technology, and I think this is such an important strand of education, so well done Harlow College!"
Karen Spencer, Principal of Harlow College, said: "It was a pleasure to welcome Dame Rachel and Robert to the College. As ever, I was so impressed with the way our students spoke about the issues that matter to them growing up in the UK. We covered topics from mental health, to sexual harassment and social media, through to their hopes and aspirations for the future. They were thoughtful, articulate and have offered to help with the work of the Children's Commissioner moving forwards."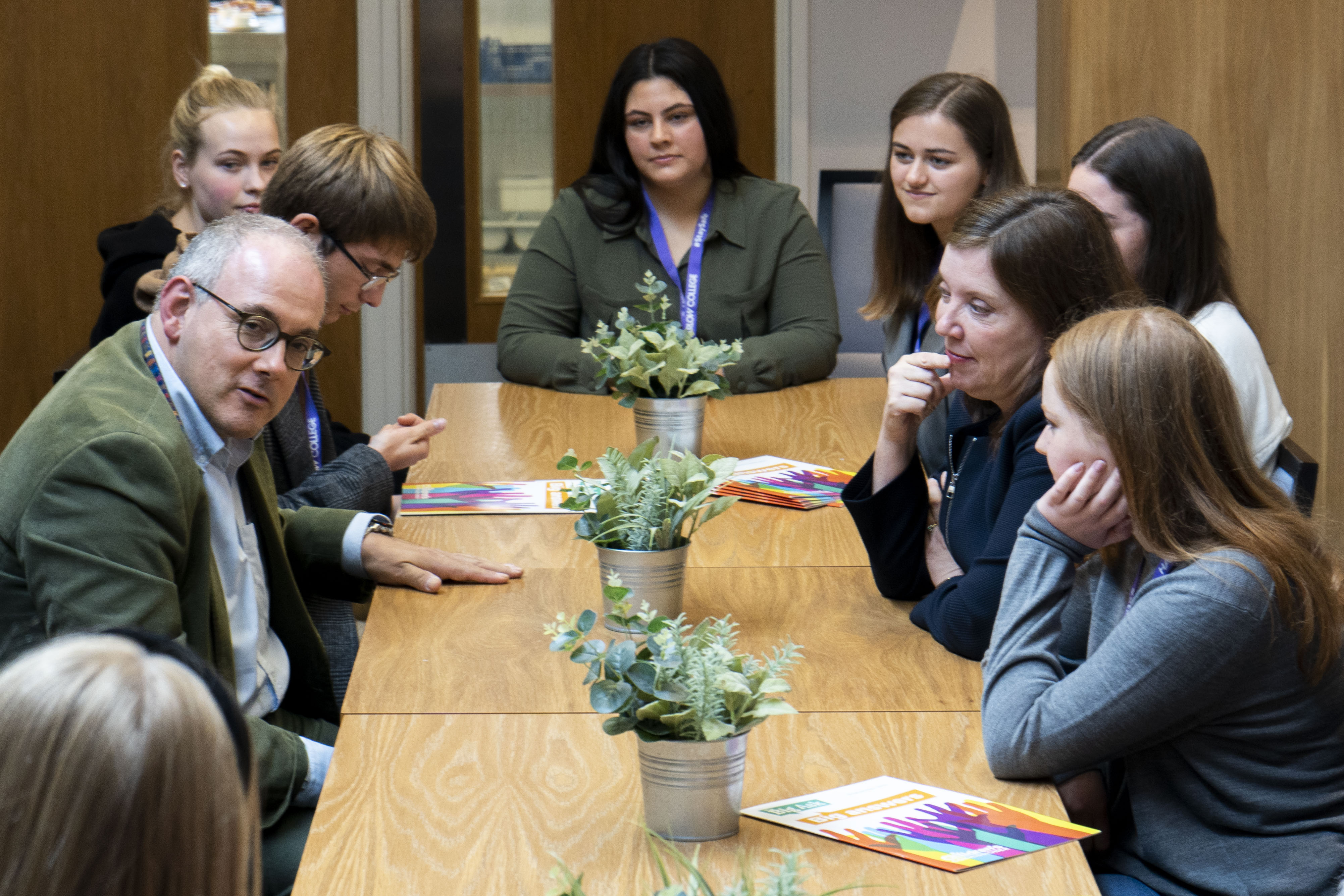 Robert Halfon, MP for Harlow, and Dame Rachel De Souza, Children's Commissioner for England, speaking to college students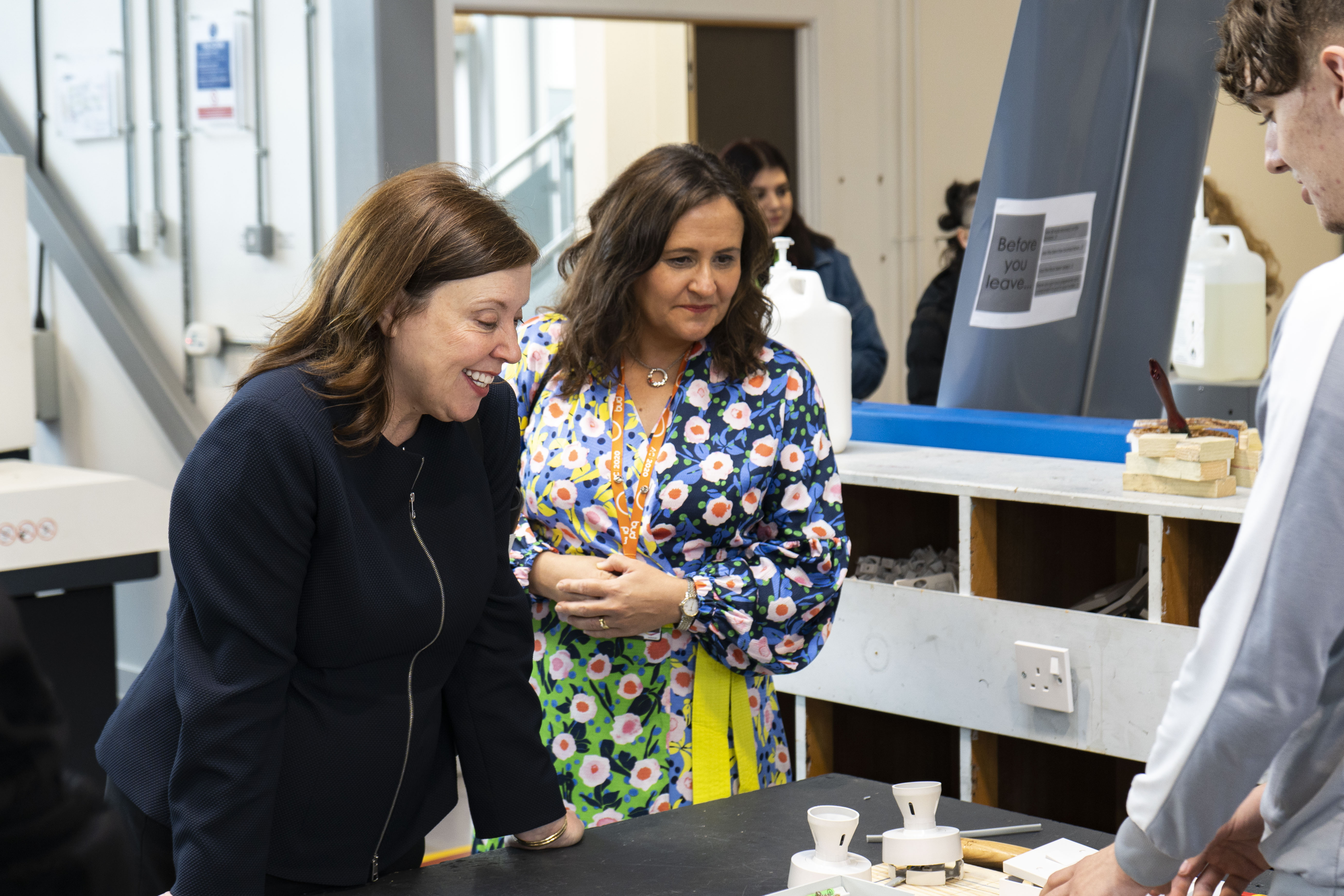 Dame Rachel De Souza, Children's Commissioner for England, and Karen Spencer, Principal of Harlow College, in the Advanced Manufacturing and Engineering Centre