Students inspired to build for the future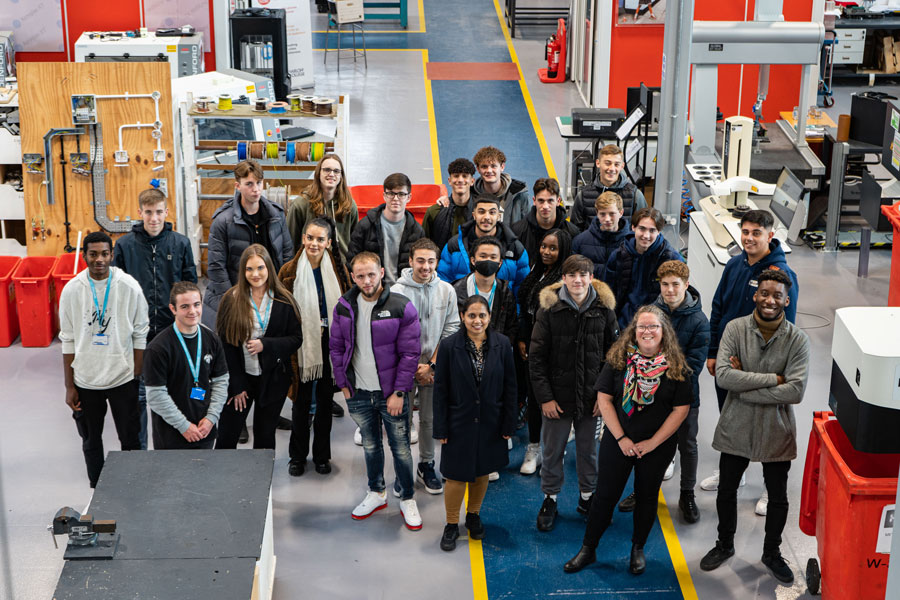 BTEC and T Level Construction students from Harlow College are gearing up to take part in an exciting design challenge that will see them develop proposals for a new village in the Royal Docks, bringing the national curriculum to life and inspiring a new generation to learn about the exciting career opportunities in the built environment sector.
The challenge will be set around four key themes central to London's recovery from Covid-19: improving air quality, sustainable transport, affordable housing and green energy. The challenge is open not just to Londoners but to the wider South East.
Megan and Cailan are BTEC Construction students at the college and were eager to take part in the challenge. Megan: "I'm excited to focus on the residential aspect of construction as we often only tend to work with commercial buildings. It will be great to have our designs seen and if we're lucky enough to win it would be great to see a female in the industry as I feel we're under represented."
Cailan was excited to be working on a design for the future. "I'm passionate about working in a sustainable way and gaining a better understanding of the industry."
Joseph and Faith, students on the new T Level programme, are also taking part in the challenge. Joseph: "This is a great chance to express my creativity and passion for creating a sustainable future for construction. I want to be an architect - if we win it will be amazing for my CV and great to say that I have been a part of this challenge."
Faith was keen to emphasise the importance of protecting and improving the environment. "I want to make a difference in my local community. I want a career in architecture and interior design and taking part in this challenge will be useful in my career because I can be a part of creating zero carbon buildings to ensure sustainability for the future."
Natalie Wells, from the Greater London Authority, is Project Manager of the Design Challenge. "We have put together this challenge really to inspire the next generation of Londoners to be involved in the planning and building of London and making London a great place.
"We're collaborating with Mobie (Ministry of Building Innovation and Education), an educational charity founded by George Clarke, who work to inspire young people towards building homes for the future.
"The next generation of buildings will be for young people - they are our future and those spaces need to be innovative, creative and sustainable and right for the community they're a part of. That's what we're really looking for in this challenge."
Mayor of London, Sadiq Khan, said "I'm delighted to be launching this exciting design challenge with George Clarke, one of the brightest architecture talents in the country.
"Young people have an important role to play in shaping our city's future and ensuring that the capital is fairer, greener and more prosperous post-Covid. We need spaces designed by the communities that live and work there with affordable housing at their heart, so I would encourage young Londoners from all backgrounds to put their ideas forward. Together, we can plan and design a city that is representative of London's diversity."
Karen Spencer, Principal of Harlow College, said "What a fantastic opportunity for our T Level and BTEC students here at Harlow College. Our young people are integral to creating a sustainable world, so what better way than to engage them in the real-world challenge of building homes of the future. They get to use their passion and creativity, whilst showcasing skills they will need in their future careers."
Entries for the Design Challenge are invited between February and May 2022 with the winning design to be announced shortly afterwards.
Photo credit: Construction students with Natalie Wells (front row) Project Manager of the Design Challenge.