Pizza and Politics with Polly Toynbee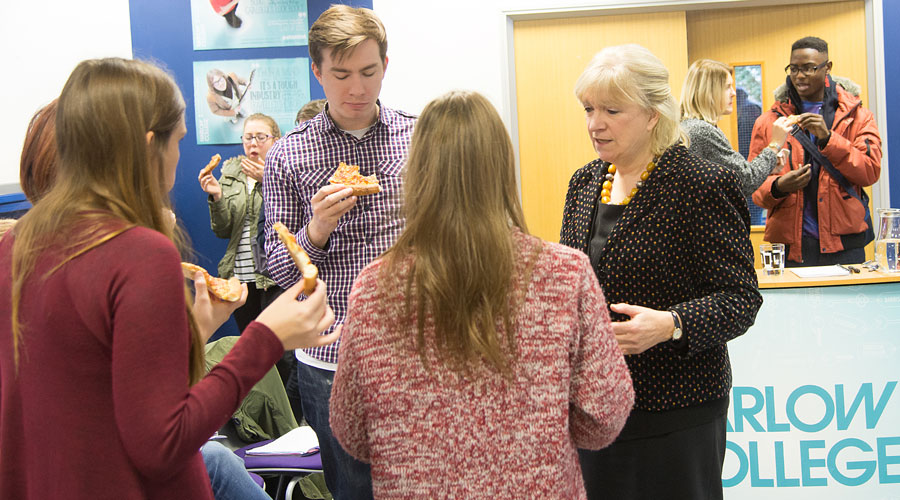 Celebrated Guardian columnist Polly Toynbee visited Harlow College on Wednesday 26 November for a politically charged discussion and provided some helpful tips to aspiring journalism students.
Accompanied by Harlow's Labour candidate Suzy Stride, Mrs Toynbee hoped to inspire some of the students at the College during a "Pizza and Politics" event, the fifth one of its kind, where students were wholeheartedly encouraged to vote and take a more active role in politics.
Mrs Toynbee was able to share some of her political insights with the students during a question and answer session, where keen students posed big questions to both herself and Suzy Stride.
A large portion of the event was aimed at urging young people to vote – something that has featured heavily on Labour's agenda already.
Mrs Toynbee presented the audience in the Harlow College hall with some hard-hitting facts, saying: "50% of young people aged 18-24 are not voting in this country."
The students themselves were then encouraged to take part in the informal meeting, presenting their suggestions for helping to invoke the young vote. The students of Harlow College, some doing degrees, others there as part of the National Council for the Training of Journalists Diploma, offered up some insightful questions of their own.
Suzy Stride, currently aiming to become the MP of Harlow, put forth Labour's stance on the young voters' situation, saying: "I think we have got to get a bit radical."
Mrs Toynbee finished by appealing to young voters directly, saying: "Young people care about the legacy they inherit" and a lot of the discussion was active and engaging throughout the meeting.
Later, Mrs Toynbee met with several students on the NCTJ diploma, and was able to give them some valuable insights into the inner workings of some of the top newsrooms.
The students found the talk both fascinating helpful. One student of the diploma, Nick Brand, said: "It was wonderful to hear such a renowned journalist talk about how she got into journalism."
Mrs Toynbee also helped present the Jack Petchey award to three students, aimed at rewarding young people who apply real effort.
By Tom Powter
NCTJ Diploma
Guardian columnist, former BBC social affairs editor and columnist and associate editor of the Independent, Polly Toynbee, visited Harlow College on Wednesday 26 November. She was accompanied by Harlow Labour candidate Suzy Stride and spoke to students about engagement with politics and the importance of voting.
There were a variety of people who came to watch her speak, from public services students to journalism and media students to local Guardian readers and Labour supporters. Harlow College Principal Karen Spencer introduced the speech by saying that students would feel the effects of the next election particularly because of the subjects they were studying. Polly Toynbee said "I am more interested in the social effect of politics and their impact than the arguments between parties at Westminster". Suzy Stride seemed very interested in the feelings of the students, and regularly asked them questions such as "Why do you feel that young people do not want to engage with politics?".
Polly Toynbee said that she thinks (despite people saying that the parties are too similar) "Labour and the Tories have never been more separate". She also talked about the importance of voting as a young person and said "The Average voter lost 12% in benefits or services whereas those who didn't vote lost 20%". She encouraged young people to vote and talked about the importance of their involvement with politics for the future of the country.
Emily Cooper, a journalism student said: "Both Polly Toynbee and Suzy Stride were very passionate about politics. I think this is important as passion is a prime necessity in doing a job well."
Polly Toynbee seemed really for the people, she seemed like she cared a lot."
Stride and Toynbee asked students to engage in a debate and to ask questions or share their opinions for discussion. Students shared their views on a variety of things, including government cuts, the expense of transport and university and not feeling represented by certain MP's who haven't worked in ordinary jobs previously.
Annie Gillman, another journalism student who watched the speech said "It was nice to see how passionate the audience were with things that Polly Toynbee was saying. Everyone reacted to the speech very well."
"This was a great opportunity for students at Harlow College and I thoroughly enjoyed it".
Ellie Pritchard
Extended Diploma in Journalism Year 1