Age is no barrier to learning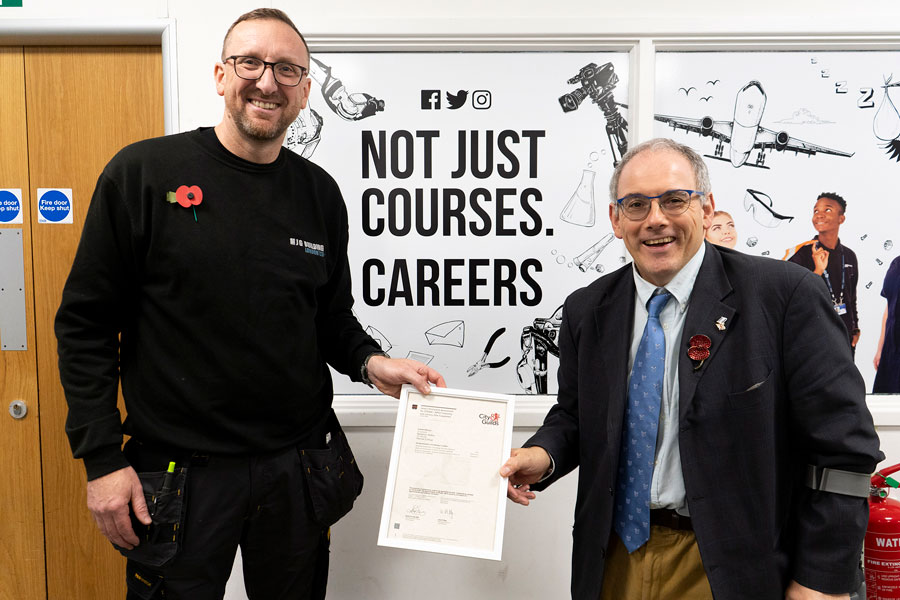 49-year-old Ben Walker from Bishops Stortford has embraced a new challenge after facing redundancy from his long-time job in the print industry. Just as the pandemic struck. Ben was working for Rupert Murdoch's former company News International when he learned of his redundancy and it was shortly after that he decided to try his hand as a carpenter by undertaking an apprenticeship.
Opting for an apprenticeship was a big step for Ben as it would mean a complete career change as well as finding himself in a class of predominantly younger learners.
Undeterred by the age difference, Ben saw the experience as an opportunity to demonstrate that age is not a barrier to acquiring new skills. Despite initial concerns, he quickly integrated into the group, establishing himself as a source of inspiration for his younger peers.
"I knew I wanted a change and a friend recommended a company, MJG Building London Ltd in Sawbridgeworth, where I could work whilst doing an apprenticeship, as I wanted to further my education. I contacted Harlow College who were very supportive, particularly as I was concerned about being in a class with mainly 18 and 19 year olds. In fact, the day I arrived the class thought I was the tutor!
"I quickly settled in and thoroughly enjoyed it and I just want to get across that there might be other people my age thinking about a career change who may be scared of coming into college, but my message is you can do it. I did it and I'm really enjoying work now, having moved down a new careers path. I want other people to know that they have the opportunity to do the same."
Ben's tutor, Mark, also emphasised that age is no barrier to learning.
"Ben fitted in really comfortably with the rest of the class. He was very good at taking in new information and sometimes the class felt more comfortable asking him questions than me as their tutor!
"I'd be happy to see more older learners doing apprenticeships. It's a great way of changing career path later in life and if you're interested and your current employer supports the apprenticeship programme then you just need to find an apprenticeship with your local college and go for it.
"Support will always be available and staff love teaching people who want to learn, regardless of age."
Apprenticeships are undertaken alongside your existing job and focus on practical skills and knowledge. You will gain invaluable experience of working in a professional environment with the benefits of formal training. Typically, you will spend four days in the workplace and one day at college, depending on the needs of your employer.