BBC Radio 4's Any Questions? at the GlassBox Theatre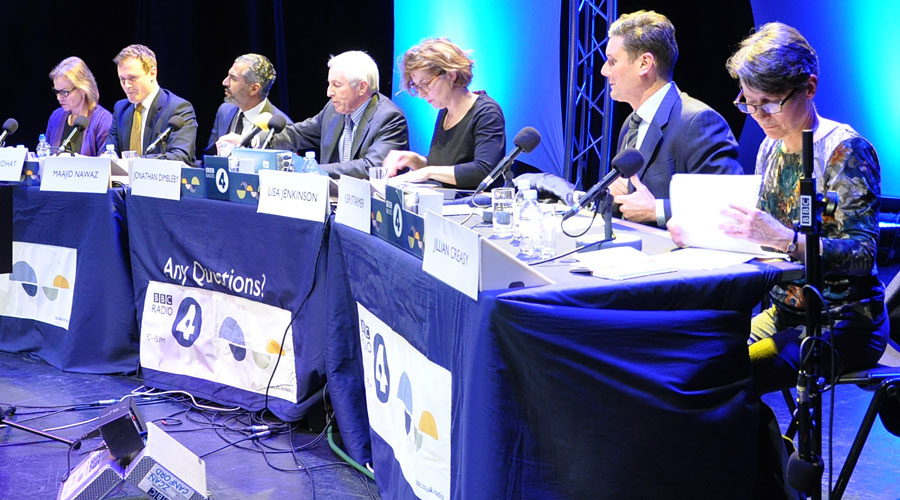 Harlow College had the honour of hosting Radio 4's Any Questions? on Friday 9th of January. Presenter Jonathan Dimbleby grilled five prospective parliamentary candidates in the College's GlassBox Theatre in front of an invited local audience.
The panel consisted of Victoria Ayling (UKIP), Jillian Creasey (Green Party), Maajid Nawaz (Liberal Democrats), Sir Keir Starmer (Labour) and Tom Tugendhat (Conservative).
Any Questions? was invited to the College by Neil Silver, Senior Tutor in HE Journalism and Media at University Centre Harlow as part of the celebrations to mark 50 years of Journalism at Harlow College.
Jonathan Dimbleby and his production team were impressed both by the facilities on offer at the GlassBox Theatre and the professionalism and organisation of the event and look forward to returning for another Any Questions? at Harlow College.
Mr Dimbleby said: "It's terrific to be here to celebrate fifty years of this great college. It's got a long tradition and lots of successful journalists have emerged from this journalism school and it was a lively audience. It was fun to be here as well – we also got a very nice meal from those who make the meals here so the combination of journalism and food is pretty good!"
Lisa Jenkinson, the programme's Producer said: "It was really great to visit Harlow College to mark its 50th anniversary. We were really impressed with how efficient and friendly people were at the College – and the food was amazing – I had the best lamb I've ever eaten in the restaurant on site."
"Harlow also has a special place in my heart as I sat a preliminary test for the NCTJ year long newspaper course nearly 25 years ago. I actually went on to study at Stradbroke in Sheffield, but I sat the first stage in Harlow."